William: 75 years ago this fall, "Porgy and Bess" had its premiere. The following is the second part of an interview for operawarhorses.com with Gershwin biographer Walter Rimler. The first part of the interview may be accessed at "Porgy and Bess" at 75 Years: An Interview with Gershwin Biographer Walter Rimler, Part I.]
* * * * *
Wm: In your biography, George Gershwin: An Intimate Portrait, you devote attention in your book on the role that George's brother Ira and Ira's wife had on George Gershwin's heritage after George's untimely death in 1937. Some feel their attention to his legacy has been a mixed blessing. Would you wish to comment on this opinion?
WR: Ira Gershwin outlived George by forty-six years, and throughout that time he was a devoted steward of his brother's legacy. He meticulously catalogued and annotated George's unpublished works, and personally answered all fan letters – when people wrote to say they'd been touched by George's music he often included a keepsake of George's in his reply. He donated Gershwin scrapbooks, correspondence, and manuscripts to the Library of Congress. After his death in 1983, his widow, Leonore, continued to do the same. Now, nearly twenty years after Leonore's death, the Ira and Leonore Gershwin Trusts are giving their substantial and priceless archival collection to the Library of Congress.
That's the good part. Unfortunately, there's more.
Leonore didn't mistreat George's heritage. She mistreated the man  himself. Dying from a brain tumor, his coordination slipping, she berated him when he fumbled his eating utensils. When he fell to the sidewalk outside a restaurant she ordered Ira not to help him up. A week before his death she banished him from his own house – which he shared with Ira and herself. She was, in a word, cruel. And Ira stood by and did nothing
As for the Ira and Leonore Gershwin Trusts: In 2006 they authorized Trevor Nunn to create a new version of Porgy and Bess – this time as a Broadway-style musical that lacked much of the original's music and all of its recitatives. They did this, presumably, so they could copyright the work anew and, thus, keep royalties streaming into their coffers for generations to come. These custodians of George Gershwin's heritage were apparently willing to sell that heritage out for money. Needless to say, they called their new concoction The Gershwins' Porgy and Bess. So long, DuBose Heyward!
The original purpose of copyrights was to allow artists to earn a living from their work. It was not to produce aristocratic families who create nothing themselves, but live off the work of others long gone.
[Below: George Gershwin in 1918, in a historical photograph.]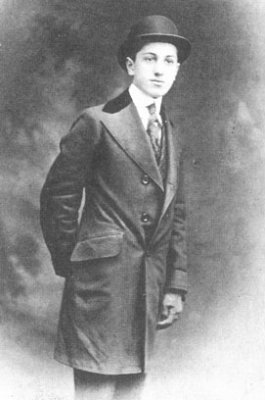 Wm: One of the requirements that at least some of the American opera houses might like to see changed are requirements that place racial restrictions on who can perform certain roles in "Porgy and Bess". Do you expect that policy to change, and is there a time certain in which such a change in policy will occur?
WR: George Gershwin left no will, so there's no basis for the claim that he told posterity to allow only African-Americans to sing in future productions of Porgy and Bess. What he was against was white people singing in blackface. That was still commonplace in the 1930's – Lawrence Tibbett in Gruenberg's The Emperor Jones, for example.
The idea of whites taking roles in Porgy and Bess is obviously a touchy one. American audiences would probably find it incongruous, maybe even laughable. Of course, it's probably even more incongruous to contemplate auditions for Porgy and Bess where light-skinned singers are asked for proof of their black forbears. Just what is the minimum threshold? One black parent? One black grandparent? Wouldn't it be a lot simpler to make talent the only qualification? Wouldn't it be fair to give singers of any race a chance at these roles? This opera is about people, after all – so everyone qualifies. Is the role of Otello always sung by a black man? Is Madama Butterfly always Japanese?
Ira Gershwin wanted all-black productions so African-American singers could get a foothold in the world of opera. This worked well for many singers, including Leontyne Price. And it's important to remember that no black person was allowed to step onto the stage of New York's Metropolitan Opera until 1955, when Marian Anderson appeared in Verdi's A Masked Ball. But times have changed – let's hope – and those doors are now open.
I am sure that when the copyright on Porgy and Bess expires (if it ever does) some adventurous producer or director will try to integrate George Gershwin's opera. Good luck!
[Below: George Gershwin in 1937, a Carl Van Vechsten photograph, from the Library of Congress Van Vechsten Collection.]
Wm: Have you had a chance to see such contemporary productions of "Porgy and Bess" by opera companies, such as that of Francesca Zambello's?  If so, do you have some particular favorites? Of which ones would George Gershwin have approved?
WR: Sorry to say, I didn't see the Zambello production, although I read the reviews and it was apparently terrific. I think its emphasis on the Jake and Clara characters was especially appropriate.
"Porgy and Bess" is often criticized as a story about dope, homicide and harlotry but at its core it is about a poor and crippled man who, living in a despised and bullied community, finds love, fights for it, loses it, and then sets out to reclaim it.
[Below: Sportin' Life (Chauncey Parker) in a scene from the Francesca Zambello production; edited image, based on a Terrence McCarthy photograph, courtesy of the San Francisco Opera.]
Against this main plot, we get the story of Jake and Clara – young parents who hope that with enough hard work they'll be able to send their child to college. Toward that end, Jake, a fisherman, takes his boat to sea even in the face of a hurricane. Clara rushes into the weather to save him and both are drowned. Hence, that haunting blend of tranquility and sadness when Clara, at the outset of the opera, soothes her baby  with "Summertime" (by George Gershwin and DuBose Heyward).
[Wm: For my reviews of Francesca Zambello's production of "Porgy and Bess", see: The Zambello "Porgy and Bess" An Historic Success at Chicago's Lyric – November 18, 2008 and Eric Owens, Laquita Mitchell Lead Powerful "Porgy and Bess" at San Francisco Opera – June 21, 2009.]