[Note from William: This is the first in the series of four reports I am posting on performances I attended in Great Britain and France in early October 2010, that include a smashing new production; the British premiere run of a production that originated in the United States; and two famous productions of the past 12 years, each, like the one described in this review, that has been revived in several seasons.]
* * * * *
Contemporary Standards for Performing Verdi
Over the past several years, I have discussed current international standards of performance of Giuseppe Verdi's operas. Having heard most of the Verdi singers of the past five decades in live performances of the Italian maestro's operas, I have concluded that the idea that the current artists that sing the major roles are inferior to the generation before them is an urban myth.
There are some observable differences between 21st century Verdi performances and those of, say, the 1960s and 1970s. First, as a very generalized rule to which there are innumerable exceptions, the overall quality of acting is better in the 21st century than it was for the previous generation. Second, the best productions are much better, and the worst productions seem much more off the mark than in the previous time.
I believe that an opera goer has every reason to expect – with a cast that includes artists that would rank "among the best in the world" at the present time, and an insightful stage director and production designer – to experience an all around better performance than one might have observed a third of a century ago.
One such insightful stage director is David McVicar, whose ideas for such different operas as Mozart's "Don Giovanni" and Massenet's "Manon" I found exciting (see my reviews at Kwiecien Excels in McVicar's Dark Side "Don Giovanni" – S. F. June 2, 2007 and Kaufmann Astonishes, Dessay Enraptures, in McVicar "Manon": Lyric Opera of Chicago – October 15, 2008.)
I already knew of his approach to Verdi through his remarkable production of "Il Trovatore" (see Lyrical Luisotti Leads Triumphant "Trovatore" – San Francisco Opera September 11, 2009 and Verdi's New Champion: Nicola Luisotti's Transformative "Trovatore" – San Francisco Opera, October 4, 2009.) For these reasons, I looked forward to the first performance of the fourth season revival of his 2001 production of Verdi's "Rigoletto".
The Passing of "La Stupenda"
After the houselights dimmed, but before the performance began, Royal Opera House Covent Garden general director Elaine Padmore crossed the stage before the curtains to announce the death of Dame Joan Sutherland, who died that day in her Swiss home at age 83. She noted Sutherland's role debut as Gilda in an ROH "Rigoletto" 53 years prior. This sad prelude aroused a flood of new thoughts about prevailing traditions in performing "Rigoletto" in the mid-20th century and McVicar's 21st century approach.
Sutherland's fame is for the breathtaking coloratura technique associated with a voice of dramatic weight – a voice that might have sung Sieglinde in Wagner's "Walkuere" instead of becoming a worldwide sensation in the title roles of Donizetti's "Lucia di Lammermoor" and Bellini's "Norma". Having seen her in many of her great roles, I appreciated her comic flair and felt she was underrrated as an actress, but clearly acting took a very subordinate role to singing, as did anything (including the consonants that began and ended words) that impeded her producing the glorious sounds for which she strove.
I never saw her Gilda, but I did see her twice in Verdi's "Il Trovatore", which opened San Francisco Opera's 1975 season, with Luciano Pavarotti and Ingvar Wixell as colleagues (and Shirley Verrett and Elena Obratzova as Azucena in one or the other of the two performances). This was the opera which I later saw 34 years later in the aforementioned McVicar production, and so I have a rough point of reference in my head between an all-star group in 1975 and a different all-star group in 2009 assaying the same Verdi opera.
21st Century Team Verdi
Obviously, both Sutherland and Pavarotti were legendary singers, each with a unique, instantly recognizable voice. As I suggested was the case with Sutherland, so too I regarded Pavarotti as an underrated actor. But usually a performance of such all-stars a third of a century ago is not be remembered as the highly dramatic, theatrical experience we are likely to see today.
In contrast, McVicar's Team Verdi – here Dmitri Hvorostovsky (Rigoletto), Patrizia Ciofi (Gilda), Wookyung Kim (Duke of Mantua), Raymond Aceto (Sparafucile) and Daniela Innamorati (Maddalena), supplemented by the smaller roles, each of which has an important dramatic part to play – produced an arresting performance.
Here McVicar's conceptualization of each character is the key. I will concede that the level of training in operatic acting is much higher in the current generation, but I think the best stage directors have established a matrix in which the majority of contemporary opera singers can be successful. In those cases where the stars of the past related to the best concept directors of the 1970s (Jean-Pierre Ponnelle was a particular favorite of mine), the results were highly successful. Pavarotti, had some form of time travel permitted him to participate in a McVicar production when he was in his 30s and 40s, would have, I believe, put on quite a show.
I have seen productions in which quite famous Rigolettos have been somewhat upstaged by flashy combinations of Dukes of Mantua and Gildas. That does not happen in this McVicar production. Hvorostovsky, who shares the role of Rigoletto in this run with the estimable Paolo Gavanelli, was the dominant dramatic force of the piece.
Hvorostovsky, as has been the case in each of his performances I have observed, was in superb voice. Always an engaging artist, he produces a powerful sound, yet one that caresses the melodies high in the baritone tessitura with which this part abounds.
The Russian baritone, who is famous for his matinee idol good looks, is made up as a grotesque-looking Rigoletto, hobbling around on two staffs, forced to wear a ludicrous headdress at work, always seething with rage, even as he tries to be a decent and protective father to the daughter he loves so much.
[Below: Dmitri Hvorostovsky is Rigoletto; edited image, based on a Johan Persson photograph, courtesy of the Royal Opera House, Covent Garden.]
My reviews of Hvorostovsky's accomplishments as a Verdi baritone of the first rank include not only the Conte di Luna in the McVicar 'Trovatore" performances cited above, but also the title role in "Simon Boccanegra" (see Hvorostovsky, Guryakova, Berti Excel in Houston "Simon Boccanegra" – November 4, 2006 and Verdian Back to Basics: San Francisco's Satisfying "Simon Boccanegra" – September 21, 2008.)
McVicar's "Rigoletto" and "Trovatore" have other parallels beyond Hvorostovsky's participation in each. Their most significant physical features are the vertically dominant sets situated on turntables that permit scene changes without the requirement of closing the curtains to reset the stage.
Opera McVicar Style
McVicar famously creates an atmosphere in which every cast member, be they the star headliner or an individual member of the chorus, works through the entire story of the character they are playing. Four of the five major singers have had experience in the production's revivals of 2005, 2007 and 2009, so that, even though this year McVicar was represented by revival director Leah Hausman, the spirit of the original production is sustained throughout the revival. Yet the artists have a degree of freedom to work their own thoughts about their character with McVicar's original conceptualization.
The set designs for "Rigoletto", by Michael Vale, suggest, rather than a magnificent Renaissance court, a tawdry duchy incorporating an impoverished city. Even courtiers such as Count Ceprano, not to mention the court employee, Rigoletto, live in down and out neighborhoods.
McVicar productions emphasize the underlying sexual messages that can be found in many of the most famous operas. The bacchanalian Mantua court sheds any pretense of court decorum, just as it sheds the blouses and tops of several of the women.
We are introduced to Wookyung Kim's Duke of Mantua, sung with a warm, lyric tenor with a beautiful edge in the romantic duets, and power when the Duke is at his most assertive.
Both Verdi's opera and McVicar's production present the Duke of Mantua as an equivocal figure, wanting to treat Gilda right, but, in his sex-addled mind confusing rape with comforting her for the distress of her kidnapping. But the Duke only dimly perceives (or cares about) his effect on the world around him. The apparent message of the opera is that the curse of Monterone (effectively hurled by Michael Driuett) is lethally effective on the person who ridicules Monterone's objection to the Duke's behavior, but is apparently ineffective on the Duke himself.
[Below: the courtiers of the Duke of Mantua (Wookyung Kim, center in red) include Count Ceprano (Lukas Jakobski, second from left), Marullo (Zhengshong Zhou, third from left) and Matteo Borsa (Iain Paton); edited image, based on a Johan Persson photograph, courtesy of the Royal Opera House, Covent Garden.]
The turntable containing the production moved to show a dimly lit, dangerous place in which Hvorostovsky's Rigoletto wanders, reflecting upon Monterone's curse, when confronted by the murderer-for-hire Sparafucile (Raymond Aceto) with his unexpected proposition.
Aceto's sonorous basso cantante was perfectly matched with Hvorostovsky's luxurious baritone, adding a serene beauty to this sinister encounter that made this scene particularly memorable. Aceto's vocal prowess is ready for much larger assignments than this plum comprimario role, and the audiences hearing Hvorostovsky and Aceto in their scenes together should regard it as a special treat.
Hvorostovsky's Rigoletto then begins the series of memorable duets with the Gilda of Patrizia Ciofi, that will continue through her ardent duets with Kim's Duke of Mantua. Ciofi's lyric soprano has a creamy timbre that seems ideal for this role. She completed Caro nome, her love song to the Duke's name that he uses when slumming undercover, and her kidnappers began to assemble at the turntable's periphery.
Here Israeli born Conductor Dan Ettinger, in his ROH Covent Garden debut, left the traditional few seconds for an audience ovation after the famous coloratura anthem, yet the entire Covent Garden audience was so spellbound by Ciofi's breathtaking performance that not a sound was heard and the music began again, to everyone's astonishment, without any applause having occurred. (The audience provided her with sustained proof of their approbation at the performance's end.)
[Below: Rigoletto (Dmitri Hvorostovsky, right) seeks assurance that Gilda (Patrizia Ciofi) never leaves their house; edited image, based on a Johan Persson photograph, courtesy of the Royal Opera House, Covent Garden.]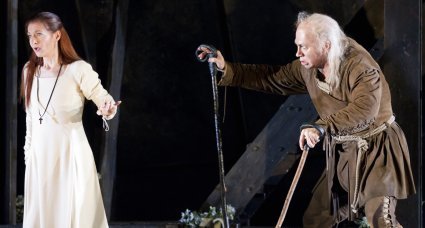 Rigoletto's final scene contains two of the most famous excerpts from opera, the Duke's La Donna e mobile and the Rigoletto Quartet. Here again the inherent drama in the situation is realized through McVicar's staging and Vale's sets. Aceto's Sparafucile and Innamorati's Maddalena appear to have an incestuous rapport beyond their workaday con-jobs and murders. Maddalena's seductiveness of the Duke obviously cured him of his third act flirtation with the idea of fidelity to Gilda.
Ciofi's Gilda, a naive adolescent dressed as a young man, who feels she has the opportunity to save both her father and lover from death in an act of self-sacrifice, projects a rationale that, in its way, makes sense.
[Below: Rigoletto (Dmitri Hvorostovsky) erroneously imagines that revealing to his daughter Gilda (Patrizia Ciofi) the infidelity of with Maddalena (Daniela Innamorati) of her lover, the Duke of Mantua (Wookyung Kim) that she will understand why vengeance must be had; edited image, based on a Johan Persson photograph, courtesy of the Royal Opera House, Covent Garden.]
Verdi and his librettist Francesca Maria Piave produced a theatrical masterpiece, every line of which has meaning. In the hands of McVicar and these artists, the emotions that the characters portray can be made believable.
In past comments, I have deplored that many 20th century operatic productions of far more than routine interest have been dismantled and destroyed, when there should have been some international effort to make certain the best of them were preserved as part of the art form's heritage. I not only recommend this production and cast, but would list this as one of the productions that I believe should be regarded as of international interest.
If the works of concept directors and set and costume desginers such as Jean-Pierre Ponnelle are only partially preserved, with much lost, perhaps one can begin work now to save the great works of David McVicar and his associated artists. Until that future time, we at least are assured the Covent Garden performances of this year's revival through the first few days of November, 2010.
For previous reviews of "Rigoletto" performances, see: Gavanelli Dominates Strongly Cast S.F. "Rigoletto" – October 15, 2006 and Power Verdi: Ataneli, Vargicova Excel in San Diego Opera "Rigoletto" – March 28, 2009.
For an interview with the production's Sparafucile, see: Rising Stars: An Interview with Raymond Aceto, Part I.