The Copley Experience
Of the many delights that must be cited for San Francisco Opera's current production of "The Marriage of Figaro (Le Nozze di Figaro)", the direction of British opera director John Copley is appropriately listed first. Copley's staging for four revivals of this production, originally created by Sonja Frisell in 1982 for Hermann Prey's Figaro and Lucia Popp's Susanna, has resulted in Copley's name now being intimately associated with San Francisco's production of Mozart's masterpiece.
The British master has a classical approach to each work he directs, and he knows how to inspire a young cast, such as the one that San Francisco Opera assembled for him, to connect with the musical and comic genius of this, the funniest and most admired of the Mozart comedies.
Copley's debut assignment for San Francisco Opera was their Summer 1982 season's production of Handel's "Giulio Cesare" – one of the most elegant mountings of the opera company's past three decades – starring Tatiana Troyanos as Caesar and Valerie Masterson as Cleopatra, conducted by Sir Charles Mackerras, with sets by John Pascoe and costumes by Michael Stennett.
Associated with the administrations of three of the past four San Francisco Opera directors, Copley's 30 directorial assignments over these past 28 years were cited in his award of the rarely given San Francisco Opera medal. Besides the four seasons he has directed "Nozze di Figaro" there are six seasons that he has traveled to San Francisco to direct Verdi's "La Traviata". (My reviews of his most recent work may be found at Graham, Swenson, Prina Luminous in S. F.'s Stellar "Ariodante" – June 15, 2008 and An "Idomeneo" Surprise in San Francisco – Daniela Mack's Princely Idamante – October 26, 2008.)
Yet another Luisotti Love-In
Readers of my reviews will recognize a pattern of high praise for all of the work of conductor Nicola Luisotti, in his second season as music director of the San Francisco Opera. Having been duly impressed with his accomplishments with the operas of Verdi, Puccini and Richard Strauss, I was looking forward to seeing his approach to Mozart as well. As I anticipated, he proved to be a lively Mozartean, at one with the humor and high spirits of this most senior of the operas in the inner core of the standard repertory.
Singers I have interviewed who have been in casts conducted by Luisotti have been unanimous in his praise of his support for their work. Thus, the convergence of Luisotti and Copley provided the musical and dramatic structure for the principal artists and other members of the "Nozze" cast.
Life at the Almavivas
"The Marriage of Figaro" is about the marriage of Count Almaviva's servant Figaro to Countess Almaviva's servant, Susanna. I have reported on performances of their roles in "Nozze" productions elsewhere of this cast's nuptial pair – respectively, Italian basso Luca Pisaroni (Figaro, see Kwiecien, Pisaroni Lead Youthful "Figaro" Ensemble in Santa Fe – August 13, 2008) and Australian soprano Danielle de Niese (Susanna, see Festival Casting for Lyric Opera's "Nozze di Figaro" – Chicago, March 9, 2010.)
[Below: Figaro (Luca Pisaroni) stands with his bride, Susanna (Danielle de Niese); edited image, based on a Cory Weaver photograph, courtesy of the San Francisco Opera.]
The other two principals introduced in the first act are the Count Almaviva (North Carolina baritone Lucas Meachem) and Cherubino (Canadian mezzo Michele Losier, in her San Francisco Opera debut role). Meachem, having established an international career, is returning to his roots at the San Francisco Opera where he was a participant in both the Merola and Adler young artists' programs. I had reported on his previous success in a Mozart leading role last summer (see The Man Who Loved Women: Lucas Meachem's Empathetic Don Giovanni – Santa Fe, July 31, 2009). My extensive interview with Meachem may be seen at Rising Stars: An Interview with Lucas Meachem, Part I and at Rising Stars: An Interview with Lucas Meachem, Part II.)
The combination of the four young Mozart-savvy principals – Pisaroni, de Niese, Meachem and Losier – guided by Copley's experienced stagecraft and Luisotti's singer-friendly conducting – produced the wonderful experience that this opera seems always to yield in the right hands. Those of us who have seen "Nozze" many times know all the comic situations, yet it still amazes me how funny and how fresh this opera can be.
Copley's cast knew how to use the time honored traditions of the comic legacy effectively – Pisaroni's sour puss expressions would have been known to Jerry Lewis, Meachem's double takes to Jack Benny and a hundred vaudevillians, yet in the hands of this cast, familiar routines caused one to laugh out loud until the tears flowed.
[Below: Count Almaviva (Lucas Meachem, left) has become aware that Cherubino (Michele Losier) has overheard the Count's attempts to seduce Susanna (Danielle de Niese); edited image, based on a Cory Weaver photograph, courtesy of the San Francisco Opera.]
"Nozze" abounds in juicy comic comprimario roles, each of which takes part in Mozart's beautifully constructed ensembles. Among them, Doctor Bartolo (John Del Carlo) gets to sing Mozart's great buffo aria La Vendetta, which Del Carlo dispatched with great skill. Before opera's end, Del Carlo's Bartolo himself will be married to Marcellina, nicely played, as she does each of the character roles that have become her specialty, by Catherine Cook.
[Below: to their great surprise, Marcellina (Catherine Cook, left) and Doctor Bartolo (John Del Carlo), find their circumstances to be be quite different at the end of the opera that when it began; edited image, based on a Cory Weaver photograph, courtesy of the San Francisco Opera.]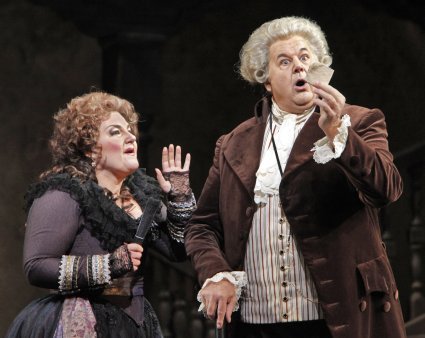 Completing the comic team are the Don Basilio of Greg Fedderly, in another masterful assignment; the Antonio of Bojan Knezevic, as funny in the gardener's part as any one I can recall; and the nicely done Don Curzio of Robert MacNeil. The small role of Barbarina, who gets one of Mozart's most charming folk melodies, was played by Adler Fellow Sara Gartland in her San Francisco Opera debut role.
The opera's serious role, even if she does get to take part in some of the fun, is the Countess Almaviva, played by Ellie Dehn, also in her San Francisco Opera debut role. Having had recent successes at the other two major California opera companies – as Freia in Wagner's "Das Rheingold" at Los Angeles Opera and Mimi in Puccini's "La Boheme" at San Diego Opera – Dehn proved a warm and sympathetic Countess, singing her two great arias Porgi amor and Dove sono with distinction.
[Below: Ellie Dehn is the Countess Almaviva; edited image, based on a Cory Weaver photograph, courtesy of the San Francisco Opera.]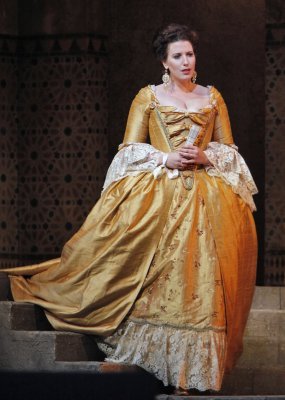 Where Credit is Due
Four of the seasons that John Copley stage directed "Nozze" (1986, 1993, 2006, 2010) have been associated with stylish revivals of Zack Brown's 1982 production of this opera. (The last two revivals have, by mutual consent of Mr Brown and the San Francisco Opera administration, omitted any reference to the creator of the sets. The reasons for it may possibly be discerned in my most recent reviews of Zack Brown productions in San Francisco (see S. F. "Nozze di Figaro" – July 2, 2006 and Missing "That 70's Show": S. F. "Ballo" — September 17, 2006.)
Brown's "Nozze", which includes its attractive, sometimes elegant costumes, is not even his greatest work seen in San Francisco, yet it still is a vibrant and beautiful production. I am one who hopes for a future reconciliation, if that is what is missing, between this artist, whose contributions to San Francisco Opera are of historic importance, and the San Francisco Opera artistic management.)
[Below: Zack Brown's third act sets for the San Francisco Opera production of "Le Nozze di Figaro"; edited image, based on a Cory Weaver photograph, courtesy of the San Francisco Opera.]