San Francisco Opera, whose history has been firmly based in the Italian wing of the opera repertory, continued the project of General Director David Gockley and Music Director Nicola Luisotti to restore the house's reputation as a first rank company for producing the operatic works of Giuseppe Verdi.
San Francisco Opera's 2010 season opened with "Aida" with a major cast of contemporary Verdian singers led by Micaela Carosi, Dolora Zajick, Marcello Giordani and Marco Vratogna, several of whom are closely identified with Luisotti's conducting duties throughout the world. The production of "Aida", co-produced with the Houston Grand Opera and London's English National Opera, was presented in both Houston and London in 2007.
Of the five formal dress "opening nights"of the Gockley era – the symbolically important (and, because of their social significance to so many of the opera's principal patrons, also financially important) first performance of each year's fall season, four have been Verdi works. Besides 2010's "Aida", "Ballo in Maschera" was revived for Deborah Voigt (2006),  "Simon Boccanegra" for Dmitri Hvorostovsky and Barbara Frittoli (2007), and "Il Trovatore" for Hvorostovsky and Sondra Radvanovsky (2009, importing David McVicar's production).
(The lone non-Verdi work was a revival of one of the grandest productions of San Francisco Opera's Kurt Herbert Adler era (1954-1981), Nicolas Joel's 1980 production of Saint-Saens' "Samson et Dalila" for Olga Borodina and Clifton Forbis. Mounting "Samson" was itself a highly symbolic choice and a signal that even as the Italian wing is being restored to its former glory, the French repertory will get deserved attention as well.)
From the Age of Aquarius: Zandra Rhodes' Sets and Costumes
One of the least controversial productions during the chaotic stewardship of Pamela Rosenberg, Gockley's predecessor as San Francisco Opera's General Manager, was a Zandra Rhodes production of Bizet's "The Pearl Fishers (Les Pecheurs de Perles)", created for the San Diego Opera in 2004 and mounted in San Francisco in 2005. Rhodes' whimsical cartoon sets and  color patterns neatly complemented Bizet's youthful, exotic music and once-upon-a-time-in-Ceylon love story.
Rhodes was then commissioned by the Houston Grand Opera to create sets and costumes for Verdi's masterpiece "Aida". The result was a succession of colorful, eye-pleasing images, for me evocative of the sets and costumes of Beni Montresor, whose productions graced the stages of both the San Francisco and San Diego Operas during the psychedelic '70s.
Rhodes' Carnaby Street London, was like San Francisco's Haight-Ashbury, a center of the splashy color palette of counter culture art. There were more than a few persons in the "Aida" audience who recalled the influence that the anti-establishment artistic communities of London and San Francisco had on each other during their "Summers of Love" a third of a century ago.
[Below: Radames (Marcello Giordani) enters astride a Zandra Rhodes designed "elephant"; edited image, based on a Cory Weaver photograph, courtesy of the San Francisco Opera.]
As San Francisco Opera digs down ever deeper into the canon of Verdi operas, there are other productions that should be considered for San Francisco (including one for London's Royal Opera House with which Luisotti and two of his principals in this San Francisco "Aida" are associated) that concentrate on the inherent drama and psychological meanings within the opera, but few will dispute that Rhodes' "Aida" sets and costumes provided spectacular surroundings for the world class musical performance.
Luciano and Marcello at the War Memorial
In the decade of the 1990s, Marcello Giordani appeared at San Francisco Opera for a total of  32 performances of five operas. The Sicilian tenor, born only a few miles from the birthplace of the great bel canto composer Vincenzo Bellini, made his San Francisco debut at age 28 as Alfredo in Verdi's "La Traviata", opposite the Violetta of Carol Vaness.
By coincidence three of Giordano's five roles in the '90's – Edgardo in Donizetti's "Lucia di Lammermoor", Fernand in Donizetti's "La Favorite" and Rodolfo in Verdi's "Luisa Miler" – were those performed by Luciano Pavarotti at San Francisco Opera's War Memorial Opera House between 1968 and 1974, when his repertory was concentrated in the lyric roles which most suited his voice at that point in the great tenor's career. As it was for Pavarotti, the "Luisa Miller" Rodolfo was a role debut for Giordani. ("La Favorite" was also a role debut for Pavarotti launched at the War Memorial, but as Fernando in the Italian "La Favorita" version of Donizetti's Parisian opera.)
[Below: Radames (Marcello Giordani, center) is invested with the generalship of the Egyptian armies in a ceremony conducted by Ramfis (Hao Jiang Tian, upper right); edited image of a Cory Weaver photograph, courtesy of San Francisco Opera.]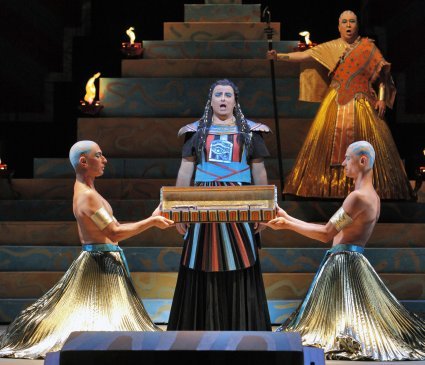 Two additional roles link Pavarotti and Giordani to the San Francisco Opera. Both sang Rodolfo in "La Boheme", Pavarotti at the War Memorial in 1967, 1969  and 1988, Giordani at the Orpheum Theater during the year that the War Memorial Opera House was closed for earthquake repairs.
And, to underscore the parallels between the the Pavarotti and Giordani roles at the San Francisco Opera, Pavarotti had his role debut as Radames in San Francisco in 1981 at age 46, while Giordani appears here this season as Radames at age 47. Thus, except for his Alfredo in his 20s, every role Giordani has sung in San Francisco is one that Pavarotti also sang here.
In 2000 Giordani had been scheduled for one additional role not in Pavarotti's San Francisco Opera repertory, that of Gabriele Adorno in Verdi's "Simon Boccanegra", but an accident required Giordani's withdrawal from the production.
By coincidence he was replaced by the young Uruguayan tenor, Carlo Ventre, who, a decade later, will be Radames in the alternate "Aida" cast later in the San Francisco fall season.
I was fortunate to have heard both Pavarotti and Giordani in San Francisco in each of the three bel canto roles in this house. Giordani appeared as Edgardo in Donizetti's "Lucia di Lammermoor" (with Ruth Ann Swenson), Fernand in Donizetti's "La Favorite" (with Sonia Ganassi) and Rodolfo in Verdi's "Luisa Miller" (with Patricia Racette).
Although his voice was always resonant in this hall, Giordani's Radames, a role whose vocal weight is much heavier than Edgardo, Fernand or Donizetti's Rodolfo, was revelatory, showing how much his voice has grown as he has moved into his late 40s.
Even so, he seemed to me to be singing the role with the instincts of  a lyric tenor. To prove he had not wholly shed his lyric stripes, and to show that he had both power and nuance (and that Conductor Luisotti would tolerate departure by one of the greatest of Italian tenors from contemporary practice), he sang an alternate ending to the first act aria, Celeste Aida.
43 years prior, dramatic tenor James McCracken, in performances conducted by Italian conductor Gianandrea Gavazzeni, surprised San Francisco audiences by singing the final high C in a "head tone" in the rarely heard French heroic tenor tradition. But head tones sound to some like a countertenor's falsetto, which invited some skeptics to speculate that McCracken didn't have the  high "C" in him.
Giordani, in a tour de force, sang the full chest high notes that a dramatic tenor, singing the first act aria Celeste Aida uses for the huge finish encompassed in the phrase Ergerti un trono vicino al sol (I will raise a throne for you next to the sun), then repeated the final vicino al sol in a  lower register with a lyric tenor's mezzo piano. Pretty amazing singing!
When Giordani's fellow Sicilian Vincenzo Bellini and his Northern Italian rival Gaetano Donizetti were first composing opera, they were expected to conform their art to the demands of singers and librettists, and the struggles of Bellini and Donizetti to improve orchestral and dramatic standards set the stage for Verdi to transform Italian opera.
[ Below: Conductor Nicola Luisotti; edited image, based on a photograph, courtesy of San Francisco Opera.]
Should Verdi be resurrected, after his recovery from the shock of the changes of the past century, I am convinced that he would find favor with the approach of Team Luisotti to his operas. Here is a conductor, respectful of Verdi, who possesses total rapport with a great opera orchestra (there were times during the "Aida" ballets in which Luisotti held his hands up and only occasionally twitched a finger, so confident was he of the orchestra's understanding of his intentions), and, as always, the end of the performance yielded yet another lovefest between Luisotti and all of his orchestra's members.
Verdi, Luisotti and the San Francisco Opera
One of the myths at the beginning of the new millennium was that there were no longer artists capable of singing the works of Verdi, but that there was a Golden Age of Verdian voices in the previous generation, represented by such Italian luminaries as Renata Tebaldi, Mirella Freni, Fiorenza Cossotto, Luciano Pavarotti, Tito Gobbi and Ettore Bastianini, by such Spanish singers as Jose Carreras, Montserrat Caballe and Giacomo Aragall, and by North American artists such as Placido Domingo, Jon Vickers and Leontyne Price.
Having enjoyed every one of these celebrated (and well-recorded) celebrities in performance in Verdi roles at the War Memorial, I am prepared both to accept the Golden Age characterization for the 1960s and 1970s, but I am prepared also to reject the idea that the era of great Verdian performances is over.  For the past several years, this reviewer has traveled to several different cities in North America and Europe and heard Verdi singing that I regard as comparable to the expectations of the audiences of the postwar "Golden Age".
In fact, I am prepared to assert that some of the contemporary Verdians of the first rank, trained in the stagecraft of directors as insightful as, say, David McVicar and Francesca Zambello, have an edge in the dramatic presentation of Verdi's ideas, the ability to act as well as to sing, a dual talent that Verdi himself regarded as an integral part of the operatic experience.
[Below: Radames (Marcello Giordani, left) and Aida (Micaela Carosi) discuss their future; edited image, based on a Cory Weaver photograph, courtesy of the San Francisco Opera.]
There is a group of artists associated with Luisotti with considerable experience in working together in productions in which acting and singing excellence are crucial attributes. Marco Vratogna, the Amonasro, debuted last year as Iago in Verdi's "Otello" and Micaela Carosi, in her debut season at San Francisco Opera, are two of these. (For my review of Vratogna's Iago, see: Ovations for 'Otello' – San Francisco Opera, November 8, 2009.)
Joining Giordani for this production, the threesome demonstrates that Italy continues to produce Verdians of international caliber.
[Below: Radames (Marcello Giordani, center, with flag) accepts the generalship of the Eqyptian army as the King of Egupt (Christian Van Horn, far right) and the King's daughter Amneris (Dolora Zajick, far left) look on; edited image, based on a Cory Weaver photograph, courtesy of the San Francisco Opera.]
Dolora Zajick, American mezzo supremo
It is not only Italy that produces great Verdians. The United States is prominent among the international centers of training for Verdian opera. Only one of the four principals in this cast is American-trained – the Amneris, Dolora Zajick, who, herself is a product of the San Francisco Opera Young Artists programs.
One can take the quip of Grace Bumbry, the great American mezzo of the previous generation, that Zajick is a dramatic soprano who is masquerading as a mezzo ('because that's where the money is"), with several grains of salt, but it is undeniable that Zajick has extraordinary power in the top of the mezzo range, which is exactly what is required for Amneris in the opera "Aida's" judgment scene.
[Below: a scene from Zandra Rhodes' production of "Aida"; edited image, based on a Cory Weaver photograph, courtesy of the San Francisco Opera.]
It may be Radames who is judged by the priests of the opera's plot, but it is this scene on which an audience ultimately judges the vocal performance of any Amneris. I have seen and heard Amneris performed by such diverse voices as Blanche Thebom, Regina Resnik and Irina Archipova, by Fiorenza Cossotto, Tatiana Troyanos and Larissa Diadkova, and believe that Zajick's Judgment scene can withstand comparison with any of these great mezzo divas. (For my review of a previous Zajick performance, see: Zajick is Victor in S. F. Opera "Maid of Orleans" – June 18, 2006.)
[Below: Amonasro (Marco Vratogna) convinces Aida (Micaela Carosi) to aid his efforts on behalf of the Ethiopian people; edited image, based on a Cory Weaver photograph, courtesy of the San Francisco Opera.]
Other Thoughts on the Performance
I have often noted that a person in a small role in a San Francisco Opera production may often be found a decade later in principal roles in major opera companies. To redefine the concept of luxury casting, Mexican tenor David Lomeli is singing the tiny role of the Messenger bringing news of Amonasro's mischief in the south.
But months before San Francisco Opera's 2010 opening night, Lomeli was announced to be the lead tenor, Rodolfo, in Puccini's "La Boheme" during the Summer 2011 Santa Fe Opera Festival merely ten months hence. In other words, San Francisco Opera's messenger, with only a few notes to sing, will be one of the two principal stars of opening weekend of the United States' premiere summer festival. If rumors are to be believed, San Francisco Opera patrons should not be astonished if Lomeli is announced for a principal role in San Francisco Opera's upcoming season.
[Below: Dolora Zajick is Amneris; edited image, based on a Cory Weaver photograph, courtesy of the San Francisco Opera.]
Also in the cast is Christian Van Horn, leaving a fine impression as the King of Eqypt, following impressive performances in Chicago as Brander in Lyric Opera's production of Berlioz' "Damnation of Faust" and as the Bailiff in San Francisco Opera's production of Massenet's "Werther". In the role of the priestess (sung here in the past by Deborah Voigt) is the promising soprano Leah Crocetto.
Although I was generally indifferent to the highly gymnastic choreography designed to match the Zandra Rhodes production concepts, I was charmed (as was the approving audience) by the idea of costumed Hindu children dancing for Amneris' entertainment. This reminds us that some still familiar cultural and religious traditions of Hindu society likely were both contemporaneous with and have long survived those of Ancient Egypt, whose inhabitants would have regarded as exotic the civilization of the Indus Valley.
Whether the men of the San Francisco Opera chorus had second thoughts about being dressed as Ramfis' priests in costumes that seemed to me like blobs of algae-colored river-weeds, they sang beautifully. Hoa Jiang Tian, on my list of basso cantantes to watch, does not yet seem to me to be quite the right voice for Ramfis, but it was a generally creditable vocal performance.
One of the Zandra Rhodes innovations was particularly interesting – the lowering of Giordani's Radames from high above the stage to the stage floor, representing the tomb in which he and Carosi's Aida will spend eternity.
Offsetting that theatrical effect, was the decision to bring Amneris, who is entirely offstage for most of the last act, onto the side of  the stage (i.e., at the same level as the tomb's floor) in order to utter the final words of the opera.
But my few quibbles do nothing to tarnish a spectacularly sung, often visually enchanting, "Aida". No opera-goer that has the ability to get to ANY Luisotti production should forego it, and can be confident that the cast that Luisotti attracts will be a fine one. I recommend the San Francisco Opera "Aida" without reservation.
For my reviews of Luisotti's previous Verdi performances at San Francisco Opera, see: Zurich and San Francisco: A Tale of Two "Forzas", and
Lyrical Luisotti Leads Triumphant "Trovatore" – San Francisco Opera September 11, 2009, and
Verdi's New Champion: Nicola Luisotti's Transformative "Trovatore" – San Francisco Opera, October 4, 2009.