Santa Fe Opera audiences have been treated in recent years to two of England's great composer Benjamin Britten's most gritty – and greatest – works, most recently his "Billy Budd" in the 2008 season reviewed by your website host William (who noted it as one of his most superlative productions ever), a hard-edged, gut-wrenching maritime story based on Herman Melville's novel. (See Superlative: Original 1951 "Billy Budd" Catches the Santa Fe Wind – August 14, 2008.)
Santa Fe Opera last performed Britten's smashing "Peter Grimes" in the 2005 season, another maritime-based grim/gritty/emotion-packed saga drenched with magnificent music – to me England's greatest opera – most recently seen at San Diego Opera in a grimacing, tear-jerking reading which I reviewed on this website in 2009 (See Anthony Dean Griffey Wows San Diego In a Riveting "Peter Grimes" – April 24, 2009.)
In total contrast Santa Fe Opera now presents Benjamin Britten doing a comedy in a small-scale ("Billy Budd" and "Peter Grimes" are Big Time grande opera indeed), chamber opera written for twelve musicians designed for budget-oriented presentations. But it was no small-scale casting for this one. Grandly commanding the baton in his Santa Fe debut was internationally renowned conductor Sir Andrew Davis.
[Sir Andrew Davis, music director of the Lyric Opera, Chicago (whose lobby is the background of this photograph), conducted "Albert Herring"; edited image, based on a photograph, courtesy of the Santa Fe Opera.]
International super-star Christine Brewer headlined the cast as the over-bearing, imperious Lady Billows (aka like that wicked witch school principal you had in grammar school – I certainly had a totally forgettable one!).
Judith Christin was cast to utter perfection as Mother Herring, giving her yet another chance to excel at her well known comedic antics so frequently bringing down the house here. No one, but no one, does side-splitting facial expressions better than Judith Christin!!
Soon-to-be super star tenor Alek Shrader (who is also moonlighting here in this season's final performance of Mozart's "Magic Flute") sang the title role.
[Below: Albert Herring (Alek Shrader) minds his mother's store; edited image, based on a Ken Howard photograph, courtesy of the Santa Fe Opera.]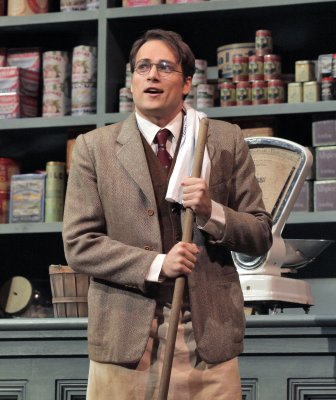 Albert Herring is rarely presented and has never been seen in many American houses, but I have had the good luck to have seen it often (mostly in the UK including at Glyndebourne in rain and in my wet tux!).
Because of its rarity, here's a quick Opera-101 overview of this opera based on a short story by France's great writer/poet/playwright Guy de Maupassant, with the action taking place in Victorian England sited in a small market-town in Suffolk, with the opera first presented at Glyndebourne (now England's equivalent of Santa Fe's summer opera festival) in 1947.
Mother Herring is a greengrocer and is our hero's overbearing, suffocatingly-protective Mom. But the town's self-appointed custodienne of Morality is the aptly named Lady Billows, a billowing, bossy, know-it-all who comes up with a contest for the town to select a spotessly virtuous Queen of the May Festival to be crowned and given a prize by the committee in charge of these festivities.
Unfortunately, after much diligent searching, no such laudatory Lass-of-virtue could be found to the consternation of all with a Ms Billows noting of one of the possibilities " . . . exuding moral blame, but stinks of moral shame . . . ", so the committee taps our Hero, the young lad Albert Herring who is "pure as new-mown hay" (aka some sort of hayseed? Keep tuned) to be, instead, "King of the May Festival". Mother Herring is ecstatic, but Al definitely is not, so his mother angrily dismisses him as a Bad Boy.
[Below: the town's elders descend upon Mother Herring's grocery store, from left Mother Herring (Judith Christin), Albert (Alek Shrader), Mr Budd (Dale Travis), Lady Billows (Christine Brewer) and Mayor Upfold (Mark Schowalter); edited image, based on a Ken Howard photograph, courtesy of the Santa Fe Opera.]
The scene changes in Act II to the garden of the vicarage all set up for the banquet with tureens of lemonade on the lovely green lawns in front of the Church, parsonage and some houses of this charming little village. Now comes the fun – Al's buddy Sid secretly spikes Al's lemonade with booze!
Meanwhile the speeches are given, and Al is crowned and awarded the 25 quid prize, then staggers home with more than just a buzz, but meanwhile overheard Sid and another friend Nancy saying how sorry they are for Al that he's such a momma's boy – totally suffocated and domineered by his Mom – that he ought to get out more . Well, that gossip ruminates in Al's head – then Rebellion!
Albert Herring runs away from this cozy nest to go out and discover the Real World, saying to Mum, and proclaiming he's not Mum's "sugar plum".
[Below: Sid (Joshua Hopkins, left) and Nancy (Kate Lindsey) have a bit of fun with Albert (Alek Shrader); edited image, based on a Ken Howard photograph, courtesy of the Santa Fe Opera.]
Act III, always wildly funny, starts with all in consternation as Al is missing – but eventually the local constable, ably played by Dale Travis (who, had stepped in to replace an indisposed Wayne Tigges the prior evening as the four Villains in "Tales of Hoffmann") comes in with the crushed, muddy "coronation" hat that Al had been crowned with, as Al's Mum almost collapses in grief. This is the only solemn passage in the piece, but loaded with fabulous music, as the others pay sympathy – but patronizing – to Mum.
But suddenly Al comes stumbling back to the party having spent lots on cheap likker, totally dishevelled – skunk-drunk. He's besieged with disdain, disgust and sarcastic rebukes from the locals. Mum says loudly, "You'll pay for this, my boy". Then, emboldened with that booze, Al proclaims loudly that it's all his overbearing mother's fault that he's such a mess.
[Below: Albert Herring (Alek Shrader), having lost his inhibitions to alcohol, tells everyone what he really thinks; edited image, based on a Ken Howard photograph, courtesy of the Santa Fe Opera.]
All his buddies and the young crowd loudly cheer him on, but the oh-so-moral townsfolk grimace and turn their backs on these hopeless kids, as completely humiliated Mother Herring, wrenching in anger, embarrassment and disgust, has a fit – and Judith Christin does this with, well, sheer genius.
Al has the final words, "That'll do, Mum". And on that sweet note the piece ends with roaring applause from a most enthusiastic audience.
Christine Brewer has graced Santa Fe's stage before in the fabulous 2005 Peter Grimes, Richard Strauss' "The Egyptian Helen" in 2001 and Gluck's "Alceste" in 2009. Judith Christin has graced the Santa Fe stage for years in many roles, as well as in most other American opera houses.
[Below: Lady Billows (Christine Brewer, right) shares her thoughts with Florence Pike (Jill Grove); edited image, based on a Ken Howard photograph, courtesy of Santa Fe Opera.]
Alek Shrader, who well and truly earned the top applause, will surely be welcomed on any return here and clearly will be seen everywhere shortly. This ripping production was directed by Paul Curran who also did the 2005 Peter Grimes here, with sets and superbly appropriate costumes by Kevin Knight.
The principal cast rounded out with Sid being sung by Joshua Hopkins and Nancy by Kate Lindsey, the school marm by Celena Shafer to gales of laughter – a graduate of the Santa Fe Opera Apprentice program, and the Vicar played by a current Apprentice Jonathan Michie – and very well indeed!
And let's all hope Sir Andrew will command the podium here again – soon. This was a real treat – by far the best reading of "Albert Herring" I've ever seen, and the sound he conjured from the the twelve piece orchestra seemed like an almost full symphony orchestra.
Over the years The Santa Fe Opera has also done three other Benjamin Britten operas, "Owen Wingrave" in 1973, "The Turn of The Screw" in 1983, and "Noah's Fludde" in 1996 and 1999, but none can equal the "Peter Grimes" and "Billy Budd" noted above. This reading takes its place of honor along side these two masterpieces in the hands of the most able Santa Fe Opera team. Bravi! Bravi!