Part I of this interview may be found at: Heartland Heartthrob: An Interview with Nathan Gunn, Part I.
[Below: Nathan Gunn; edited image, based on a photograph from www.texasperformingarts.com.]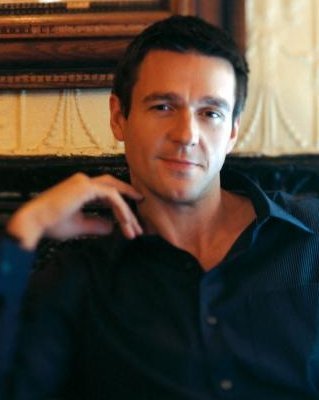 Wm: One of your colleagues in one of my interviews suggested that your physical exercise regimen and your physical appearance have put pressure on other operatic males to try to stay buff. We are now in a time when the first questions asked after Bizet's "Pearl Fishers" is announced for an opera company's season is Who will play Nadir and Zurga, and what will their costumes be?
[Below: Nadir (Eric Cutler, left) and Zurga (Nathan Gunn) recall the image of the priestess Leila in the temple; edited image, based on a photograph, courtesy of the Lyric Opera, Chicago.]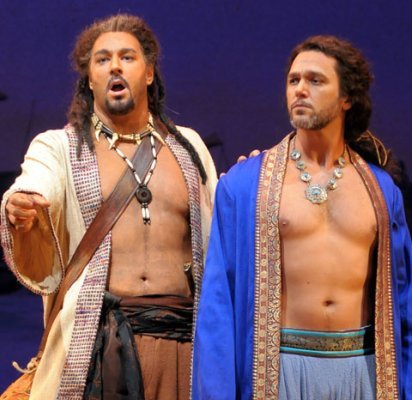 NG: In 1997, Francesca Zambello hired William Burden and myself as Pylade and Orest for Gluck's "Iphigenie en Tauride". About six months before the production, she told us that we were going to get totally wet onstage and would be barechested. She said we should start going to the gym. I do think that was the beginning of all of this emphasis on my physique.
Wm: Who would have imagined that a Gluck opera would have become a smash hit and started a new trend in costuming male opera performers?
NG: It surprised me that Burden and I got such an audience response. Personally, I don't see anything wrong with my looking like the character I'm supposed to be playing. I will go all sorts of directions in preparing for a role, although it's hard for me to gain a lot of weight.
Wm: I suspect that you at the middle of all of this must be enjoying the notoriety. Does your wife tease you about a fanbase that likes to see you barechested?
NG: The only time that Julie gets annoyed is at concerts. Some audience members will say "we are waiting for Nathan to sing the second half of the program shirtless". She thinks that is rude. I personally don't care. I understand where people are coming from.
Wm: But what are you to make of a time when the Los Angeles Opera casts you as Papageno in Mozart's "Magic Flute", and the city's major newspaper's reviewer objected to your appearing in Gerry Scarfe's enchanting costume, because its feathers covered your chest?
[Below: Papageno (Nathan Gunn, left) sings a duet with Tamino (Matthew Polenzani) in Gerald Scarfe's production of Mozart's "The Magic Flute"; edited image, based on a Robert Millard photograph, courtesy of the Los Angeles Opera.]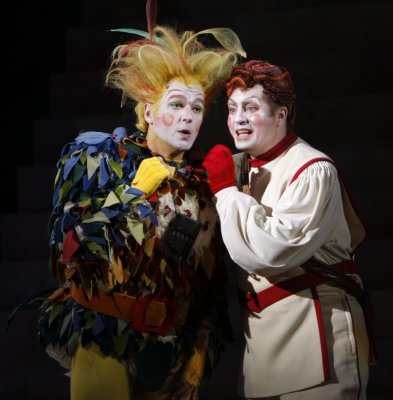 NG: Actually, Scarfe's Papageno costume was uncomfortably hot, and it required a lot of my time to be spent in makeup.
As for reviews, even though I'm very good at delegating power, reviews are something over which I do not have any control. Not everyone needs what you have to offer. Some people will like your performance and others will have wanted something else.
Wm: So far, I have reviewed six of your performances for this website, two of them two quite different productions of Rossini's "Barber of Seville" at San Francisco Opera and Los Angeles Opera. You appeared in the San Francisco production on two different occasions, one during Pamela Rosenberg's general directorship, one early in the general directorship of her successor David Gockley. A recent autobiography hints at the tension that existed at that opera company early in this decade. Were you able to sense a difference in the company between your first appearances and the later ones, or do such matters filter down to the visiting artists?
NG: I think Pamela had a focus on stage direction, with the objective of coming up with innovative ways of presenting old operas. But San Francisco Opera has long had the reputation of being a "singer's house". David has gone back to what the opera house originally was. San Francisco Opera is built around great singers.
Wm: You did have the opportunity to ride a Vespa in the Rosenberg-era production of Rossini's "Barber of Seville". What was that like?
NG: I found that production to be very challenging. Timing my entrance riding a Vespa to be at a particular point onstage in time with the music introducing Figaro's aria Largo al factotum was very difficult.
[Below: Figaro (Nathan Gunn) attends to a friend on the Vespa he uses to drive around Seville; edited image, based on a photograph, courtesy of the San Francisco Opera.]
The conductor, Stefan Soltesz, would get upset with me arriving too late, and I would say I'm doing the best I can. But it was fun.
Wm: In the mid-20th century, it was more common for opera stars to move between Broadway, movies and opera than it seems now. In 2008, when you appeared with the New York Philharmonic as Lancelot in a staged production of Lerner and Loewe's "Camelot", New York Times critic Anthony Tommasini suggested that your opera fans might worry about you moving into a new career on Broadway. Do your opera fans have cause for worry?
[Below: Nathan Gunn as Sir Lancelot in "Camelot"; edited image, based on a photograph, courtesy of www.nathangunn.com.]
NG: I love doing "Camelot" and working with the musical theater people. What I love about them is that they have an incredible work ethic. They put in so many hours. They put on eight shows a week and seem tireless in the amount of time that they dedicate to preparing and performing these shows. We are pampered as opera singers.
Would I commit to a Broadway show? I can't imagine it happening.It doesn't fit the operatic world, in which we contract for our time so many years in the future. I will do semi-staged musicals and concerts with excerpts from musicals, but that is as far as I would be able to go.
Currently, I am planning a show with Mandy Patinkin. He loves words and storytelling. We are getting together something on the order of a "Martin and Lewis" collaboration.
Wm: Will you be the Martin or the Lewis?
NG: Oh, I'm the Martin. In fact, just last week I returned from Sun Valley and Julie and I went to Chicago to spend four hours rehearsing the show with Patinkin. With the Broadway stars, you don't plan on stopping for breaks. They thrive on the love for what they are doing.
Wm: If the New York Philharmonic can present a rudimentary staging of "Camelot", why couldn't an opera company do a full staging of the work? Do you think that would be a good idea? Would you be interested in singing Lancelot as part of a major opera company's regular season?
NG: I would love to sing Lancelot for an opera company. In fact, a lot of the "pre-microphone" musicals would suit the opera house. Gordon McRae and John Raitt had big voices. The orchestrations were such that unmiked singers could be heard.
What would not work at an opera house are the Sondheim musicals and the like, because their dense orchestrations presuppose that the singers are wearing microphones. I performed in Mozart's "Nozze di Figaro" at the Ravinia Festival which was presenting several Sondheim works. Broadway stars Audra McDonald and Kelli O'Hara were performing. I found their work to be very impressive.
Wm: Although it seemed a natural choice for the Lyric Opera in Chicago to invite a young Illinois baritone with great diction and a winsome physique to star in "Billy Budd", it is less obvious that the Paris Opera in 2000 would have invited you to sing the role of the Prince in Prokofiev's "War and Peace". Was your invitation on the recommendation of the production designer Francesca Zambello?
NG: That was entirely Zambello, who had done a production of the opera in Seattle. Gerard Mortier, then the Paris Opera intendant, visited us in United States and approved me for the Paris Opera's production of "War and Peace". It was a great experience. Zambello and I worked together a number of times.
[Below: Nathan Gunn in Munich, standing in front of his image on a poster for the Opera's production of "Billy Budd"; edited image, based on a photograph, courtesy of www.nathangunn.com.]
Wm: I see you will be joining Zambello in Glimmerglass, New York in Summer 2011 for her inaugural season as General Director. Are you planning to work with her at San Francisco Opera or elsewhere in future seasons?
NG: I've got some future contracts with the San Francisco Opera, although I'm not sure whether the operas are ones that she will be directing. What will happen at Glimmerglass is not all set in stone, but I will be there both as a performer and to work with other singers. Zambello is going to put things back on the right path.
Wm: In the past, you have expressed interest in doing the title role of Tchaikovsky's "Eugene Onegin" and Rodrigue in Verdi's "Don Carlos". You are scheduled to do Onegin in Cincinnati next summer. Do you have a "Don Carlos" engagement in the works? With the Britten centennial and Wagner and Verdi bicentennials all set for 2013, are there any roles you are planning to prepare for that season?'
NG: So far, there are no plans in the making for "Don Carlos". I would also like to do Pelleas in Debussy's "Pelleas et Melisande" and the title role in Mozart's "Don Giovanni".
Wm: What is your favorite opera?
NG: Richard Strauss' "Salome" is my favorite opera. It's like eating a great rare steak. I would love to perform the role of Jokanaan – John the Baptist. That's a great character.
Wm: Who are some of the opera singers, stage directors and conductors you particularly admire?
NG: I admire many people – Placido Domingo would be at the top. He's a nice man, and sings beautifully still. And he brings large numbers of new people to opera. Luciano Pavarotti was one of the greatest singers on the planet. A favorite from the past is John Charles Thomas. He was just great. He sang lots of opera and performed in vaudeville as well.
Another baritone I admired was Cornell MacNeil, and among the sopranos, Birgit Nilsson. I adore Flicka – Frederica von Stade – with her heart of gold and the ability to love this business and those who perform in it so much.
Of the conductors, I obviously admire Jimmy Levine, who is so encouraging. I loved Robert Shaw and like working with Daniel Harding, with whom I have recorded "Billy Budd". It's hard to name all the artists whose work I appreciate.
Wm: And who are your favorites among the artists who do not sing opera?
NG: I love the work of Ella Fitzgerald, Frank Sinatra, Tony Bennett, Bing Crosby, Freddy Mercury of "Queen", and K. D. Laing, among many others. I was very impressed by the work of Victoria Clark in Weill's "The Firebrand of Florence" and Ricky Ian Gordon's "Grapes of Wrath". What a beautiful singer she is, with such a big heart. It's so good. It's a wonderful thing for me to be able to be involved in a little bit of the world of theatre.
Wm: Thank you, Nathan.
For my reviews of operas in which Nathan Gunn performed, see:
Spirited, Beautifully Sung "Don Pasquale" at Dallas Opera – February 19, 2010
and Florez and DiDonato Dominate Los Angeles Opera's "Barbiere di Siviglia" – December 6, 2009
and Los Angeles Opera's Magic Potion: Nino Machaidze in "L'Elisir d'Amore" – September 12, 2009
and Conlon's Magical Revival of Mozart's "Flute" at L. A. Opera – January 10, 2009
and Eyecatching, Mellifluous "Pearl Fishers" at Lyric Opera – October 16, 2008
and Deconstructing S.F. Opera's Super-sized "Barber" – November 12, 2006.