[The following interview with baritone Nathan Gunn was conducted in August, 2010.]
Wm: You grew up in South Bend in Northern Indiana, and now reside in Champagne-Urbana, in East Central Illinois. Yet you spend a part of each year in the world's great cosmopolitan cities, even while you are paterfamilias for a large family back in Illinois. Do you feel that growing up and living in the American Heartland has instilled core values in yourself that you live by and Downstate Illinois continuously reinforces them?
NG: One thing I like about the Midwest, is that there is a lot of space. The cost of living is less. Everyone is a little bit more realistic about their lives. It's hard for me to judge what may be "core values" in the Midwest, because I didn't grow up anywhere else, so I don't have anything to compare it to.
[Below: Nathan Gunn, edited image, based on a photograph from www.nathangunn.com.]
My mom and dad would say, you have to make a living, and make the sacrifices. My family has an understanding that sometimes you "just have to do what you have to do". That's all part of being a Midwesterner. On top of that, there is certainly an emphasis on taking care of your family.
Wm: How do you balance home and career?
NG: My wife and I decided that, when I was away, we would spend the money to see each other and our kids. My kids get a lot of opportunities to experience "fancy stuff" through my work travels. During the regular opera season the kids trade off with one another traveling with me. My two oldest daughters will come to Madrid with me next Spring. The twins are the youngest and spend more time with each other, but I work on making sure I spend time with everyone. The summer opera festivals are a bit easier on us as a family because they last a couple of months rather than a couple of weeks and the kids are out of school.
There are of course nightmare experiences that can occur, and when I see Kevin and Heidi Grant Murphy at the Metropolitan Opera, who travel with their four kids, we compare travel stories.
[Below: Julie Gunn accompanies her husband Nathan; edited image, based on a photograph from www.nathangunn.com.]
Wm: While at University of Ilinois Champaign-Urbana, you became a voice student of a retired professor, the late William Miller, and even arranged an extended period of individual study to work with him on Schubert lieder full time. Many would find that a daring career move. What did you find to be special about his teaching?
NG: Bill Miller taught me everything I know about singing. He called his approach "nature's way of singing" – how your body worked to produce sound in a healthy way. When I started studying with him I had no idea how to do it. My girl friend (now my wife, Julie) worked as accompanist with one of his students, Leroy Kromm (now of the San Francisco Conservatory of Music faculty) who recommended Miller, then an 83 year emeritus professor, to me.
I would take lessons with him. In fact, my education was inundated with Miller's voice lessons. John Wustman and I performed hundreds of times – I estimate about 600 performances as a student with Wustman as my accompanist.
You had to stand there, tell a story in German, without any of the distractions of opera to divert an audience's attention from what you are singing. Lieder gave me a good foundation with music making. Afterwards, acting on stage in opera came to me naturally.
I often think about Miller and what he taught me. He would never talk about "focusing" sounds. He would never use the term "support". For him using legato was binding all the sounds in a word together, not just the vowels. He believed in developing a beautiful singing voice whose words could be understood. He said that a person who spoke in English should sing in English.
Miller sang oratorio. He was on radio's Carnation Breakfast Hour. He had been working during the Great Depression. He constantly told great stories.
What skills learned from him do you continue to use?
The first lesson I learned is that a student should find a teacher and obey. I understood the sign at the place Miller taught that read "within these wall lies vocal health". I told him I would do whatever he told me to do.
I teach part of the time, and I now reflect on how Mr Miller taught me. He told and repeated a lot of stories. These stories not only taught me a truth about singing or about being a student, they also (I realize now) taught me how to be a teacher as well. These stories would calm you down. He wouln't let a student determine the pace of the lesson. You had to go at his pace in order to not skip any steps.
Wm: In 1994, you participated in and won the Metropolitan Opera National Council Auditions and was accepted into the Met's Lindemann Young Artist's Program. What is your most vivid recollection of your period as a Lindemann Young Artist?
NG: Probably the most intense moment was when I was the cover for Guglielmo in Mozart's "Cosi fan Tutte". Mark Oswald was scheduled to sing the broadcast, but was indisposed, and I had to step in as his cover and perform the role. It was like having a big audition for the whole world.
I remember all of my experiences as a Lindemann artist. All of it is vivid. It was a powerful time for me. I was able to observe the creation of a new production of Verdi's "Otello" with Placido Domingo in the title role. I was doing master classes with Hermann Prey, Renata Scotto, and Sherill Milnes. I was working on my acting with Stephen Wadsworth. Julie, my wife, was working as an accompanist for the Lindemann program. We performed for Met patron parties and learned about the arts in New York City.
[Below: Nathan Gunn is Arlecchino in Christof Loy's 2002 production of Richard Strauss' "Ariadne auf Naxos" for the Royal Opera House Covent Garden; edited image of a Clive Barda photograph for the ROH Covent Garden.]
I came to know how completely the Met will take care of you. I had a conversation with the Met's artistic administrator, Jonathan Friend. I wanted to study with my voice teacher, William Miller. Friend asked me to explain why I would have only one lesson every two weeks. I said when you prepare a garden, you start by roto-tilling, but then after a while you are just pulling weeds, and keeping things on the right path. The Met is good at producing opera. But it is not the Met that should be taking care of my vocal health. That is my responsibility.
Wm: Would you agree that the combination of university-based vocal performance programs with the major Young Artists programs has produced an unprecedented number of North American opera singers of the first rank?
NG: I think that if you get a bachelor's degree in voice over a five year period, your voice will have time to mature before you begin to work on opera. Opera is an adult activity. An opera singer needs a lot of strength. Allowing singers time to mature is why we produce so many excellent opera singers.
[Below: Billy Budd (Nathan Gunn) climbs the riggings of the "Indomitable"; edited image, based on a Dan Rest photograph, courtesy of the Lyric Opera, Chicago.]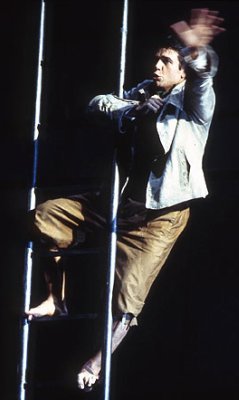 Wm: A role that brought you acclaim early in your career was the title role in Britten's "Billy Budd". You have now performed the role in productions conceived by David McVicar (Lyric Opera, 2001), Willi Decker (a production revival at San Francisco Opera, 2004), Francesca Zambello (Pittsburgh Opera) and Peter Mussbach (Munich). Do you believe you have a good take on that character? And do you think you have a clear understanding of what motivates the character of John Claggart?
[Below: Foretopman Billy Budd (Nathan Gunn) assumes the moral leadership of the crew of the "Indomitable"; edited image, based on a photograph for the San Francisco Opera.]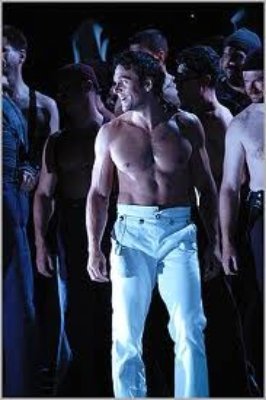 NG: Usually, when I get a question about the characters in "Billy Budd" it is whether I think that Captain Vere was right to approve the death sentence on Budd. In fact, I had a conversation on Vere with Supreme Court Justice Ruth Bader Ginsberg, whom I came to know because she is a great opera fan. She noted that many law schools pose the question to students as to whether Vere made the correct legal and moral choice.
In general, I believe in the motivations of the characters in Budd, as Britten has written them. I try to play Billy Budd simply. Whatever he says, he believes. In fact, one could say that about all of us. At the time we say something, we sincerely believe what we are saying. Later we may change our mind on what we should have said, but whatever we say is usually what we mean at the time.
[Below: Nathan Gunn as Billy Budd in a production in Munich; edited image, based on a photograph, courtesy of www.nathangunn.org).]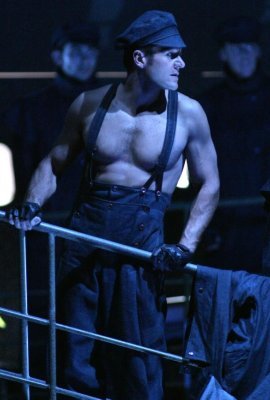 John Claggart is supposed to be evil, but I think he represents something of what we all are like. Claggart never says he hates Billy. Claggart is trying to make order in his life and that around him. Billy screws that up.
Claggart is associated with an old nautical term for the masters-at-arms – "Jemmy Legs" – which at the time had the connotation of a dandy, but a person not born into the upper class. Claggart is a fastidious person, who is not controllable, while Billy, much like a stoic, who knows that he can only control what he himself thinks, says and does, but must accept whatever his fate turns out to be. Free will has entered a ship that is ruled by law.
Wm: Yet Claggart has been given the responsibility of assuring there is no mutiny. Billy Budd has become a de facto leader of the crew, which is something that Claggart finds deeply disturbing and challenging to the authority that has been delegated to him as master-at-arms.
NG: Yes, one can draw parallels between the British man-o-war officers and the Spartan warriors, who were constantly terrified of the possibility of being overwhelmed by a slave revolt.
Wm: It is an unstable situation when both Claggart and Billy Budd exert different methods to control men simultaneously; thus Claggart's authority cannot continue to exist in the world that Billy Budd has created.
[Below: Billy Budd (Nathan Gunn) is summarily executed as a result of striking and killing John Claggart, a superior; edited image, based on a photograph for the Pittsburgh Opera.]
NG: It's what Britten does all the time in his operas. Claggart hates Billy Budd because he loves Billy Budd and must destroy him or be destroyed, which will in the end ultimately lead to his destruction. Much like the sentence, "This sentence is untrue." If it's true then it is untrue and therefore true which makes it untrue, etc. Britten is a master at tackling these kinds of subjects. There are a few operas that improve masterpieces. Britten's "Billy Budd" and Verdi's "Otello" are two that come to mind that get to and surpass the essence of the original work.
Wm: Are their more Billy Budds in your future?
NG: I'll be singing Billy Budd at the Met when they next bring it back. I know they worry about how well it will draw, but I've never done it anywhere that it didn't sell out. I have a long history with the opera. My first role was the Novice's Friend. In the future, I plan to perform the role of Lieutenant Redburn and will mentor future Billy Budds, just as Richard Stilwell, who was Redburn to my Billy Budd, did for me.
Wm: You've done a number of contemporary works, including several world premieres. Do you believe that out of the current group of opera composers, we are likely to see some new works enter the standard repertory? Are there new works, already produced, that you believe will achieve lasting popularity, or at least signal who the composers are that will write great operatic works in the future?
NG: I love new pieces. They take up a lot of time, but it's worth it for me. As a musician, I don't want to be a curator of opera. I want to help create the new ones. Recently, I worked in Previn's "Brief Encounter" in Houston. I loved the fact that it was an opera about a woman in the middle of her life. It's a real story and its characters are beautifully portrayed. I consider it a work that speaks to all generations and all times.
[Below: Laura (Elizabeth Futral) becomes involved in an affair with Alec (Nathan Gunn); edited image, based on a Felix Sanchez photograph, courtesy of the Houston Grand Opera.]
One of my good friends is Gene Scheer who wrote the libretto for Heggie's "Moby Dick". I believe that opera will last and that Ben Heppner will be remembered for having created the role of Captain Ahab.
Wm: I was able to be at the "Moby Dick" world premiere. Because it is already scheduled to be performed at the San Diego Opera, San Francisco Opera, Calgary Opera, and Opera of South Australia, it is assured for the time being of becoming the 21st century's most performed work.
NG: I love that Scheer took the line Call Me Ishmael that Melville used to open his novel Moby Dick and moved it to the final line of the opera. Heggie's "Moby Dick" will last. I think other operas that are being written now will also last.
[In the second part of this interview [Heartland Heartthrob: An Interview with Nathan Gunn, Part 2] Nathan Gunn talks about the widespread attention to his physique, to roles he would still like to do, and answers the question as to whether he might leave opera to do Broadway musicals.]