Wolfgang Amadeus (note about film Amadeus below) Mozart's final operatic masterpiece, "Die Zauberfloete" (The Magic Flute) once again enchants Santa Fe Opera audiences. The summer 2010 season is the 54th for The Santa Fe Opera in beautiful olde Santa Fe – now celebrating its 400th anniversary. The "Magic Flute" has been a very frequent show-stopper of the all-time operatic wunderkind here – this year being a lucky thirteenth presentation since 1968!
[Below: Tamino (Charles Castronovo) walks with the animals; edited image, based on a Ken Howard photograph, courtesy of the Santa Fe Opera.]
For those of you who love and collect numbers (don't we all for certain favorite things?), the operas of Mozart have enjoyed the most productions of opera presented by The Santa Fe Opera since its Day One in 1957 in which season Mozart's charming "Cosi fan tutte" was presented after the first opera fully staged here – Puccini's glorious "Madama Butterfly".
"Butterfly" opened this summer's 2010 season and reviewed by your website host William who additionally reviewed this season's brand-new-for Santa Fe, Offenbach's "Tales of Hoffman". (For the previous 2010 season reviews see: Kaduce's Incandescent Cio Cio San, Jovanovich's Injudicious Pinkerton, Emblazon Blakeley's "Butterfly" – Santa Fe Opera, July 16, 2010 and Groves, Wall, Lindsey Excel in Christopher Alden's Harrowing, Hallucinatory "Hoffmann" – Santa Fe Opera, July 17, 2010.) The balance of this summer opera festival, which I regard without any doubt whatever as the premier summer opera festival in America, included Britten's "Albert Herring" and a world premiere of "Life is a Dream", an opera written by Lewis Spratlan, based on The Golden Age of Spanish Drama.
[Below: Sarastro (Andrea Silvestrelli, right) explains to Pamina (Ekaterina Siurina) why she should seek a different view of the world than the one taught her by her mother; edited image, based on a Ken Howard photograph, courtesy of the Santa Fe Opera.]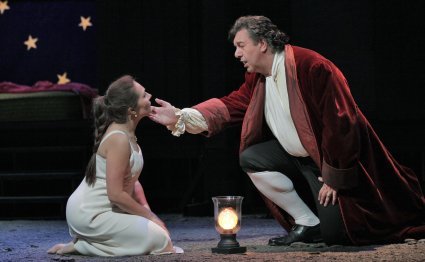 For those who know The Santa Fe Opera well, it comes as no surprise that the operas of Richard Strauss have graced Santa Fe's stage more than those of any other composer, as Founding Father Emeritus John Crosby adored Strauss' works. And since that Santa Fe Opera Day One in 1957 what composer's operas played second-fiddle, as it were, to those of Richard Strauss? Mozart's nine operas compared with Strauss' 13, but alas, Mozart gets the giant bouquet of roses for the most opera productions here by quite a margin – "The Marriage of Figaro". But not every opera composer has received this kind of attention – prolific composers like Richard Wagner, Peter Tschaikovski, and Dmitri Shostakovitch have only had one each!
But then there's such a thing as paying the overhead, selling tickets and other such boring details, particularly in tough economic times like we have experienced the last several years which have immensely impacted all of the performing arts, most certainly including opera – the most expensive of the performing arts – but also the Greatest Show on Earth, and at this The Santa Fe Opera truly excels!
[Below: the Three Ladies (Audrey Walstrom, Rachel Willis-Sorensen and Renee Tatum) present Prince Tamino (Charles Castronovo) with a locket; edited image, based on a Ken Howard photograph, courtesy of the Santa Fe Opera.]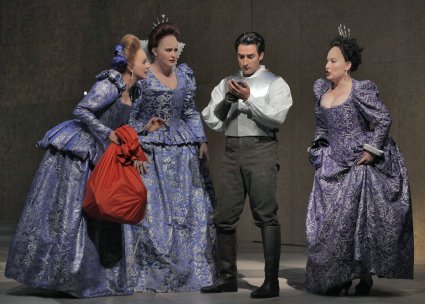 But I digress. Many critics laud Mozart's "Don Giovanni" or his "Marriage of Figaro" as the greatest of all operas, with which I would not strenuously argue, but to me the "Magic Flute" has Mozart's most glorious operatic music, although, for many, the story-line is wacky, but nevertheless very entertaining. Speaking of which, if you haven't seen the fabulous film about Mozart – aptly named Amadeus – by all means go rent it at Blockbuster or order it from Netflix. It's utterly sensational – you'll never forget it, and the image of him – with his comic laugh – shown in this dazzling flick will stick with you forever. I have watched my DVD of this dozens of time!!
"The Magic Flute" is a Singspiel – a musical play, and a play it is with much spoken dialogue – here done in English – but the music issung in German. Don't fret – for Santa Fe, like the Met, has the best system in the world for following the action without craning your neck gaping at supertitles seemingly in outer space. You just touch a button on the screen in front of you in the backrest of that seat in front, and voila!, there is the full translation in English or Spanish. I've seen purists – who wouldn't deign to read supertitles – take furtive looks at these screens. By all means do when you come here – it makes the piece 1000% better since you'll understand what's happening.
[Below: Papageno (Joshua Hopkins) pursues his career as a birdcatcher; edited image, based on a Ken Howard photograph, courtesy of the Santa Fe Opera.]
Every opera-lover knows this complicated, often perplexing piece somewhat, but as a quicky Opera-101 refresher, here's my brief take: It starts out as a romantic fairy tale as the handsome, young Prince Tamino encounters a series of grievous trials and travails, one of which is a creepy monster-serpent – often portrayed as in Wagner's epic opera Siegfried when that hero slays the evil, hissing, salivating Dinosaur-inspired Fafner on his way to triumph.
[Below: A monster intends to have a dinner of Prince Tamino (Charles Castronovo); edited image, based on a Ken Howard photograph, courtesy of the Santa Fe Opera.]
Soon, Papageno – the Birdcatcher – arrives on the scene – by far the most beguiling, enchanting character of this whole crew, singing one of the most catchy (sorry) tune of all Der Vogelfaenger bin ich ja (the birdcatcher yes I am), but he's after the wife of his dreams who, surprise of surprises, shows up at the end as an old witch, but suddenly metamorphs into a dazzling looker. The two launch into the most ingenious and enchanting duet in all of Mozart's works – this number is worth the price of the ticket alone!!
But meanwhile, Prince Tamino must somehow rescue Pamina, the gorgeous daughter of the evil and imperious Queen of the Night (who gets the most roaring-ovation killer-arias of all), and Mozart sees to it that he conveniently receives a magic flute and a Glockenspiel to help clear the way, for playing these suddenly makes everyone become delirious in happiness – in this production it makes them giddy as if polluted with booze!! The music that goes with this is magically sensational – Mozart at the apotheosis of his powers. No one will leave this production without remembering that Glockenspiel!
To help pave the way for the story, Mozart has three children who arrive and save the day at the most convenient times, here clad in Buddhist yellow-orange robes, bald as novice monks – and adorable! At the most needed time, they lower on ropes the Magic Flute, the Glockenspiel (in a sparkling Blue lunch-box) and a big McDonald's Bag for Papageno loaded with Big Macs, fries – the works, which he devours with relish (included in the McDonald's bag?).
[Below: Papageno (Joshua Hopkins), dissuaded from suicide, receives a magic glockenspiel from the three Genii (Trent Llewellyn, Sean Jahner and Craig Short); edited image, based on a Ken Howard photograph, courtesy of the Santa Fe Opera.]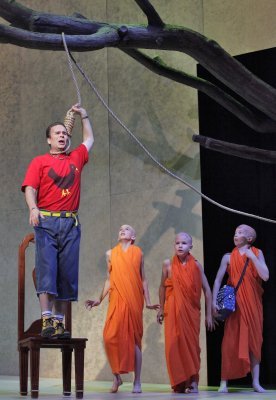 Off go the Prince and the Birdcatcher on their often Vaudeville-scale quests through huge, perilous trials and torments – affording Mozart luscious material for some of the most sublime music extant. Did I mention I love this piece? I reviewed this same Tim Albery production in Santa Fe Opera's 2006 season, the sets to which are minimal (Critic Heidi Waleson of the Wall Street Journal thought they blew at least $50 on these sets) but terrific costumes.
The casting for this production is superb, with young, striking tenor Charles Castronovo seen as Prince Tamino, Joshua Hopkins as our Birdcatcher Papageno, un-gussied-up as the next-door college kid complete with Levi's, yellow sneakers (aka athletic shoes in today's lingo), red T-shirt (bird print on front, of course), opposite his Papagena who is Jamie-Rose Guarine, Pamina played by Russian Soprano Ekaterina Siurina.
[Below: Ekaterina Siurina is Pamina; edited image, based on a Ken Howard photograph, courtesy of the Santa Fe Opera.]
Her Mom the Queen of the Night is Audrey Luna for this evening as a very evil, threatening figure indeed, but previously by Erin Morby for the balance of the season, Andrea Silvestrelli (a truly fabulous low-low bass basso reminding me of the late basso Cesare Siepi) as the severe but most lovable Sarastro opposite the Real Bad Guy Monostatos of Timothy Oliver, clad along with his henchmen as East German "Stasi" police.
[Below: Monostatos (Tim Oliver, third from left in dark uniform, and his slaves (from left to right in gray uniforms, Heath Huberg, Brad Benoit, Albert Gleuckert, Thomas Forde, Brent Turner and Samuel Levine, create an unpleasant situation for Papageno (Joshua Hopkins, front left) and Pamina (Ekaterina Siurina, front right); edited image, based on a Ken Howard photograph, courtesy of the Santa Fe Opera.]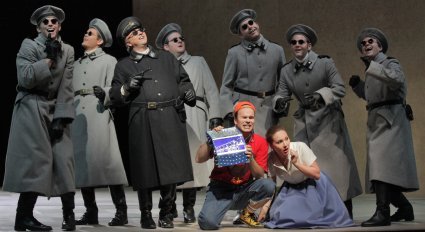 The performance took place under the very competent baton of Lawrence Renes returning to Santa Fe after his 2007 debut in the premiere of "Tea, A Mirror of Soul". As if he didn't have enough to do as Albert Herring in that opera, Alek Shrader moonlights as Prince Tamino on the Final Aug 27 Magic Flute. (Charles Castronovo is off to L. A. for rehearsals for the title role in the world premiere of Catan's "Il Postino", which opens the Los Angeles Opera's 2010-2011 season.)
Mother Nature played a most prominent role in tonight's production (seen Aug 23, 2010) – presenting with an ominously threatening, black sky with raindrops intervening. The back of the stage was open to this sky, and during the thrilling overture, great streaks of lightning spangled the sky as if on cue! Indeed, while the evil Queen of the Night arrives and sings her diatribe, flashes of lightning again obliged, but I suspect the Director of Lighting may want to take credit for these terrific effects!
[Below: Audrey Luna is the Queen of the Night: edited image, based on a Ken Howard photograph, courtesy of the Santa Fe Opera.]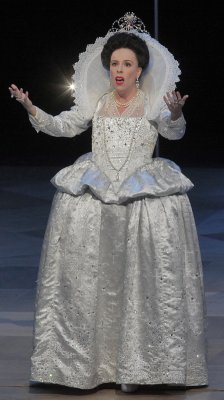 In this production, the piece opens with the huge snake-like monster with mouth agape and steaming – but Prince Tamino is trapped in that mouth – struggling to get out as the Three Ladies (here brilliantly portrayed by Rachel Willis-Sorensen, Audrey Walstrom, and Renee' Tatum) come upon this dreadful scene armed with spears with which they do in the serpent, all three dreaming that they would love to have this guy as a hubby! Papageno arrives, meets the Prince, sees the dead serpent, and promptly takes credit for finishing off the monster. To that, one of the three ladies clamp his lying mouth shut with a dog-muzzle which our Papageno uses to great audience acclaim.
An especially enchanting scene is when the flute and Glockenspiel are played, huge animals appear on stage, a gigantic MGM-style lion on the right, monster Tiger on the left, 40′ long Croc, and the Biggest Beaked Bird you've ever seen – to the ecstatic enchantment of the house. One other very nice touch – Papageno's dream wife does show up at long last – clad in exactly the same rig as Papageno, then onstage come their swarms of children.
[Below: Papageno (Joshua Hopkins) and Papagena (Jamie-Rose Guarrine) share their ideas on family planning; edited image, based on a Ken Howard photograph, courtesy of the Santa Fe Opera.]
In closing, may I again suggest that this is summer opera at its best in America, in an incomparable setting with spectacular blood-red sunsets, majestic mountains, World Class opera beyond doubt, and a town groaning with fabulous Southwest eats and great shopping. See my "Tom's Tips to Opera in Santa Fe" on this website. Have fun!
Tom Rubbert