William's note: I first interviewed Conductor Antony Walker at the new offices of the Pittsburgh Opera (in the historic building that was originally part of the factory of the Westinghouse Brake Company. (See: Interviewing Conductor Antony Walker on Undervalued Masterpieces – and His Unexpected Celebrity.)
This second interview took place at the Santa Fe Opera ranch, a few hours before he was to conduct a performance of Puccini's "Madama Butterfly".
Wm: This is your first time conducting at the Santa Fe Opera Festival. How would you describe this experience?
AW: I may never leave. I adore it here. Apart from the most spectacular locations and facilities and a wonderful orchestra, I love the festival atmosphere. I've seen more of my colleagues here than anywhere.
[Below: Conductor Antony Walker, edited image of a photograph, courtesy of the Santa Fe Opera.]
It's a wonderful place to talk about projects, music, culture, a very stimulating place. Everyone here is so positive and enthustiastic. It's impossible not to be in good spirits in this environment. There is great support from management, which is very committed to artistic excellence.
Wm: You were guest conductor for the Pittsburgh Opera in 2004, and in 2006 became the Pittsburgh Opera music director. We last spoke just before you conducted Bellini's "I Capuleti e i Montecchi" there.
[Below: Giulietta (Laura Claycomb, top) caresses the dying Romeo (Vivica Genaux); edited image, based on a David Bachman photograph, courtesy of the Pittsburgh Opera.]
AW: Yes. Doing the "Capuleti" with Laura Claycomb and Vivica Genaux was luxury casting. Thor Steingraber was stage director when the production was developed for the Los Angeles Opera. He agreed to come to Pittsburgh to do this production together with us when he learned that Claycomb and Genaux were in the lead roles together.
Wm: Steingraber's "Capuleti" production showed what I have long maintained – the Vincenzo Bellini had a much better sense of drama and theater than his reputation. [For my review, see: Beautiful Singing in Bellini's "Capuleti": Pittsburgh Opera – May 3, 2008.]
Having presented Bellini's "I Capuleti e i Montecchi" in Pittsburgh, do you foresee further exploration of the bel canto repertory there?
AW: We are doing Donizetti's "Lucia di Lammermoor" next season with Laura Claycomb in the title role. Christopher Hahn (the Pittsburgh Opera General Director) makes the final decisions. We have discussed the possibility of other bel canto repertory, although so far there is nothing concrete that we have planned.
Wm: "Lucia" is certainly an opera that can be made theatrically interesting in the hands of a good director.
AW: Without a doubt. At English National Opera in London, I was conductor for David Alden's production – a very dark, very violent production. Lucia was under the thumb of all the men and Edgardo was also an abuser. It was an interesting production with Anna Christy a very fine, youthful, and very strong Lucia. She stood up to all these male figures, but in the end it proved to be too much for her.
Wm: Since 2008 you have had new guest conducting assignments at Opera Theater of Saint Louis, Vancouver Opera, Canadian Opera Company in Toronto and Santa Fe Opera, and you also were guest conductor at English National Opera. You now have a reasonably good basis for assessing the similarities and differences (should you agree that they exist) between the regional British and North American opera companies. What are your current thoughts about the state of opera in Great Britain and North America?
AW: That's a very large question. The state of opera is artistically extremely fine. Financially, it is still a little precarious. I've recently heard that there are more cuts to the opera subsidies in Britain that are being planned .
I am hoping that, as the economy settles down, opera companies can take more risks and have more confidence in their audiences. It's been a "discombobulating" time, when a company is presenting things that ordinarily do very well, but then fail to get the audiences they were planning for.
Companies have been rethinking the way they do anything. The worst you can do is stagnate. I am hoping that things can settle down so that one can think of taking more risks on the artistic side. It varies with each company. When I did Bizet's "Carmen" with Vancouver Carmen it was most successful.
The economic downturn has caused real consternation. There are so many good singers, directors and conductors. If you have the money to put on quality performances you can still do that. There certainly is no dearth of talent nor of ideas.
Wm: I have twice reviewed you conducting Puccini's "Madama Butterfly", once the Opera Australia production in Pittsburgh and now in Santa Fe. "Butterfly" is the the 2oth century's most popular opera, but one which, paradoxically, is arguably undervalued, since many opera commentators seem to dismiss the work. You appear to have conducted this opera in more places than you have any other opera. Would you agree that it a musically profound work?
AW: Absolutely. It was very interesting. Before I knew "Butterfly" I thought it was a flawed piece. But when I really started studying it in depth, I realized what an astonishing thing that Puccini has done.
It caused Puccini some angst. The standard version – the "Paris" version – is the last version chronologically. One of the things about the previous "Brescia" version is that Kate Pinkerton is presented as a more sympathetic character. In the Brescia version, Kate is coming to a situation that is not of her own making. But Puccini became persuaded to make certain cuts, so that there would be no ambiguity with whom we as the audience should identify.
In some ways de-emphasizing Kate Pinkerton proved to be a great choice on the composer's part. Our hearts are breaking as Butterfly's is breaking, although one has to avoid its falling into sentimentaliity. Puccini, as a man of the theater, realized when to tug at heartstrings, and when to create tension. Sometimes there is very lush music that follows moments of tense drama. Puccini has been very deliberate in mixing tension and lyricism, with a very clear idea of when to ramp up the tension and when to release it.
In Santa Fe we are looking for a realistic view of Butterfly's abandonment. Sometimes it's stark and gritty. When you get to the humming chorus, or the "flower duet", or Un bel di, they stand out all the more because of the gritty realism that has preceded it. I like to keep the performances taut, so that in the lush passages that adding more lushness does not dilute the dramatic flow. The tension set up and released is so important. There is a lot of humor in "Butterfly", but it is best not too gloss over the unsympathic attributes of characters like Goro.
Wm: One of the differences between the typical 2oth century performances of "Butterfly" and those in the 21st century is that the two act version (that is, combining the Paris version's Acts II and III without a break) is now almost universally used.
AW: From my point of view, the two act staging is much more coherent dramatically. It is what attracted Puccini to the story, and what he originally had in mind for the opera. When you see Butterfly in the vigil and then go immediately into the next act, there is a very powerful continuity.
Wm: Do you find yourself looking forward to conducting "Butterfly", no matter how many times you have performed it?
AW: I actually do. Sometimes I find myself thinking "Oh, I have another "Butterfly". But as soon as I start again to prepare the piece, I find renewed enthusiasm for it.
Wm: You will be making your Met debut with Gluck's "Orfeo ed Euridice" with David Daniels, Kate Royal and Lisette Oropesa. Baroque opera is a particular specialty of yours. Do you look forward to inhabiting the baroque niche at the Met?
AW: I haven't thought about that. I'm just focused on doing the best I can. It is curious, but Gluck is a very particular style. Although he is a contemporary of Haydn and Mozart, those two composers have more in common than they do with Gluck. I will be conducting a production revival, so that I have to work with the preexisting production, although it's a production whose DVD I've seen and love.
I tend to identify with a wide variety of styles."Occupying a niche" is not how I see myself.
I just learned the day before this interview of the parting of Sir Charles Mackerras. It was from Mackerras that I learned the importance of being able to conduct the breadth of repertory and style. Mackerras taught that how you conduct Gluck and Mozart is how you do Rossini and bel canto. What he taught me is what gives me confidence to do baroque at the Met. It's wonderful to have the whole scope of 200 yerars of musical style to be what you do.
Wm: I have long promoted the idea of the male singers exploring the Donizetti roles written for men, even in Donizetti operas that do not contain the famous prima donna roles for superstar sopranos. John Relyea recently sang the role of Marino Faliero in the opera by that name. Are there bel canto operas with roles that would show off our major male voices, that our male operatic superstars should demand be mounted for them?
AW: Definitely, the lead tenor and basso roles in "Dom Sebastien" should be on such a list. Also "Poliuto" ("Les Martyrs") with its big tenor and baritone roles, is a good one for the men to explore.
[Below: Antony Walker in musical preparation at Australia's Pinchgut Opera; edited image, based on a photograph, courtesy of antonywalker.com.]
Among the Rossini operas, I've conducted "La Donna del Lago" with a great tenor role, James the Fifth. Rossini's "Otello" has two wonderful tenor roles, Otello and Rodrigo, although the title role is somewhat thankless in that it is Rodrigo, rather than Otello, that gets the extraordinary second act arias. Rodrigo really is defined as the primo uomo in this piece. When I conducted it, Bruce Ford was absolutely sensational as Rodrigo.
Wm: I saw Bruce Ford perform the role in San Francisco with Cecilia Gasdia as Desdemona and Chris Merritt as Otello.
AW: I would like to see people do more Meyerbeer, such as "Les Huguenots" or "Le Prophete". Meyerbeer's "Robert le Diable" has a great tenor role. The problem is that those operas are so long. The way orchestral rehearsals are structured, with their three hour blocks of time, is it is so difficult getting through a piece like that. I want to do Rossini's "Semiramide", but it's so long and it's impossible to cut.
Wm: There appears to be a greater willingness among artists in 21st century productions to perform the strettas and second verses of cabalettas in bel canto and early Verdi works. Ultimately, who makes the decision as to whether this will be done – the opera company, the artists, or the conductor?.
AW: It's a decision made through consultation between the artists, director and conductor. It depends on all sorts of stuff. Sometimes there is a dramatic concept that will not need or even accommodate a cabaletta repeat. Sometimes singers find repeats particularly straining.
There was a very interesting occasion when I was conducting Verdi's "Traviata". Jonathan Summers. who was playing Germont pere wanted to do the repeat of Germont's second act cabaletta. He really wanted to do it, not to add ornaments during the repeat, but for dramatic reasons. He pointed out that Germont is hammering into the head of his unresponsive son Alfredo, what his duty is. Summers said that he knew as a father that fathers often don't know when to shut up. You could see how uncomfortable Alferedo was with the dressing down. Musically, Summers sang what was on the page, but with different colors, rather than adding ornamentation.
Wm: In your recent Toronto performance of Donizetti's "Maria Stuarda", the soprano in the title role appeared to take a breath midway in the extended passage in the "preghiera". Did I hear this wrong? If she did, the production seemed organized around that breath. Do you agree that the opera should be performed even if the lead soprano prefers not to sing that passage with a single gulp of breath. [For my review, see: The Donizetti Revival, Second Stage: Stephen Lawless' "Maria Stuarda" in Toronto – May 4, 2010.]
AW: With that single phrase, if you can do it in one breath, it's just astonishing. Serena Farnocchia was fantastic as Maria Stuarda. It was always her intention to do the phrase without a breath. In some performances she sang it that way and sometimes she didn't. When you've been on stage that long, you have to make a judgment at the moment. But this was her first time in the role and my first time conducting it.
Wm: A soprano playing Maria Stuarda may need the experience of several live performances to know how to handle the demands of the role, particularly how best to preserve enough breath for that phrase in the "preghiera".
[Below: Maria Stuarda (Serena Farnocchia) gestures to the Earl of Leicester (Eric Cutler), edited image, based on a Michael Cooper photograph, courtesy of the Canadian Opera Company.]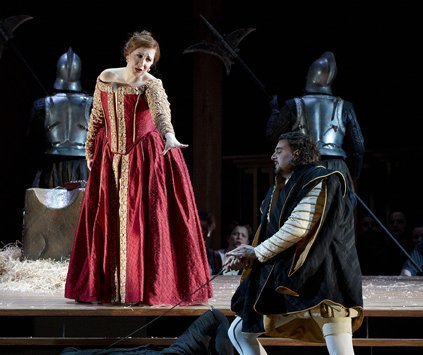 AW: We were discussing what a monumental piece "Maria Stuarda" is. It took Stephen Lawless, the stage director, and the rest of us a long time to get the flow of the scene with Talbot. Throughout the process, Serena was very open and keen to explore. The Toronto "Maria Stuarda" had great casting, with a wonderful balance between the voices of Farnocchia's Stuarda and the Elisabetta of Alexandrina Pendatchanska.
Wm: I was fortunate to have attended the San Francisco Opera's production of Massenet's "Esclarmonde" with Joan Sutherland and Giacomo Aragall, a couple of times. You not only have conducted the opera, but have expressed interest in conducting it again. Do you foresee new productions of this opera being created? Is this not one of the operas on fantastic subjects that might be more in line with 21st century interests with the magical and bizarre?
AW: I think so, and have been trying to interest various people in it. The music is fantastic. When I listened to that recording with Sutherland and Aragall, I well up with tears. Sutherland had one of the most extraordinary voices of the 20th century.
It was the first opera that I was involved with that was done with projections. That would just be one such possibility for mounting it. It needs the kind of stage machinery that produces fantasy. I do think a piece that would capture the 21st century audience. There is so much of it is centered on the love duets, that it takes a skilled director and principal artists to pull it off.
Wm: You have been committed to the expansion of the core opera repertory. What are some of the projects with which you have been involved that would interest the larger opera audience?
AW: I had wanted to do more operas by Rameau. I chose an opera by a Rameau contemporary, Charpentier's "David and Jonathan" which dramatically juxtaposed loyalty , friendship and love. Interestingly, it was written as a Jesuit college opera. Its subject matter proved to be tremendously modern.
How do you prevent the opera repertory from shrinking? I am always trying to find pieces that are new for me to conduct., not just to broaden my repertory, but to enrich it. When I did Saverio Mercadante's "Il GIuramento" for the Washington Concert Opera, people were enthustiastic for the piece. The real opera aficionados could readily place it in the context between the late Donizetti operas and Verdi's middle period. The audience loved the fact that is was dramatically very concise, The orchestration was of a consistently high level. I think that I'm an advocate for Mercadante.
Wm: And, I hope, for his contemporary Giovanni Pacini as well.
AW: Of course.
Wm: Santa Fe Opera is presenting the new Kaye-Keck restoration of the original Offenbach "Tales of Hoffmann". What do you think of the differences between it and the standard version?
AW: The only time I have conducted "Hoffmann" I took over conducting duties from Richard Bonynge in Australia, which, of course, used Bonynge's own version of the piece. I've been to see a few rehearsals here in Santa Fe to see what this "new original version" is like. The part of Giulietta has been fleshed out much more. I don't have a concrete idea of what "Hoffmann" should be. You can have ideas about which version works best after opening night tomorrow evening. [For my review of the Kaye-Keck version of "Hoffmann", see: Groves, Wall, Lindsey Excel in Christopher Alden's Harrowing, Hallucinatory "Hoffmann" – Santa Fe Opera, July 17, 2010.]
Wm: Thank you Antony. I look forward to tonight's performance of "Butterfly".
For my review of other performances conducted by Antony Walker, see: Blythe Leads Impressive Role Debuts in "New" Pittsburgh "Samson et Dalila" – October 18, 2008, and
Australia Opera's "Butterfly" Charms Pittsburgh – October 19, 2007.