Mozart's "Don Giovanni" for 0ver 22 decades has provided opportunities for many different interpretations of how to portray the famous Spanish nobleman of uncommon appetites and his impact on the lives of seven people on the final day of his life on earth.
Lucas Meachem, Santa Fe Opera's latest Don, has developed his own take on the role, inspired by the no less an authoritative analysis of Giovanni's motivations than the words of the Don himself.
Giovanni, Meachem explains (in an interview to be published on this website later this fall) derives his pleasure out of giving pleasure to women. Since the Don has a special gift in understanding what women want and the capacity to provide it to the satisfaction of each of them, he understands that were he to limit his gifts to a single woman, it would be at the expense of hundreds or thousands of other women whose lives he has the ability to enrich.
Mozart and his librettist, Lorenzo da Ponte, provided an opportunity for the Don to express this philosophy quite explicitly. Leporello, himself aghast at the increasing numbers of sexual conquests that Giovanni requires him to record, had suggested that he think about curtailing his activities.
It is then that we learn that it is the Don's deep respect for women, his knowledge and skill at showing that respect, and his deeply held conviction that the moral structure of society, that labels his behavior as promiscuous (by persons who regard promiscuity as a bad thing) has it wrong.
[Below: Don Giovanni (Lucas Meachem, right) explains to Leporello (Matthew Rose) why he refuses to limit his affections to a single woman; edited image, based on a Ken Howard photograph, courtesy of the Santa Fe Opera.]
Although it seems to me as valid an approach to the role of Don Giovanni as any, Meachem's empathetic, feminist Don, will seem quite a different approach to most modern audiences, who are used to a much darker Don.
Meachem chose Santa Fe Opera's revival of Chas Rader-Shieber's 2004 production, whose predominantly red sets are by David Zinn, as his opportunity to present his viewpoint in performance. Although a departure from the original production's direction, with its homage to urban neighborhoods in the American midwest controlled by organized crime, Rader-Shieber permitted Meachem's Don Giovanni to show his softer side.
Meachem, at 31, still early in his career, has a shimmering high baritone voice and comely appearance that has made him one of this generation's sought after singers for Mozart, French and bel canto roles. A former San Francisco Opera Adler Fellow, his San Francisco performances have been reviewed twice on this website – once for playing Fra Melitone in Verdi's "La Forza del Destino" as the coolest of guys you'd want to hang with, and most recently, in the double role of Frank in the real world and Fritz/Pierrot in the Dreamworld in Korngold's "Die Tote Stadt". (The latter opera he is scheduled to sing next season in Madrid.)
(For a review of Meachem's Melitone in Verdi's "Forza del Destino" see: Zurich and San Francisco: A Tale of Two "Forzas". For his Frank, Fritz and Pierrot in Korngold's "Die Tote Stadt", see: A Seductive Dream: Runnicles' "Tote Stadt" at S. F. Opera – October 12, 2008.
Notes on the Performance
The stage was set with the red facade of row houses along an urban street, landscaped with red trees. Conductor Lawrence Renes conducted the Overture masterfully (with some distractions created when a parking lot glitch required the Opera to relax its firm rule against seating patrons once the opera has started). As the fortissimo chords sound at overture's end, the lights in the row houses flash on.
Soon the series of events that begin the opera proper take place. Leporello (Matthew Rose) as always is confused and dazed. What varies between productions, of course, is how Donna Anna (here played by Elza van den Heever, like Meachem a former San Francisco Opera Adler fellow) and Don Giovanni interact.
Donna Anna tells us later in the opera that she thought the man in her bedroom was Don Ottavio before sex with Don Giovanni was initiated, and it is always a matter of speculation and each producer's or artist's interpretation as to whether it was rape or consensual sex. Not only is Rader-Shieber in the consensual camp, his Donna Anna is wildly enthusiastic about the experience, attempting to keep the Don with her.
[Below: a clinging Donna Anna (Elza van den Heever) attempts to prevent Don Giovanni (Lucas Meachem) from leaving her; edited image, based on a Ken Howard photograph, courtesy of the Santa Fe Opera.]
Van den Heever, from her very first appearance on a major opera house stage (which I attended and reviewed), has exhibited a major spinto voice, featuring both excellent coloratura singing, a shining higher register, and beautiful legato. Since her first Donna Anna two summers ago, she has become a star of the Germany's Oper Frankfurt and has added roles of even heavier weight, such as Elsa in Wagner's "Lohengrin" and Elisabetta in Verdi's "Don Carlo", to her active repertoire.
For a review of the performance in which van den Heever's opera stage debut occurred, see: Kwiecien Excels in McVicar's Dark Side "Don Giovanni" – S. F. June 2, 2007
The appearance of her father, the Commendatore (Harold Wilson, who in this performance plays him as being tipsy) changes the mood, and his death has a sobering effect on his daughter. But Meachem's Don is instantly remorseful at his own reflexive and obviously unintended killing of the elderly man, although undeterred from the next sexual encounter.
As the murder scene is inspected, we first meet Donna Anna's future husband, Don Ottavio, excellently performed by Charles Workman, possessing a large and beautiful Mozart tenor voice, that will be much in evidence in his two classic arias that occur later in the performance.
Scent of a Woman
The next adventure takes place after the Don detects a woman's scent. However, it is the appearance of a former conquest, Donna Elvira (Susanna Phillips), who represents to Don Giovanni the kind of woman who is unwilling to share him with the rest of womankind.
She arrives in a David Zinn rose-colored dress with hoop skirt, her luggage carried by the servant girl, who will provide another diversion for the Don. This provides the opportunity for Matthew Rose's excellently sung Catalogue Aria and (after she has had a chance to leaf through Leporello's book and rip out the page containing Donna Elvira's name) the first of Susanna Phillips' bravura arias.
[Below: Donna Elvira (Susanna Phillips) learns of the Don's sexual conquests recorded in the little red book of Leporello (Matthew Rose); edited image, based on a Ken Howard photograph, courtesy of the Santa Fe Opera.]
Meanwhile, Don Giovanni, coming upon the wedding of Masetto and Zerlina, obviously feels that Zerlina should be introduced to the Don's style of romancing before she is tethered to a life with her inelegant fiance. But, by now, events – the Don's killing of Donna Anna's father and Donna Elvira's determination to enforce his insincere contract of marriage with her – have entangled him in forces that will lead to his downfall.
[Below: Zerlina (Kate Lindsey) makes up with the understandably upset Masetto (Corey McKern); edited image, based on a Ken Howard photograph, courtesy of the Santa Fe Opera.]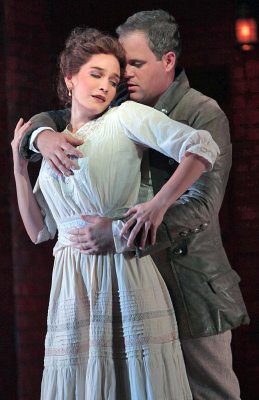 One by one, the countervailing forces come together. Donna Elvira becomes Zerlina's protector, and joins with Donna Anna, Don Ottavio and Masetto in exacting revenge.
[Below: Donna Anna (Elza van den Heever) secures the support of Don Ottavio (Charles Workman) in exacting revenge on Don Giovanni; edited image, based on a Ken Howard photograph, courtesy of the Santa Fe Opera.]
By the time of the Don Giovanni's grand ball, all of his earthly nemeses are at hand.
[Below: the forces against Don Giovanni coalesce at the ball at Don Giovanni's home; edited image, based on a Ken Howard photograph, courtesy of the Santa Fe Opera.]
But in "Don Giovanni" one need not rely only on the earthly forces, because in this opera the supernatural is at work.
[Below: Don Giovanni (Lucas Meachem) invites the statue of the Commendatore (voice of Harold Wilson) to dinner; edited image, based on a Ken Howard photograph, courtesy of the Santa Fe Opera.]
The supernatural forces are clearly not interested in Don Giovanni's (or Meachem's) conviction that the Don is a blessing to womankind and that society's attitudes are wrong. The Commendatore gives him a chance to repent, but Giovanni even at this point is convinced that he is right and the forces of hell are in error.
[Below: Don Giovanni (Lucas Meachem) is about to walk into the tall armoire at center stage and descend into Hell; edited image, based on a Ken Howard photograph, courtesy of the Santa Fe Opera.]
In these times of economic pressures on the arts, it makes sense to get an extra season out of a production that contains some quirky elements, without being outrageously offensive. But those attending this year's Santa Fe Opera Mozart will have the treat of "festival casting" – great voices in the major parts, all early in their careers.
Even if in 2009 the names are so far unknown to many in the audience – Lucas Meachem, Elza van den Heever, Susanna Phillips, Charles Workman, Matthew Rose – these names are known throughout the world to major opera companies and most likely will be considered among the major artists of the day a decade hence. (After all, a decade ago, not everyone had heard of Anna Netrebko.)
Meachem's conception of the Don is very interesting, and the piece allows it. Even in a production that was not designed to advance the idea of a Don who loved every woman he encountered, Meachem's approach made sense. The Santa Fe performance will be remembered for a superior cast with consummate acting skills in a production that was, on balance, inoffensive.