Santa Fe Opera is famously committed to sponsoring contemporary works, allocating one of its five operas each season to a recently composed opera.
For 2009, the new work selected by now retired General Manager Richard Gaddes was one the Santa Fe Opera commissioned. Composer Paul Moravac, whose vibrant incidental music inspired by the Bard's "The Tempest" won him a Pulitzer Prize earlier in the decade, was invited to try his hand at opera.
[Below: Composer Paul Moravec; resized image of a publicity photograph from www.paulmorevac.com.]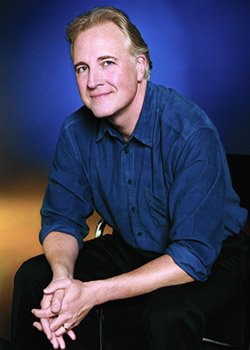 Moravec persuaded his friend Terry Teachout, to date best known as the Wall Street Journal's drama critic, to develop a libretto.
Implicit in the commission from Santa Fe Opera is that the result would be an accessible work, telling a story melding the melodrama of the Italian verismo operas created in the decades before and after the turn ofthe 20th century with the absorbing cinematic style of what the French have described as film noir – especially the black and white Hollywood movies of the 1940s.
Moravec and Teachout have offered the term opera noir for the product of this conceptual amalgamation.
The production of new operas is a perilous business, and those who bet that an opera won't make it have history on their side.
Whether you count the number of works that comprise the standard repertory plus the peripheral works that are sufficiently interesting to be occasionally performable as 100, or 500, or even 1,000, it still means that almost every opera ever written in the history of mankind is a failure. So any critic that bets against a new work on first hearing has history on his or her side.
In its original form "The Letter" is a Somerset Maugham short story based on his much embellished retelling of a story about adultery and murder among the British citizens of Kuala Lumpur, when it was part of the Crown Colony of Malaya rather than, as it is now, the nation of Malaysia.
Maugham created a play from it and an important silent movie dates from the late 1920s. Then came the 1940 William Wyler film that starred Bette Davis, Herbert Marshall and Gale Sondergaard.
Despite a decade and a half of the Maugham story's presence in multiple media forms before Wyler's film, it is Bette Davis' portrayal of Leslie Crosbie with whom most people, who have knowledge of any of the source material, are familiar. It is that film noir that is the point of departure for the opera noir's libretto.
It is very clear that Moravec and Teachout found elements of the Wyler film distasteful. Sondegaard's Chinese Woman, who seems like a character out of Milton Caniff's comic strip Terry and the Pirates was presented insensitively, at least when judged by our 21st century sensibilities.
Exacting revenge for Leslie Crosbie's murder of the man who was Leslie's previous lover and afterwards that of the Chinese Woman's, the latter arranged successfully to have Leslie murdered, and her murder takes place in the plantation's garden to end the movie.
Therefore, the libretto sought to change the story, to emphasize the racism of the colonial Brits towards the Chinese (many of whom they imported to Malaya to work on the rubber plantations that the Brits established there).
Thus, the libretto seeks to absolve the Chinese Woman from any criminal activity, other than than that of withholding evidence in a murder investigation, conspiring with an officer of the court to thwart justice, and blackmail.
(If anyone thinks that I am judging the Chinese Woman's legal transgressions by British, rather than Malayan law and customs, note that the Chinese imported to work on the British plantations were not usually considered by Malayans as part of their community.)
The libretto's story revisions also provides Leslie a kind of a insanity defense, through the means of adding several surreal scenes. Thus the audience shares her delusions of continuing a love affair with a man who had left her and that she had shot (six times) in cold blood.
The opera ends with what I call the "Don Jose Meets Butterfly" scene in which her very upset husband, Robert Crosbie, first sets out to stab her, only to see her grab his knife and commit suicide with it.
So far, this review might seem to suggest to some that the opera lacks promise, but actually, the defects I perceive in the libretto aside, I found quite a lot of merit in the opera, especially Moravec's music, and even the concept of opera noir.
Although there are revisions I believe should be made before any future performances after this Santa Fe Opera season, there is much in it to praise. As to the "accessibility" of the music, I think that goal is to an a considerable extent achieved.
Without intending to define the opera's musicological heritage, I would think that audience members who enjoy the music and orchestration of an early 20th century composer such as Janacek (although with not quite the expansive and melodious thematic material one associates with the Czech master) would be comfortable with much of "The Letter".
Notes on the Performance
The opera consists of eight scenes, comprising a single act, and opens with Leslie (Patricia Racette) shooting Geoff Hammond (Roger Honeywell). Patrick Summers conducted the Santa Fe Opera Orchestra.
We are aware from the very beginning that Morevac uses lush harmonies and sprightly orchestration for much of the piece, but that much of what Leslie Crosbie sings encompasses a 12-tone scale, a device that Morevac uses to denote lying and insincerity.
(We are reminded that this is the centenary year of Schoenberg's "Erwartung" – not first staged until 15 years later – but what was shockingly avant-garde a century ago now seems an old-fashioned device.)
Otherwise, these early scenes do have a cinematic feel, with ceiling fans and billowing curtains in constant motion. Racette, dolled up in Tom Ford's elegant period costumes, exudes amorality.
[Below: Leslie Crosbie (Patricia Racette) reports that she has shot an acquaintance; edited image, based on a Ken Howard photograph, courtesy of Santa Fe Opera.]
Racette is one of the great singing actresses of our time, and is especially effective in the verismo roles – particularly those of Puccini. The composer had the advantage of working with Ms Racette in the development of the opera, and one cannot think of any singer who could perform it better.
However, once the device was settled upon to allow most of the lyrical passages of the opera to be sung by the characters who were not lying, the tinta of Racette's music is often of a different kind than that of her colleagues.
(For recent commentary on Racette's vocal performances, see: Racette, Ventre Impress in Zambello-Inspired "Butterfly" at San Diego Opera- May 20, 2009.)
Racette's colleagues are an imposing group. Leslie's husband Robert is played by the internationally renown baritone, Anthony Michaels-Moore, with a big voice that often sounds larger than his part. His music at times has the feel of a Broadway musical, and Racette's most lyrical moments are when she sings with him or with Leslie's illusionary lover, Hammond.
James Maddalena (whose review for his role in Stewart's "Bonesetter's Daughter" at San Francisco Opera may be found at Brilliant "Bonesetter's Daughter" Dazzles at San Francisco Opera – September 20, 2008) was impressive as the conflicted attorney, Joyce.
Character tenor Keith Jameson delivered as Withers, the colonial official who, in the final scene, becomes fully aware of the pervasive miscarriage of justice.
[Below: Leslie Crosbie (Patricia Racette), front center, explains to her husband Robert (Anthony Michaels-Moore, left), their lawyer, Howard Joyce (James Maddalena, standing, right), and a local official, John Withers (Keith Jameson, seated) what happened in the moments leading to her shooting a man; edited image, based on a Ken Howard photograph, courtesy of the Santa Fe Opera.]
Weather can always be a factor at Santa Fe Opera's covered theater, that still is open to the elements at the sides and rear of the stage. Even so, the first lightning over the nearby Sangre de Christo Mountains gave little hint that we would all be quite aware of nature's power by performance end.
Between each scene there is an orchestral interlude, during which stagehands (and Apprentice Singers) help transform the sets from one scene to the next. Soon we are in Joyce's office, whose solicitous deputy, Ong Chi Seng is performed by Rodell Rosel, yet another excellent character tenor, whose work at the Pittsburgh Opera and Lyric Opera of Chicago has been noted before on this website.
This scene, in which Joyce comprehends the extent of Leslie's lies, is followed by another effective scene change to Leslie's cell, in which she is held on the charge of murder.
The jail scene provides another surreal scene with Hammond. By this time, the opera noir has moved into quite a different tack than Wyler's film noir.
The next scene is in the Singapore Club, and this provides an opportunity for Teachout to do a teach-in on what he obviously believes were endemic racist views towards the Chinese, particularly the unhappiness of the British colonial elite with members of its class "going native".
This website has devoted quite a bit of time to discussing French and British colonial attitudes towards sexual fraternization between European colonials and Asians, the French being tolerant and the Brits officially discouraging the practice.
In fact, no opera of which I am aware does a better job of poking fun of British attitudes than Delibes' "Lakme", and it does so without the use of racial epithets such as are heard in the Singapore Club scene. This is one of the parts of the opera where some bowdlerization would improve things.
That said, the Singapore Club scene is musically a rousing success – the change of pace that demonstrates Morevac's potential in developing effective use of choruses and ensembles.
Despite the needlessly grating words the scene is set to, I believe the music can be compared to the laugh producing, tension abating choruses of the policemen in Shostakovich's "Lady Macbeth of Mtensk" or to use an example from a merrier opera, the chorus of the drunken monks in Prokofiev's "Betrothal in a Monastery".
[Below: the British colonial members of the Singapore Club express their solidarity behind the defense of the wife of fellow member Robert Crosbie (Anthony Michaels-Moore, with hat, seated center); edited image, based on a Ken Howard photograph, courtesy of the Santa Fe Opera.]
There is a important plot development in this scene, because Joyce uses the opportunity to extract from Robert Crosbie the carte blanche authority to spend any amount of money to obtain and suppress the incriminating letter without any explanation to him as to what or how much (as it turns out, Robert's life savings) this authority entails.
This sets up another effective musical episode – the visit of the Chinese Woman, played by Mika Shigematsu, to Joyce's office.
In a scene reminiscent of the second act of Verdi's "La Traviata", Joyce initially expresses disgust at a woman's seemingly disreputable past, then perceives her nobility and regrets his earlier words.
The obvious difference in the situations is that Germont's initial prejudice leads to an unfair characterization of Violetta's motives and situation. Except for failure to observe the convention of marriage (not the only operatic character to which this charge would stick), Violetta has done nothing morally wrong.
[Below: Howard Joyce (James Maddalena, left) meets a Chinese Woman (Mika Shigematsu), whom his confidential clerk Ong Chi Seng (Rodell Rosel) revealed has a letter that would destroy his defense of Leslie Crosbie; edited image, based on a Ken Howard photograph, courtesy of the Santa Fe Opera.]
Of course, the Chinese Woman intends to obtain revenge for Leslie Crosbie's lethal jealousy. Teachout's libretto seems to ennoble her as a decent woman who wants to clear her lovers' debts and honor, and who has been wronged.
Yet, even with incontrovertible evidence of her rival's murderous guilt, the libretto implies that she could not possibly overcome anti-Chinese prejudices within the colonial British system of justice.
Perhaps that is true. But if it is true, why would Joyce pursue the dangerous path (certainly, to his career) of making an outsized payment to suppress evidence in a murder trial?
We can empathize with the Chinese Woman's determination to get revenge for her lover's murder, and perhaps her machinations with Ong and sale of the letter are designed for the maximum collateral damage to those around Leslie and are thereby a kind of revenge, but the opera's plot revisions appear to me to have muddled the story a bit.
It should be recorded that at the end of the Chinese Woman's scene, Shigematsu received an ovation from the Santa Fe Opera audience
[Below: A Chinese Woman (Mika Shigematsu) holds the incriminating letter she has offered to sell to the defense attorney; edited image, based on a Ken Howard photograph, courtesy of the Santa Fe Opera.]
Thus, having departed from both Maugham's storyline and the Wyler film, we move increasingly into previously unknown story arcs. Leslie's surreal, hallucinatory scenes continue, including one where she imagines the jury foreman to be the man she shot.
[Below: One of several hallucinatory scenes occurs during her trial when Leslie Crosbie (Patricia Racette) imagines that her lover, Geoff Hammond (Roger Honeywell), whom she murdered, has returned to embrace her; edited image, based on a Ken Howard photograph, courtesy of the Santa Fe Opera. ]
But interesting as these departures from past storyline permutations of "The Letter" might seem, the elements took over this second performance of the work. Lightning and thunder became more frequent.
Then the wind started blowing. The bedroom curtains had to be lashed. The final scene prominently used a banquet table that was totally disrupted by the high winds (some clocked at 60 miles per hour).
At one point, Leslie, Robert, Withers and Joyce were each pressing against one of the chairs surrounding the table to keep them and the tablecloth from flying into the orchestra.
The table settings crashed to the floor and stage directions were revised to make sense of the situation. (In the tense scene in which Leslie's deceits, and Robert's financial ruination were being deplored, servants arrived in costume to sweep up the dinner table settings that had unexpectedly crashed to the floor.)
[Below: Hildegard Bechtler's sets – here for the bedroom of Leslie Crosbie (Patricia Racette) – opens to the skyline of New Mexico's Sangre de Christo Mountains and the summer weather, occasionally with unexpected results; edited image, based on a Ken Howard photograph, courtesy of the Santa Fe Opera.]
Fortunately (and apparently with a great deal of determination on the part of the stage hands and actors in the scene), the table knife that Robert, at wit's end, was required to grab was still where it was supposed to be, and Racette's Leslie got the opportunity to use the knife to kill herself through her smartly tailored Ford dress ensemble.
[Below: Robert Crosbie (Anthony Michaels-Moore), at last learning the truth that his wife (Patricia Racette) killed her lover out of jealousy and his attorney spent Crosbie's entire fortune to suppress evidence, shows his rage; edited image, based on a Ken Howard photograph, courtesy of the Santa Fe Opera.]
Several operas with rock solid membership in the inner core of anyone's list of warhorses exist in a different form than when they premiered.
The advantage of a performance before a live audience is that you can see what works and what does not. This is an opera whose future may very well depend on a few well-chosen revisions.
Jonathan Kent, the review of whose production of Mozart's "Le Nozze di Figaro" in Santa Fe appears at Kwiecien, Pisaroni Lead Youthful "Figaro" Ensemble in Santa Fe – August 13, 2008, was stage director.
Hildegard Bechtler was Scenic Designer, Duane Schuler the Lighting Designer and Susanne Sheston the Chorus Master.