The Lyric Opera of Chicago mounted a new production of Alban Berg's "Lulu", under the direction of Paul Curran. Last season the Scottish Director developed Lyric Opera's production of Richard Strauss' "Die Frau ohne Schatten" and has established himself as an advocate for Benjamin Britten's operas in the United States at the Santa Fe and Central City Opera companies. (His Santa Fe Opera "Peter Grimes" will be seen at Washington National Opera in March, 2009.)
The Strauss and Britten operas (and even Berg's first opera "Wozzeck), all contain episodes of sweeping melodies. "Lulu" has a different sound than these post-Romantic operas, which has been described variously as "serialist" or "twelve-tone" – even, over the objection of some musicologists, as "atonal".
"Lulu" requires a lot of work on the part of singers, orchestra members and the conductor to get all of vocal and instrumental notes at the right length and pitch. Yet, a successful production of "Lulu" serves as one of the touchstones for determining the depth of an opera company's musical resources (and, some would say also, its audience's sophistication, or, at least, its audience's demand for operas with minimal melodic content).
The Lyric assembled an international cast and crew for "Lulu" that deserves the accolade "festival casting". German soprano Marlis Pedersen, much of whose repertoire are coloratura soprano roles such as Zerbinetta in Richard Strauss' "Ariadne auf Naxos" and Ophelie in Thomas' "Hamlet", and who has sung Adele in Johann Strauss' "Die Fledermaus" at both the Lyric and New York City's Metropolitan Opera, has made Lulu her signature role throughout Europe.
Pederson has a mesmerizing stage presence – useful for an opera in which she is nearly always onstage. The artists playing each of the characters whose lives Lulu disrupts, and more often than not, destroys, were all remarkable.
Her principal co-stars were Wolfgang Schoene, impressive in the dual roles of Dr Schoen and Jack the Ripper; William Burden as Alwa, Dr Schoene's son; Jill Grove as the Countess Geschwitz; Scott Ramsay as the Painter and the Sailor; Ian Buchwald as the Animal Trainer and Athlete; and Thomas Hammons as the mysterious Schigolch. Notable also were two comprimario singers – Rodell Rosel in the three roles of the Prince, the Manservant and the Marquis; and Buffy Baggott in the three roles of the Wardrobe Mistress, Schoolboy and Groom.
Berg was the librettist as well as the composer of "Lulu". The production generally followed Berg's quite precise stage directions and set descriptions. However, Curran, his set and costume designer Kevin Knight, lighting designer David Jacques and projection designer John Boesche created a multimedia presentation that supplemented the stage interiors with projections of related events as black and white "silent screen" cinema – homage to the German silent film "Pandora's Box" whose story and characters are those of the opera. Between scenes, other relevant images are projected on the scrim.
All of the scenes in the opera are interior spaces. Most of Kevin Knight's rooms are predominantly white, decorated more or less as Berg's libretto specifies. In one of the many effective devices in this production, when one scene ends a drawing of the room in which that scene took place will show on the scrim before the next scene begins.
As the houselights dimmed and Sir Andrew Davis took his position at the conductor's podium, Ian Buchwald came down a center aisle in the costume of the animal trainer, and stood in the audience near the orchestra, drawing the audience's attention to the menagerie on stage that included three women (one of whom was Lulu) and a bear playing a bass drum.
Craig Irvin, a current member of Lyric's Ryan Opera Center, played the dual role of Lulu's first husband (who has only a few words) and Lulu the prostitute's first client (a mute part).
But Lulu's first conquest with a major singing role is her second husband, the Painter (who later plays, following the tradition of this score, the second client of the prostitute Lulu, in this production designated as the Sailor). These parts were effectively done by lyric tenor Scott Ramsay (a Ryan Center alumnus).
[Below: The Painter (Scott Ramsay) becomes attracted to his model, Lulu (Marlis Petersen), who wears a Pierrot costume; edited image, based on a Dan Rest photograph, courtesy of Lyric Opera of Chicago. ]
With her first husband dead of a Lulu-induced heart attack, and second husband dead of a Lulu-induced suicide, her attentions are concentrated on Lulu's long-time lover, Dr Shoen. As a media mogul he had the power to advance the fame of the Painter, and by doing so made the Painter's widow, Lulu, a wealthy woman.
Schoen is by far the meatiest of the male roles in "Lulu" and Wolfgang Schoene, long associated with the part, gave an overpowering performance.
[Below: Dr Schoen (Wolfgang Schoene) takes an intense interest in the dancing career of Lulu (Marlis Petersen), edited image, based on a Dan Rest photograph, courtesy of Lyric Opera of Chicago.]
Schoen, keenly understanding that his relationship with Lulu is not in his best long term interest, devises various schemes to disentangle himself from her, but, ultimately powerless to her attractions, ends up as Lulu's third husband.
In several scenes, "Lulu" skirts between comedy and tragedy, and comedic elements, reminding me of the madcap third act of Richard Strauss' "Der Rosenkavalier", abound in the scene in Dr Schoen's house. But the comedy does not end well for Dr Schoen, whom Lulu shoots to death. (The artist who plays Schoen also returns in the third act as Jack the Ripper, Lulu's third client for her first and only night as a prostitute.)
[Below: Lulu (Marlis Petersen) kills the only man she has ever loved, Dr Schoen (Wolfgang Schoene); edited image, based on a Dan Rest photograph, courtesy of Lyric Opera of Chicago.]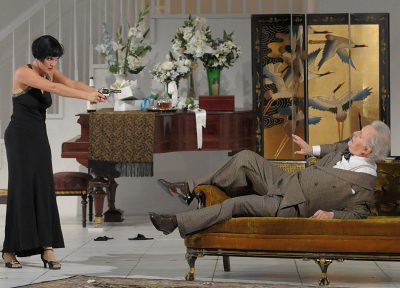 Many people consider the Dr Schoen's son Alwa, to represent Alban Berg himself. Alwa, a composer, at one point remarks that the actions taking place would make a good opera. Played by William Burden, this is another triumphant 20th century role for him, whose successes as Captain Vere in the Paul Curran production of Britten's "Billy Budd" at Santa Fe Opera and of Tom Rakewell in Stravinsky's "The Rake's Progress" at San Francisco Opera are recorded on this website.
[Below: Dr Schoen's son Alwa (William Burden) begins to comprehend why his dad was interested in Lulu (Marlis Petersen); edited image, based on a Dan Rest photograph, courtesy of Lyric Opera of Chicago.]
Since Berg did not complete much of the orchestration of the third act, it was only after his widow Helene's death in the 1970s that the opera began to be performed regularly with all three acts.
At the beginning of Act III, all the guests at the Parisian salon of the fugitive Lulu, have been assured by the Banker (played by Bradley Garvin in his Lyric Opera debut) that their investments in a funicular railway are sound, insisting that they trust him, since Bankers know what they are doing. (The very day of the Lyric performance I attended was a particularly vicious day for the stocks of Citigroup and other banks on Wall Street. The Banker's line was greeted with roaring audience laughter.)
"Lulu" as an opera is as uncompromising as its lead character. As with "Wozzeck" and some other 20th century masterpieces that are not immediately "accessible" to every member of the audience, there is a special value to playing the opera straight, presenting it as intended, rather than turning it into a "freakshow" that Berg never envisioned.
Curran, taking the masterpieces he assays seriously, and presenting the dramatic content and humor that is inherent within them with elegance and sympathy, does 20th century opera a great service. Curran's production and the artists responsible for both the attractive physical sets and interesting media, the principal singers, and orchestra under Sir Andrew Davis, have made a compelling case for Berg's fascinating work.
[Below: In her only night in the business of prostitution, Lulu (Marlis Pederson) attracts, as a client, Jack the Ripper (Wolfgang Shoene); edited image, based on a Dan Rest photograph, courtesy of the Lyric Opera of Chicago.]
For further discussion of the work of director Paul Curran (and tenor William Burden), see: Superlative: Original 1951 "Billy Budd" Catches the Santa Fe Wind – August 14, 2008