Hollywood Does L. A. Opera – Part III
Los Angeles Opera, which earlier in the evening unveiled blockbuster new productions of Puccini's "Il Tabarro" and "Suor Angelica" created by Academy Award winning film director William Friedkin, turned the final third of the evening over to Academy Award winning film director Woody Allen.
Friedkin took two operas, each of whose dramatic and emotional content might well have been translated into a movie screenplay. Allen took Puccini's hilarious comedy set in medieval Florence and moved it forward in time to permit a spoof of the mid-20th century Italian cinema.
When the L. A. audience returned to its seats following the intermission after Friedkin's stunning "Suor Angelica", it was greeted by a white movie screen placed on the front stage curtains. Soon white on black titles in idiomatic Italian inform us that we are about to see the film "Gianni Schicchi". Soon the curtain rises on Santo Loquasto's imaginative set with a large photograph of a more nearly contemporary Italian city filling the space at the stage rear.
[Below: the Buoso Clan in Santo Loquasto's sets, from left, La Ciesca (Laureen McNeese), Marco (Brian Leerhuber), Zita (Jill Grove), Berto di Signa (Steven Condy), Nella (Rebekah Camm), Gherardo (Greg Fedderly), Simone (Andrea Silvestrelli) and Rinuccio (Saimir Pirgu); edited image, based on Robert Millard photograph, courtesy of Los Angeles Opera.]
Yet Another Forzano Screenplay
Puccini's librettist Giovacchino Forzano (who was also librettist for the very different "Suor Angelica") created a fast-moving comedy based on an idea by Dante. Every other major Italian comic opera (those by Rossini and Donizetti and Verdi's "Falstaff") requires two or more acts to set up their jokes, but "Schicchi" flies by.
It is an opera in which every character (usually excepting Lauretta, but she seems less pure of heart in Woody's conception) is engaged in felonious conduct – conspiracy to defraud the rightful heirs of an immense estate. Every one of the characters, even including Lauretta, receives a share of the misbegotten gains and gets away with it. Schicchi defrauds his fellow thieves by taking a larger share for himself, which will go eventually to his daughter and her fiance Rinuccio, but we know not one of the relatives is going to go to their local constabulary to complain about this.
A stage director, be it Friedkin (who did a previous "Schicchi" for L. A. earlier this decade) or Woody Allen or anyone else, will have enough wacky humor and wonderful music (and precise stage directions) from Puccini and Forzano to work with to make their job a pleasant, perhaps even an easy, one. However, "Schicchi", like the major Donizetti comedies, lends itself to some imaginative tinkering, so that in the hands of a comic genius like Woody Allen, the audience can still be surprised.
[Below left: Sir Thomas Allen is Gianni Schicchi, with Laura Tatulescu as Lauretta Schicchi; edited image, based on Robert Millard photograph, courtesy of Los Angeles Opera.]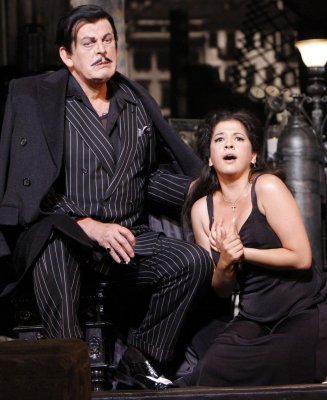 There were several innovations in this production. Forzano's libretto identifies Schicchi as a foreigner, but Woody Allen specifies he is Sicilian, dressing him the stereotyped black clothing that calls to mind a sub-group of persons associated with that island.
Lauretta and Rinuccio have an edgier relationship than has been seen in most other productions. Although much of what happens follows the libretto, Buoso's last will and testament is found at the bottom of a pot of cooked spaghetti (sic!)
And, to add a twist to an evening that has already seen Michele murder Luigi in "Tabarro" and Suor Angelica commit suicide, Gianni Schicchi is murdered by Zita.
What? Yes, just before Schicchi asks the audience whether we can think of a better use of Buoso's money than as a wedding present for Rinuccio and Lauretta, Zita (Rinuccio's nearest relative, by the way) runs back into the house and stabs Schicchi, who expires once all of his lines have been sung.
The Schicchi was the veteran bass-baritone Sir Thomas Allen. Cast as his daughter Lauretta, was Rumanian soprano Laura Tatulescu, whose O mio babbino caro so entranced the audience that she received an ovation even before she had a chance to sing the aria's concluding phrases.
Albanian tenor Saimir Pirgu was an extra-light leggiero tenor, but sang elegantly and looked like someone that unquestionably would catch the eye of Tatulescu's very sexual Lauretta.
[Below: Marco (Brian Leerhuber) and Gherardo (Greg Fedderly) observe Berto (Steven Condy) and Nella (Rebekah Camm) attempting to persuade Rinuccio (Saimir Pirgu); edited image, based on Robert Millard photograph, courtesy of Los Angeles Opera.]
An extraordinarily talented group of comedians, all with resplendent voices, played Schicchi's adversaries. The Simone, Andrea Silvestrelli – who from his first notes last June at San Francisco Opera proved he was one of the great Fasolts in Wagner's "Das Rheingold" – showed he also had comedic timing to go with his sonorous bass voice. Another Wagnerian, Jill Grove, in the seconda donna role, was a lively Zita.
Rounding out the family of felons were the couples – Marco (Brian Leerhuber) and wife La Ciesca (Lauren McNeese); and Gherardo (Greg Fedderly) and wife Nella (Rebekah Camm) with constantly misbehaving little boy Gherardino (Sage Ryan); and the deceased's brother-in-law Berto di Signa (Steven Condy).
[Gianni Schicchi (Sir Thomas Allen, left) confers with Simone (Andrea Silvestrelli) and Rinuccio (Saimir Pirgu, seated); edited image, based on Robert Millard photograph, courtesy of Los Angeles Opera.]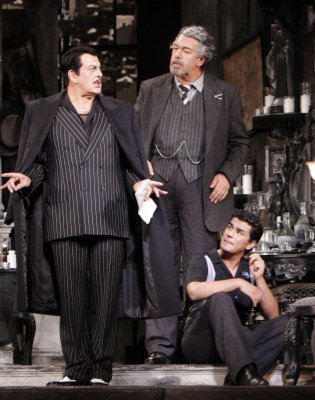 Whether or not the satire on black and white mid-century Italian cinema was realized to Woody Allen's satisfaction (he did not take a curtain call at opera's end, even though Friedkin accepted applause for both of his efforts that night), it was an entertaining read on Puccini's only comedy. The opera was well sung and eloquently supported by the Los Angeles Opera Orchestra under James Conlon's direction.
These productions of the three Trittico operas are expected to be shown together in a future season at San Francisco Opera. Wherever else they go, opera companies will find it challenging to match the deep casting that Los Angeles Opera provided us.
An evening spent with operatic performances by Sir Thomas Allen, Mark Delavan, John Del Carlo, Larissa Diadkova, Jill Grove, Anja Kampe, Salvatore Licitra, Sondra Radvanovsky and Andrea Silvestrelli is an exciting one indeed. Giacomo Puccini would have approved
See also: French Connection: Friedkin's Cinematic "Tabarro" – L A Opera September 6, 2008 and
Friedkin's Miraculous, Radvanovsky's Revelatory L.A. "Suor Angelica" – September 6, 2008