The reign of Napoleon III proved to be an extraordinarily dynamic one for France, and especially, Paris, its capital city, even though the reign ended badly for Napoleon and Paris itself was roughed up a bit at the end.
We especially remember the Second Empire for Paris' architectural and transportation makeovers. But there is an operatic legacy of the period, with two works of Gounod – "Faust" and "Romeo et Juliette" – holding their own in the 21st century repertory. No French opera written before "Faust" (2009 will be the 150th anniversary of the premiere of its first permutation) achieved and sustained Faust's hold on operatic audiences, and only one French opera written after it, Bizet's "Carmen", exceeded it in popularity.
Even so, "Faust" is an opera that deserves rediscovery, and begs for serious new productions that play it straight. Since we are approaching 150th anniversaries of this or that "Faust" version, perhaps the calendar will be the catalyst for such a devoutly wished achievement. Similarly, "Romeo", a work of incomparable beauty, with roles, like those in "Faust" that are a perfect fit for many of the operatic voices of our day, would benefit from the rethinking that often comes with serious new productions.
This website has spent much time discussing the evolution of the standard operatic repertory. One suspects that as long as there is opera that the inner core of the repertory – such masterpieces as Mozart's "Nozze di Figaro" or Donizetti's "Lucia di Lammermoor" or Verdi's "La Traviata" or Puccini's "Madama Butterfly" – will be performed. But there is an outer periphery to the inner core repertory that changes over time – glacially, perhaps – but perceptibly.
And it is the third member of what I would call the Second Empire operatic triumvirate – Bizet's "Les Pecheurs de Perles (The Pearl Fishers)" – that seems to find the Twenty-First Century an especially friendly place in time, particularly after relative neglect in the Nineteenth and Twentieth.
[Below: Zandra Rhodes' sets restoring the original ending of "The Pearl Fishers" in which Zurga burns the village, so as to permit his friend and rival, Nadir, to escape with Leila; edited image of the original San Diego performance in 2004; courtesy of San Diego Opera.]
As is detailed elsewhere on this website, the opera was not done for decades during the latter part of the Nineteenth Century, was revived in an "inauthentic" version two decades after Bizet's death that rewrote pieces of the opera to the taste of the opera's management (and threw away all of the existing copies of Bizet's original orchestral parts for the opera's ending).
Now with two extant scholarly restorations, only in the last few years have we been able to hear approximations of Bizet's ending to the piece.
But if you would do performance counts, particularly in North America, one might find "The Pearl Fishers" to be high on the list of most performed French operas – along with another 21st century surprise – the revived interest in Saint-Saens' "Samson et Dalila". The currency of three "Pearl Fishers" productions – one based on an original production by Nicolas Joel (whose talents are much admired by this website), another being the amazing Zandra Rhodes production, co-produced by San Diego Opera and Michigan Opera Theater, and a third the Boyd Ostroff production from Philadelphia Opera – certainly is a factor.
This fall, the Lyric Opera of Chicago revives their Joel production, the San Diego Opera-Michigan Opera Theater production over the next few months travels to the Nation's Capital, the Mile High City and Quebec and Philadelphia's Ostroff sets will be seen in Seattle. Here are a few of the casts scheduled to charm their audiences with Bizet's exotic music.
The Pearl Fishers (Les Pecheurs de Perles), Washington National Opera, September 20, 22, 25 , 28, October 1, 4 and 7.
[Below: Charles Castronovo as Nadir; edited image, based on Ken Howard photograph, courtesy of San Diego Opera.]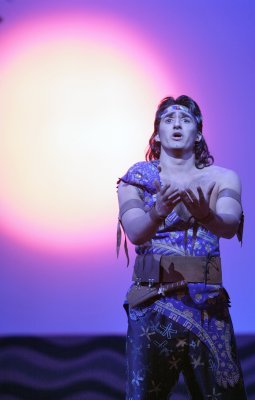 The lovers from San Francisco Opera's 2005 blockbuster performances, Charles Castronovo (Nadir) and Norah Amsellem (Leila) are reunited in the exotic Zandra Rhodes productions for a seven performance run at the Kennedy Center.
Andrew Sinclair, who has supervised all the mountings of the Rhodes production, again is stage director, with Trevor Scheunemann (Zurga) and Denis Sedov (Nourabad) rounding out the cast. The Italian conductor, Giuseppe Grazioli conducts.
The Pearl Fishers (Les Pecheurs de Perles), Lyric Opera of Chicago, October 6, 10, 13, 16, 19, 22, 25 November 1 and 4
[Below: from left to right, Leila (Nicole Cabell), Zurga (Nathan Gunn) and Nadir (Eric Cutler); edited image, based on Dan Rest photograph, courtesy of Lyric Opera of Chicago.]
Lyric Opera's 1997-98 season production of Nicolas Joel and Hubert Manloup, here substantially revised by Herbert Kellner and Scott Marr, is a different look from that of Rhodes, but productions built on Joel's artistry are always of interest, particularly with the French repertory and operas about France. Nicole Cabell (Leila), Eric Cutler (Nadir) and Nathan Gunn (Zurga) form the attractive Sri Lankan threesome.
The formidable John Mauceri is the Lyric Opera's conductor.
For the performance review, see: Eyecatching, Mellifluous "Pearl Fishers" at Lyric Opera – October 16, 2008
The Pearl Fishers (Les Pecheurs de Perles), Opera de Montreal, November 1, 5, 8, 10 and 13
Frederic Chaslin, in his company debut, conducts the team of Karina Gauvin (Leila), Antonio Figueroa (Nadir) and Phillip Addis (Zurga). The Nourabad, Alexandre Sylvestre, brings a Quebecois heritage to the French bass role.
The Pearl Fishers (Les Pecheurs de Perles) Seattle Opera, January 10, 11, 14, 17, 18, 21, 23 and 24, 2009
Mary Dunleavy, William Burden and Christopher Feigum are the January 10 opening night trio respectively of Leila, Nadir and Zurga and are scheduled also for the performances of January 14, 17, 21 and 24. The other performances (January 11, 18 and 23) will have Larissa Yudina, Brian Stucki and David Adam Moore as the threesome. Patrick Carfizzi will be Nourabad in all performances.
The Philadelphia Opera's sets (Boyd Ostroff) and costumes (Richard St. Clair) will be used. Kay Walker Castaldo is the stage director and Peggy Hickey the Choreographer.
[Below: the Philadelphia Opera sets for its 2004 production, to be used for the Seattle Opera performances; edited image, from photograph by set designer Boyd Ostroff, courtesy of Seattle Opera.]
The Pearl Fishers (Les Pecheurs de Perles), Opera Colorado, February 14, 17, 20 and 22
[Below: Zandra Rhodes' costumes for Nourabad and Leila (here respectively Jose Gallisa and Ekaterina Siurina); edited image, based on Ken Howard photograph, courtesy of San Diego Opera.]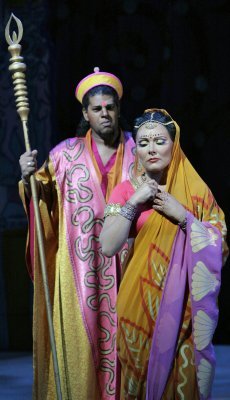 Sebastian Lang-Lessing, debuting in Denver, is back at the podium for the Rhodes show, with Heidi Stober as Leila, Brian Mulligan as Zurga and David Cushing the Nourabad. Of particular note in the Denver performances is the appearance of Sean Panikkar, a mid-decade Adler Fellow at San Francisco Opera popular with its audiences – surely the first tenor with Sri Lankan roots to sing the role of Nadir in North America.
Denver's three opera season is an especially interesting one to this website, since laudatory reviews of all three productions to be seen in Opera Colorado's 2008-09 season (which also includes the Ron Daniels/Michael Yeargan "Butterfly" from San Francisco Opera and John Cox' production of "Cosi Fan Tutte") have appeared in these pages.