Opera Pacific's Musical Director and Conductor, John DeMain, is associated with major performances of the two most popular American operas – Gershwin's "Porgy and Bess" and Floyd's "Susannah". DeMain was the principal conductor of "Porgy" in both its Houston Grand Opera production from 1976 (seen in San Francisco in three different decades, as well as at San Diego Opera) and the updated Washington National Opera production of 2007 (seen in Los Angeles in 2007 and scheduled for San Francisco in 2009). He also presented the opera at his own Opera Pacific in concert form in 2005.
Although "Porgy" has been mounted by all of the four biggest California opera companies, presentations of "Susannah" are still a rarity at those institutions. DeMain, whose importance to the success of mid- and late 20th operas of composers Carlisle Floyd, Philip Glass and John Adams has been incalculable, set out to introduce the work to the "mainstage" opera audiences of Orange County and Southern California. Floyd's most successful opera was presented as the final effort of Opera Pacific's three opera 2007-08 season.
[Below: the Reverend Olin Blitch (Dean Peterson) seeks a "public confession of her sins" from Susannah Polk (Pamela Armstrong) at the New Hope Valley revival meeting; edited image, based on a production photograph, courtesy of Opera Pacific.]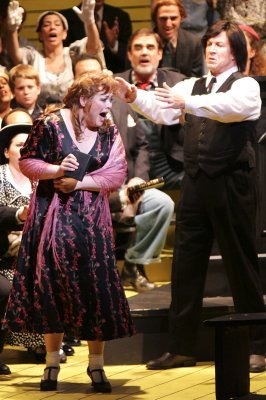 DeMain secured the Chicago Lyric Opera's production of "Susannah" (co-owned with Houston Grand Opera), created by David Yeargan. The production was used by the New York Met with Renee Fleming and Samuel Ramey in the two principal roles for the opera's debut there in 1999.
For Orange County, DeMain assembled a strong cast. The title role was assumed by Pamela Armstrong, who not only has the requisite power, but an upper register that is smooth and sweet. It is a pleasure to hear such a voice in this role, (so much of which lies high in the soprano range and is sung forte, so that its effect is compromised if the voice has a harsh edge).
[Below: Susannah Polk (Pamela Armstrong)) sings her first act solo "Ain't it a pretty night?" from the roof of her shack; edited images, based on a production photograph provided by Opera Pacific.]
The international career of the debuting Dean Peterson is now well-established, but it is still worth traveling some distance to hear him as Olin Blitch. He possesses a full and powerful bass voice, and is a consummate actor. He appears to be assuming the mantle of the Samuel Ramey roles, as that great basso nears the end of his distinguished career. I saw his athletic Mustafa in Rossini's "L'Italiana in Algeri" at San Francisco Opera (2005) and his sinister Doctor in Berg's "Wozzeck" in San Diego (2007). Of these three roles, it is his Blitch characterization that, I believe, truly demonstrates fully the range of his voice and his acting skills.
[Below: Sam Polk (Arnold Rawls) in a joyful moment with his sister, Susannah (Pamela Armstrong), edited image, based on production photograph, courtesy of Opera Pacific.]
Sam Polk, Susannah's often inebriated brother, was masterfully played by Arnold Rawls. The tenor has built his career on the dramatic tenor roles of Italian opera, and is a familiar name in the regional opera companies, such as those located in Omaha, Phoenix, Des Moines and Mobile. Predecessor tenors in this role tended to emphasize the Appalachian "twang", the characteristic lengthening of diphthongs that has been parodized in a half dozen American situation comedies. Rawls, himself from rural Louisiana (and an ordained Baptist minister as well), played the accent less broadly, to good effect.
Little Bat, the slow-witted but sexually curious offspring of austere church elders, whose impulsive lying sets off the string of events that ends in disaster for Blitch, Sam and Susannah, is one of the great character tenor roles in American opera. John Easterlin performed it with great accomplishment.
Among the remaining cast who played the church elders and their wives, Michael Gallup (Mr McLean) deserves special mention, as does Josepha Gayer (Mrs McLean) and Erin Wood (Mrs Gleaton).
[Below: Little Bat (John Easterlin) in a conversation with Susannah (Pamela Armstrong); edited image, based on a production photograph courtesy of Opera Pacific.]
The sets, although basically another unit set by Michael Yeargan, built by the San Diego Opera Scenic Studios, were intricately constructed. They consisted of exterior scenes, that showed the church and its yard in which the square dancing and picnic took place, the shack where the Polks lived and a piney wood area between the two. The early scenes alternate the Chuch exterior and the Polks' place, by moving the sets to the audience's right for the church and back to its left for the shack.
There is an area of trees between the the two structures, which becomes the scene of Susannah's bathing in the stream (out of audience view) when the elders search the piney woods for the baptism stream. In the second act, the interior of the church is seen both for the Revival meeting and for Blitch's remorseful scene where he tries to convince the elders and, later, Susannah, of his way of thinking.
"Susannah" is often called a folk opera, particularly since its first two scenes respectively contain a lively square dance and Sam's ditty from when he and his sister were children. Additionally, much of Susannah's reflective music is written in modal scales, that we often associate with Appalachian ballads. But I think this designation of the opera is not a useful one, since most of the opera is not folk music at all. Floyd's musical influences are supposedly eclectic. Floyd's frequent use of low dissonant chords might cause one to think of a Benjamin Britten sonic sea image. Here and there a phrase might remind one of Aaron Copland. Another phrase might sound like George Gershwin (to me, the music accompanying Sam going after Blitch with his shotgun could have been an outtake from the "American in Paris" film score.)
One of the highlights of the score, whose roots are in Protestant hymnals rather than folk music, is the second act Revival Meeting, that the Reverend Blitch has organized, with the strong support of the church elders. A visually impressive scene, its rhythmic choral work deserves praise for the Opera Pacific Chorus and its chorusmaster (and Fiddler in the first act square dance segment), Henri Venanzi. The stage director for the opera was Harry Silverstein.
[Below: Reverend Blitch (Dean Peterson) leads the revival; edited image, based on a production photograph courtesy of Opera Pacific.]
But to me most of the music of "Susannah" fits well in the mainstream of core post-Romantic operatic repertory. In fact, the opera composer represented in the standard repertory of whom Floyd's opera most reminds me is Janacek – not that there is any direct musicological link between the two – because both use similar palettes of sonorities. Any person unfamiliar with "Susannah" who enjoys the music of Janacek's operas (the number of Janacek fans appears to increase every year), should become acquainted with the Floyd work.
There is another link I see between Floyd's "Susannah" and Janacek's "Jenufa" and "Katya Kabanova". All three take place in small, insular villages, which form communities that have an impact on the lives of its individual residents that persons in large urban communities usually do not expect from their neighbors. New Hope Valley, Tennessee is as oppressive a place for a free spirit like Susannah as Jenufa's Moravian village or Katya's rural Russia.
Even so, there is one other community, probably much larger than these other three, from which an analogy can be drawn. That is Wartburg, the town that Tannhauser, the hero of Wagner's opera, left. The comparison with Wartburg, I believe, provides a clearer example of what the opera is about than such traditional explanations as Floyd's libretto. Still in currency is the idea that the libretto was meant to be a condemnation of the tactics of the Junior Senator from Wisconsin in the early 50s that has come to be known as the McCarthy Era. (Floyd has himself denied that the effects of "McCarthyism" on individuals was his inspiration for the opera.)
This website has spent quite a bit of time discussing the Wartburg over the past 16 months, as part of an analysis of three different interpretations of Wagner's "Tannhauser" produced by, sequentially, the Los Angeles Opera, San Francisco Opera and San Diego Opera. The Wartburg was an intensely religious community of the medieval period. Religious and social conformity were expected of all residents in their community and all others surrounding them. In the years of the splintering of the "universal church" after Martin Luther, Huldrych Zwingli and John Calvin launched their reform movements (independent of one another), it was typical for German and Swiss towns to establish a religious orthodoxy for the persons residing in their community. The town might be Lutheran, Anabaptist, Calvinist or Roman Catholic, but more often than not it was intolerant of any of the other religions. Persons who failed to follow the letter of whichever church doctrine their community espoused were shunned (and sometimes harmed or killed) in the here and now and, it was believed, damned in eternity.
These austere sentiments carried over into the new world to which religious refugees were fleeing from areas where they were no longer welcome, joining other religious refugees from England, Scotland and elsewhere. Many of the mountains, hills and valleys in the original American colonies became places where religious communities could be built, safe from the world of disasters from which their original inhabitants fled.
Floyd's father was a Methodist minister, and Floyd was strongly influenced by the small evangelistic communities that lay on a the circuit that such a minister traveled. I have come to believe that New Hope Valley should be regarded as a principal character in the opera (with the elders and the church women as the community's manifestation), which has to deal with the challenges to its rules – its very essence – in the ways that have protected the community from the chaos of the outside for centuries. (Note that when reconstructing the focus of the opera to the community's rules, it changes what many thought the opera was about – McCarthyism, Blitch's hypocrisy, even the loose ties to the Biblical (or Apocryphal) story of Susannah and the Elders.)
Those elders and churchwomen who needed to guard the New Hope Valley community were clearly uneasy about Sam Polk's bouts of drunkenness and Susannah's flirtatiousness. Two incidents caused them to move from being on guard to taking action. First (in a plot device that permitted at least tangential reference to the scriptural story that gave the opera its name and was supposedly its raison d'etre), 1) Susannah was seen bathing naked in the baptism stream and 2) Little Bat, upon some hard questioning on the part of his parents, concocted a story that Susannah had seduced him.
I think that Floyd's revision of the scriptual story is masterful. Originally, the Biblical (or Apocryphal) Susanna bathed in a fountain. The elders came upon her naked and attempted to seduce her, but when she refused, accused her of public wantoness. In Floyd's libretto, she is bathing in a creek on the Polk's property (as she has done for some time), and the elders see her because they are trying to locate the part of the creek that they have used in the past for baptisms, so it can be available to the new preacher.
The second charge against Susannah is an extremely serious one in a village where the sexual conduct of its members is regarded to be a community affair. Although there is a zero tolerance for such transgressions, there is a remedy – a public confession and submission of one's self and future conduct to the community. (Susannah's public confession would be the New Hope Valley equivalent of Tannhauser's pilgrimage to Rome to seek the Pope's forgiveness.)
There is an important difference between Susannah and Tannhauser. Whereas the minnesinger acknowledged his transgression of the Wartburg rules and agreed to the pathway to his absolution, Susannah had not done anything wrong and refused to accept the community's accusation that she had.
In the 21st century, much of the world has a different view of what kinds of sexual conduct are a community affair and what is not than predominated in New Hope Valley at the square dance that Monday night in mid-July. But we have become much more absolutist when it comes to sexual misconduct in a religious context. When we discover that "God-fearing" politicians and evangelists have succumbed to the ways of the flesh, we fully grasp the hypocrisy of the situations. We are especially intolerant, if we believe that a hypocrite is using the argument that he (or she) can effect one's salvation in the afterlife in exchange for present day sexual favors.
So Blitch's actions make him seem especially villainous. Sex with a woman whom he believed was "loose" (or what an operative of a former American president referred to as "trailer trash") should be his reward for his fight against sinners. ("My reward it be's in heaven/An there's little reward here below/But ever now and then I near go mad/I need a woman so . . . Cause it's a lonesome work I do.")
Even so, in this age of absolutist condemnation of sexual hypocrisy, there can be greater and lesser villains. Conductor DeMain, I think correctly, points out, that regardless of Blitch's sexual misconduct, he was genuinely shocked to discover that Susannah had been a virgin before he forced himself upon her, and attempted unsuccessfully to persuade the community elders that she had been unjustly accused. Unlike such true operatic villains as Scarpia in Puccini's "Tosca" or Iago in Verdi's "Otello", Blitch fully comprehended the depth of his sin, and died in agony at what he had done. And the person who actually was responsible for the series of calamities that befell the town – Little Bat – like a child playing with matches that led to a conflagration – was too much of an innocent to even be considered a bad person.
When "Susannah" played at the Met, there were New York critics that just could not get the opera. One suggested that it was too simplistic – there just was not enough there to present it at an opera house like the Met. My own view is that the opera and its libretto are substantive. Floyd links us to a time and place that was in his imagination, but was based on his experiences as a youth in communities that would have understood the ways of New Hope Valley. Floyd's decision not to tamper the work, when he received an opportunity to revise it for a major recording, was the correct one.
Those able to attend a live performance of the opera, particular with a cast and production of the quality of that offered by Opera Pacific, should do so.