San Diego Opera, which achieved successes earlier in its 2008 season with an elegant production of Wagner's "Tannhauser", followed by a an extraordinarily effective revival of Donizetti's "Maria Stuarda" assembled the elements for yet another major undertaking – new productions and dramatic re-evaluations of the revered double bill of Pietro Mascagni's "Cavalleria Rusticana" and Ruggero Leoncavallo's "I Pagliacci". To do so, San Diego Opera General Director Ian Campbell pulled together a remarkable team of artists – all used to being considered very bright stars with their own legions of admirers.
The performing team included dramatic tenor Jose Cura as Canio (Western Hemisphere role debut), coloratura soprano Elizabeth Futral (world role debut and first San Diego Opera appearance in a standard repertory role), and lyric tenor Richard Leech (now taking on new roles as a dramatic tenor), as Turiddu (role debut). The stage director was former San Francisco Opera General Director Lotfi Mansouri.
[Below: Richard Leech (Turiddu) and Carter Scott (Santuzza); edited image, based on photograph courtesy of San Diego Opera.]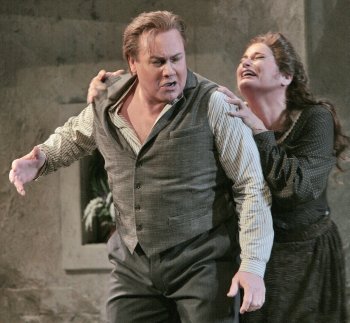 To complement this group of worthies he enlisted veteran conductor Eduardo Mueller, set designer John Coyne, the beloved comprimaria soprano Judith Cristin, an engaging Irish (but Italian-named) baritone Bruno Caproni and a former San Diego Opera protégé, now with European credentials, Carter Scott. There was much to praise in both productions, and, rather than giving either opera less attention than deserved, I am posting a separate review of each.
I have become to believe that "Cavalleria" is the more difficult opera to pull off, partly because it always precedes (at least in traditional Cav/Pag performances) "I Pagliacci". In addition to being a finely crafted opera, Leoncavallo's claim to fame is a masterpiece of theatricality. A stage director, working with opera performers with some degree of stage presence, will have no trouble making "Pagliacci" interesting as drama.
When "Cavalleria" premiered in 1890 its verismo seemed transformative of Italian Opera, and the talk of the novelty of the stile mascagnano annoyed Mascagni's sometimes roommate (during their student days in Milan) Giacomo Puccini, who thought his own short opera, "Le Villi", should be receiving more of the world's attention. It is doubtful that "Villi" will ever become very popular, nor that "Cavalleria" will ever cease to be. But this is only time that Mascagni ever bested his friend and roomie when each had a new opera vying for public approbation.
Now that "Cavalleria" is approaching its 120th birthday, it certainly deserves a respectful re-evaluation. I suspect that my own ideas about will surprise some of our readers, at least until I have a chance to explain my thinking. To my mind, "Cavalleria", even though it logically fits into "double bill" performances with "Pagliacci" (and should always be so performed), only resembles Leoncavallo's masterpiece in length and superficially in structure. Instead, in its approach to opera, I regard "Cavalleria" as sharing important features with the greatest work of the operatic composer who taught both Mascagni and Puccini – Amilcare Ponchielli.
But what does "Cavalleria" have to do with "La Gioconda"? I believe both of them are designed to display the emotions of individuals juxtaposed against a serene scene that the composer deliberately sets out to portray. It is as if you are combining a travelogue of a beautiful place, attempting to persuade tourists to come there, with police reports of nefarious things that happen there.
I think the musical portraits of the places where "Gioconda" and "Cavalleria" are set are a kind of operatic tone poem -different from the "local color" that one might find in, say, Verdi's "Aida" or Bizet's "Carmen". The differences between Grand Venice and rural Sicily are obvious, but each has its pageantry and its own beauty. I think Mascagni's music portrays Sicily as a truly idyllic spot. The people may not live in the elegant surroundings of Venetian court society nor have the grand ballet as a vehicle for their artistic expression, but their surroundings have a dignity of their own. So be it if the village's artistry is channeled into their religious pageants, to them it is as great an achievement as the ballets of the Venetian upper class.
"Cavalleria" reminds one of "Gioconda" in more than one way, even beyond the famous "Ponchielli-type" endings, those full volume orchestral restatements of an important theme at an act's or the opera's end, which Puccini, Leoncavallo, and even Massenet also employed. For another Gioconda memory listen to Santuzza's second encounter with Alfio, where her vocal line is reminiscent of Gioconda's Act IV interaction with Barnaba. But the contrast is also significant – one is a four act opera in the grandest tradition about the love affairs of the Venetian elite, the other a one act opera about the everyday affairs of just ordinary Sicilian poor folk.
My analogy of the Mascagni style to "Gioconda" was unlikely anything considered by State Director Mansouri nor Set Designer Coyne. However, I do believe that both, at long last, have given "Cavalleria" the thoughtful re-evaluation that it deserves. New productions at San Diego Opera tend to have national significance, in part because it is one of the opera companies with the staff resources and talent to construct productions that will be rented by other companies. Thus, through its new productions (and recently its reconstruction and restoration of historically significant productions) San Diego Opera can define the physical images that audiences in places far away from San Diego County will see when those operas are performed.
[Below: the John Coyne unit set for San Diego Opera's "Cavalleria Rusticana". Edited image, based on a John Coyne photograph, and used with his permission.]
It seems obvious that Coyne and Mansouri worked closely on developing how the Sicilian village in which the Rustic Chivalry took place would be constructed. Mascagni's librettists specify that there will be a church at stage left and Mamma Lucia's tavern at stage right. But center stage is the village's piazza. Coyne has moved the audience's point of view to the piazza's edge which is bordered by three additional buildings. One of these buildings provides a focus for Mansouri's stage action.
In every preivous production I have seen, no attempt is made to geographically fix where Lola and Alfio live. It is somewhere offstage. We hear through "exposition" – the testimony of Santuzza and then Alfio – that Turiddu has been seen near in the vicinity of Lola's house. Coyne moves the couple's living quarters to the edge of the piazza. By this simple change, Mansouri is able to intensify the relationships between the principals in way described below.
In a Mansouri production, the singers are all actors, and their stage presence, interactions, and motivations are as carefully planned as if they were performing in live theatre. The five actors in this opera each play characters with relatively brief but intense reactions to each other. An experienced stage director likely will have accumulated many ideas on what Santuzza's posture should be when Lola taunts her, or how precisely how Alfio should react to Turridu's offer of wine, or what the chorus, and the extras should do, at this point or another.
Some of what stage directors do, especially in the core works of the Italian repertory* is to observe accumulated tradition. Some of that tradition has evolved by simply following what stage action is specified in the libretto. Some of it evolved out of the opera's performance history. But Mansouri demonstrates that a director who respects his material and thinks a lot about the characters can still find fresh ways to illuminate and clarify the sequence of events in a familiar drama.
As Mueller led the San Diego Opera orchestra for the "Cavalleria" prelude, the image of white clouds on the blue sky appeared on the scrim. (Although the same image returned during the "I Pagliacci" Intermezzo, it was the only observable cross-reference between the two new productions.)
At the point that the prelude ends and we would normally hear the offstage voice of Turiddu singing his Sicilian ballad "O Lola, bianca come fior di spino", the curtain opens on a dark stage, except for a lighted room, which we perceive is the interior of a second floor living space of Alfio and Lola. Lola is in bed, and as Turiddu serenades her, he in the process of getting back into his clothes after this fling with a very dangerous man's wife.
I have always enjoyed the much too infrequent performances by Leech at the San Francisco Opera , whose creamy lyric voice I heard there as the Duke of Mantua in Verdi's "Rigoletto" in 1990 and in the title role of Gounod's "Faust" in 1995. I first heard him in the heavier tenor repertory as Cavaradossi in Puccini's "Tosca" in 2001. However, with Turiddu, Leech has moved farthest from his lyric tenor roots. The voice has coarsened some, but, in compensation (although he never could be described as having a smaller voice), seems to have grown in size as he has moved into this heavier fare. This night was his role debut. Early on he was obviously calibrating his voice to the (large) San Diego Civic Theatre, but by his highly dramatic scenes at the end of the opera, he proved to be a vocally comfortable and exciting Turiddu.
Then the curtains close again, permitting the orchestra to resume its musical portrait of this sunny region of Sicily (and to allow the stagehands to rotate the set, so that the interior scene visible after the prelude becomes the exterior of the midstage structures of the Coyne's "Cavalleria" village). Our view of the village is focused on five structures. As specified in the libretto, stage left is the Church, and stage right is Mamma Lucia's tavern. In the center are Coyne's innovations – three buildings, one of which, directly across from the Church, we come to realize is the home of Lola and Alfio. Turiddu is seen leaving there by Santuzza, who has obviously been closely tracking her lover's movements.
It is surely an accident of scheduling that resulted in the first performance of the new production of "Cavalleria Rusticana" to take place on Easter weekend, so that San Diegans might be treated to a spectacular celebration of the Resurrection. Before long, we see the villagers, most in their Easter finery, engaged in decorating the areas near the church with floral wreaths. These Sicilian villagers might be rustics, but their parish has produced a joyous and visually effective Easter celebration.
Where some operatic stage directors, including the great Jean-Pierre Ponnelle, have filled the "Cavalleria" pageant with self-flagellants, this village's Easter pageant is a joyous procession, with nuns in white, alter boys, girls in religious costumes, and the white hooded members of the Catholic confraternity. The Easter parade ends with villagers carrying a man personifying the dead Christ, nearly naked and bound to a large cross. At the steps of the Church he has revived, is helped down from the cross, receives a robe in exchange for his crown of thorns, and ascends the steps of the church, where he gives his blessing to his assembled worshippers.
[Below: Santuzza (Carter Scott) in the foreground, grief-stricken that as a sinner she cannot enter the Church, while the pageant's Christ stands at the top of the steps beckoning the crowd inside. Edited image, based on photograph provided by San Diego Opera.]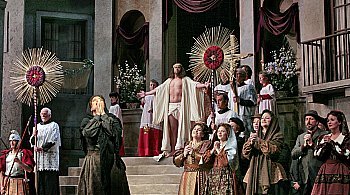 Another effect of moving the Alfio-Lola residence mid-stage is that the audience is drawn into the affairs of the two men and two women who are the drama's protagonists at an earlier time in the opera. Alfio (Caproni) arrives onstage, because that is where he lives. It is natural for him to interact with the villagers, because the church and tavern, two centers of the village activity are both just a few feet from his home. He arrives and then disappears so that he is late to the church service that his wife and Turiddu (whom he was not then aware was his rival) are attending together. Whether anyone thinks about where Alfio goes in a traditional production, Mansouri makes clear he simply has gone into his house. After all, the people living closest to a scheduled gathering are often those who arrive the latest.
Santuzza (Scott) has given Mamma Lucia (sensitively played by Judith Christin, who was in wonderful voice) enough hints that her son Turiddu is in trouble that Lucia takes the time to hear Santuzza's great aria "Voi lo sapete", explaining the genesis of Turiddu's high risk adultery. Carter Scott, who a dozen years ago was performing small roles at San Diego Opera, has returned with a large and impressive voice and a repertoire that includes such treacherous roles as Lady Macbeth in Verdi's "Macbeth" (with the Washington National Opera), Abigaille in Verdi's "Nabucco" and the title role in Puccini's "Turandot". Her rich, dramatic soprano voice held its own with the highly charged scenes first with Leech, then Caproni. It was an extraordinary evening for Scott, who won a standing ovation at performance end.
"Cavalleria Rusticana" was the highly successful third opera of a so-far brilliant San Diego season, with every promise of a successful fourth effort scheduled to begin after the intermission. Timothy Todd Simmons was chorus master and Michael Whitfield the Lighting Designer. The physical sets, especially when complemented by Mansouri's insightful direction, should prove of great value for future performances of this work.
*My list of the "core works" of the Italian repertory is comprised of 19 operas – eight by Verdi, four by Puccini, two by Donizetti, and one each by Rossini, Bellini, Ponchielli, Leoncavallo and Mascagni. This list will be the subject of a discussion on this website at a later time.