Conductor James Conlon led the Los Angeles Opera Orchestra in a passionate reading of Wagner's masterwork, "Tristan und Isolde". This was the third time that David Hockney's colorful production (1987) of the great Romantic music drama was presented at the Dorothy Chandler Pavilion, the L. A. Opera's home. It was also seen in October 2006 at the San Francisco Opera, a performance reviewed on this website (see the heat fgoyperlink at the end of this review).
[Below: David Hockney's Act I sets; edited image, based on a Robert Millard photograph, courtesy of the Los Angeles Opera.]
The review of the 2006 San Francisco performances contained a fairly lengthy description of the Hockney sets and the costumes by his collaborator, Ian Falconer, and it can be consulted for a description of the current Los Angeles performances as well. Both the 2006 San Francisco and 2008 Los Angeles "Tristans" shared the same stage director (Thor Steingraber) and even duplicated one member of the cast, the uniformly excellent Kristinn Sigmundsson as King Marke.
I detected differences in details in Steingraber's stage direction (quite likely the result of having very different performers to work with in key roles, but also indicative that he has rethought some aspects of his approach) in the S. F. and L. A. productions, some of which I will note in this review. Otherwise, I will concentrate on the musical performance in L. A., rather than Hockney's still impressive physical production.
[Below: Isolde (Linda Watson, center left) confronts Tristan (John Treleaven, center right) as Kurwenal (Juho Uusitalo, right) looks on; edited image, based on a Robert Millard photograph, courtesy of the Los Angeles Opera.]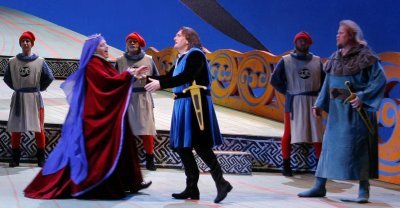 The miracle of the Los Angeles production was the regal Isolde of Linda Watson. Having reviewed her performances of Kundry in Wagner's "Parsifal" (L. A. 2005) and Wagner's "Die Walkuere" (Washington, DC 2007), I suspected seeing her as the Irish Queen would be a powerful experience. She exceeded my admittedly high expectations.
Watson's middle voice, that makes her Kundry so interesting, is rich and beautiful, and her high notes, soaring above the large Wagnerian orchestra playing at full volume, are delivered with a power and precision that suggest that the era of great Isoldes did not end with Birgit Nilsson's retirement. Even with several years of performing the high octane Wagnerian soprano roles, her voice gives no hint of wear. I believe that the world is only beginning to understand how important Watson is to the Wagnerian performances of the early 21st century.
British heldentenor John Treleaven had his company debut as Tristan only four nights previously, and his second performance became my first opportunity to hear him. The world never has enough tenors performing Tristan to meet demand, so when Los Angeles Opera General Director Placido Domingo, himself a great Tristan, announced the company debut of a singer for all seven performances, it was worth noting.
Interestingly, although the Tristan of Wagner's libretto was a Breton guest worker in King Marke's Cornwall, Treleaven himself is Cornwall-born. Perhaps his Cornish upbringing adds to Treleaven's insights into the mythic knight.
Even though I greatly admire the first act music that Tristan must sing, I make no judgment on how well a singer's Tristan is working on the basis of the first act. That is the act where one takes the measure of the Isolde and Brangaene (and might even form some initial judgment of the Kurwenal). But I think it is impossible in this marathon opera, where the length and complexity of Tristan's part seems to increase almost exponentially from act to act, to decide, on the basis of first impressions, how well a Tristan is doing. I don't think anyone knows for sure until well into the Second Act's "Liebesnacht".
[Below: The Liebestrank – Isolde (Linda Watson, center left) offers Tristan (John Treleaven) what she believes is a drink of death as Brangaene (Lioba Braun, left rear) looks on; edited image, based on a Robert Millard photograph, courtesy of Los Angeles Opera.]
It was in the Liebesnacht that I became aware of how well Treleaven's sturdy voice fits with the requirements of this role.
Like many heldentenors, his voice has a baritonal sound, and it has the heft to hold his own with the orchestra. Above all, Treleaven shows he has the ability to sustain Tristan's long legato passages, that sometimes must be projected softly and slightly off-pitch, sometimes with evident sweetness and expressiveness, and sometimes as a burst of high energy displaying Tristan's delirium.
Since he is clearly a great Tristan to be, perhaps in his remaining weeks in Los Angeles, a world capital for image, he should seek assistance with two performance details. The first desirable correction would be his first act posture, where he often stands in a non-heroic slouch that is jarring with our image of King Marke's most elegant knight. (I could not tell whether this was at the request of the director or is simply a stage mannerism that has crept as a bad habit into his performances.) Tristan, after all, is a knight whose outward appearance should seem every bit as proud as the woman he has conquered for his king. If he appears to be cowering before Isolde in the first act, it projects an impact Wagner could not have intended.
[Below – Tristan (John Treleaven, foreground) lies dead as Isolde (Linda Watson, right) and Brangaene (Lioba Braun) mourn him; edited image, based on a photograph by Robert Millard, courtesy of the Los Angeles Opera.]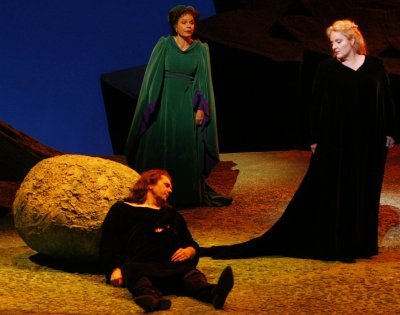 The second is his wig. Since we are in L. A., eight miles from the major movie studios, I cannot be the only person who concluded, that his wig (that reminded me of Gerard Depardieu in one of his light comedies), is not the right image for a legendary medieval knight. The Los Angeles Opera's 2008-09 season is utilizing big name Hollywood directors for its opera productions. They should also tap the reservoir of talent of the movie community's wigmakers to unleash a Treleaven Tristan makeover!
Sigmundsson's King Marke was clearly an audience favorite. This website has been an admirer of the Icelandic bass, who has sung five roles at San Francisco Opera, and reviews are posted on four of these. He brings the deep basso sonority and true pathos required to make Marke's second act lament the gripping experience it should be.
I was very impressed by Juha Uusitalo's Kurwenal. Uusitalo has an appealing light baritone, which, I believe, is inadequate (at least for the large opera houses we have in the United States) for what he has chosen to be his "bread and butter" roles – the Dutchman in Wagner's "Fliegende Hollaender" and Don Pizarro in Beethoven's "Fidelio". (He performed both roles for the San Francisco Opera in the 3200 seat War Memorial Opera House.) Those two roles, to my mind, need the dark bass baritone sound to which (I think appropriately) we have become accustomed.
But I thought Uusitalo showed his true strengths in San Francisco as the High Priest in Saint-Saens' "Samson et Dalila", even though (no fault of his own) he had to wear an unbecoming costume. In Los Angeles, both role and costume clicked. He was so impressive as Kurwenal, one could imagine him taking on with great success such Wagnerian roles not presently in his resume, as Amfortas in "Parsifal", Guenther in "Götterdämmerung" and Wolfram in "Tannhauser", and the French and Italian repertory assayed by, say, Thomas Hampson.
Lioba Braun (Brangaene) was best in the Second Act Liebesnacht. The Hockney sets require the Brangaene to sit in a second story window and, given the acoustics of the Chandler Pavilion, this positioned her in exactly the right spot to project her small mezzo voice to its greatest advantage. Even more importantly, it required her to sit still.
Braun is an instinctive actress who constantly shows reaction to what the other principals are saying or doing. Reactive acting is an asset for cinema close-ups in such classic Japanese films as Kenji Mizoguchi's "Sansho the Bailiff", but I find it ineffective and often distracting in "Tristan", particularly since Watson's approach to stage movement is so much different.
Perhaps Director Steingraber intended each actor to bring to the role their own experience with the part, even if the acting styles were not synchronized. I am not a proponent of Robert Wilson's extremely choreographed stage action for Wagnerian opera, but can imagine he would have quite a bit to say about what needed to be done with the first act.
The Melot, Robert Mulligan, also deserved special mention. Although he has very few notes to sing, he sang them well, and his stage actions in the last two acts (particularly Act II) are of crucial importance to the drama. One expects an important career from him.
Steingraber obviously rethought some details. He withstood the blistering disapproval of some critics at the idea of Tristan rising from death onstage at the conclusion of the Liebestod to stand in the spotlight with Isolde as the "Tristan" chord reaches its final resolution. I find that concept affecting, but also discovered that I did not miss the choreographed hand gestures that Steingraber assigned Brewer and Moser in San Francisco that were supposed to prepare us for the symbolism at the ending.
There was a miscue or two by the stagehands. I can imagine a very unhappy lighting director discovering at the beginning of the second act that one of the skirts – the high curtains meant to hide the bar of stage lights above the Hockney sets to the rear of the stage – had not been dropped into place, so that the offending bar was visible from the first few orchestra rows for what seemed to be the first quarter of the second act.
Unlike the San Francisco performances, the stars within the constellations that shine in the Liebesnacht were in motion. After the second act, the intermission discussion in the Chandler Pavilion's Founders Room was whether this was a error or a new Steingraber innovation, and our hypothesis is that some of the stars were imbedded in a drop curtain that was accidentally shaken, but once in audience view, could not be stilled.
The musical experience ultimately was shaped by Conlon and the Los Angeles Opera Orchestra. The Hockney "Tristan's" history in Los Angeles included a genuine L. A. media event – Zubin Mehta conducting the Los Angeles Philharmonic Orchestra with Jonathan Miller stage directing. (This was the kind of stellar event that PBS Great Performances might have tapped for telecasting, although there were apparently very few four-hour long opera performances to be so honored.) Yet, I found the 2008 mounting of the production superior to either L. A. Opera's 1987 or 1997 efforts.
The most obvious comparison would be to the performances at the San Francisco Opera, which borrowed the production a year ago last fall. There, Donald Runnicles led a performance with Christine Brewer and Thomas Moser, referred to below.) I refuse to express a preference between Runnicles leading the San Francisco Opera Orchestra and Conlon leading the Los Angeles Opera Orchestra. I would recommend that any admirer of Wagner's music dramas go to a lot of trouble to see either one.
However, I can affirm that "Tristan" under Conlon demonstrated that the same maturation process that I have observed of the San Francisco Opera Orchestra is occurring with the Los Angeles Opera Orchestra as well. Even though neither orchestra existed well into the second half of the 20th century, both now have to be reckoned as world class entities.
For a review of this production at San Francisco Opera, see: The Runnicles, Hockney "Tristan" in S. F. – October 22, 2006