The San Francisco Opera season of 50 years ago was especially memorable. The long-awaited debut of Maria Callas was aborted when she did not show up for her dress rehearsals of Donizetti's "Lucia di Lammermoor" and was fired by San Francisco Opera General Director Kurt Herbert Adler. Her scheduled performances in two roles were taken over, with great success, by sopranos Leonie Rysanek and Leyla Gencer.
It seemed at the time that the San Francisco Opera was enjoying a stroke of good fortune to be able to offset the seeming artistic disaster of Callas not arriving. Two major international sopranos were in San Francisco. Each of them knew one of the roles Callas was supposed to sing. Gencer had prepared, but not yet performed anywhere, the title role of Donizetti's "Lucia di Lammermoor". Rysanek had recently recorded Lady Macbeth in Verdi's "Macbeth" for RCA Victor.
And wondrously, both Rysanek and Gencer had blocks of time in which they were obligated to be in San Francisco with relatively light performance schedules – after the season's opening night, Rysanek had a stretch of time for rehearsals of Richard Strauss' "Ariadne auf Naxos" and Gencer had a generous number of days between scheduled performances – so that they could accommodate substituting for Callas without too much difficulty.
Of course, most impresarios would love to have a couple of divas right in their opera house, willing to cover another diva in the event she did not show up, but this is not the way those things happen.
"Be Prepared"
In previous essays on this website, I have suggested that the way that 1957 season was constructed, it was not fortune but careful planning that had allowed the two divas to be on hand, ready to step in in the event that the great dramatic soprano did not appear. It seems pretty clear to me that Adler had expected trouble with Callas from the beginning and had "Callas-proofed" his season.
My previous essays on the 1957 season suggested, however, that Adler had made no contingency preparations for a no-show he did not expect. Soprano Antonietta Stella, scheduled to sing the title role of Verdi's "Aida" and Amelia in Verdi's "Ballo in Maschera", was suddenly unavailable, due to an emergency operation. This surely created some panic. But sometimes an impresario can act brilliantly in a panic situation. Adler pulled another rabbit or two out of his magical hat.
Rysanek stepped in to sing the first scheduled "Ballo" in German, with the rest of the cast singing in Italian. The semi-retired Herva Nelli was contacted and agreed to take on the rest of Stella's "Ballo" Amelias. But the most consequential reaction helped accelerate the emergence of one of the century's greatest opera divas.
Leontyne Price joins a rescue party
Adler had on hand 30-year soprano Leontyne Price to take on Stella's remaining Aidas. Price had just debuted with the company (her operatic stage debut) a few days earlier that season as Madame Lidoine in the American premiere of Poulenc's "Dialogues of the Carmelites", under the baton of the formidable Erich Leinsdorf.
Adler also invited her to prepare the title role of "Aida" for San Francisco Opera (and its conductor, Francesco Molinari-Pradelli). In a season in which both Callas and Stella had been announced and did not appear, having Price's large and sultry voice and superb musicianship ready to step into the Stella void, was yet another godsend for San Francisco.
[Below: Leontyne Price in the role of Aida; resized image, based on a historical photograph.]
Price was not entirely unknown, of course. She had appeared in the title role of Puccini's "Tosca" and as Pamina in Mozart's "The Magic Flute" on the NBC Opera telecasts. She also had appeared in Gershwin's "Porgy and Bess" in Dallas and elsewhere.
But San Francisco Opera was the first international opera company to engage her for a major operatic role, in this case the American premiere of the Poulenc opera whose world premiere had created a sensation at La Scala a few months previously.
It, of course, was not Price's appearance as Madame Lidoine that caused her star to rise quickly in operatic circles. It was that scramble to replace Stella in both the San Francisco and Los Angeles performances of "Aida" that led Adler to give Price her big break on the operatic stage.
Once Price's greatness became evident, Adler invested the San Francisco Opera company in her career, in 1958 first casting her in the role of the Peasant's Daughter in Orff's "Die Kluge", a well-received new production in 1958 (by the young Jean Pierre-Ponnelle), doubled-billed with Orff's "Carmina Burana".
Price, RCA, Decca and the San Francisco Opera
But it was her other San Francisco 1958 role debut, that of Leonora in Verdi's "Il Trovatore", that confirmed that Verdi would be the core of her repertoire, rather than Poulenc or Orff. And, from that point on, one can see a synchronization of the schedules of her performances in San Francisco with another new claim on Price's attention – enriching the world's catalogue of full length operas in stereo through her recording sessions with RCA Victor and Decca records.
Leontyne Price sang 15 different roles at San Francisco Opera between 1957 and 1984. Ten of these were "role debuts" – roles she had never sung on any operatic stage before their presentation at San Francisco Opera's War Memorial Opera House.
The role debuts in San Francisco include four of her signature roles – the title role of Verdi's "Aida", the Leonoras of Verdi's "Il Trovatore" and "La Forza del Destino" and Amelia in Verdi's "Ballo in Maschera, Other debut roles included Donna Elvira in Mozart's "Don Giovanni", Giorgetta in Puccini's "Il Tabarro", the title role of Puccini's "Manon Lescaut" and Ariadne in Richard Strauss' "Ariadne auf Naxos".
Notably, seven of her "role debuts" that occurred at the San Francisco Opera can be associated with new studio recordings in stereophonic sound around the time of the role debut. By 1959 there was a Decca recording of Price in "Aida" conducted by Georg Solti and an RCA recording of Price in "Trovatore" conducted by Arturo Basile.
For the 1959 season, the synchronization of recording and performance schedules becomes obvious. Leinsdorf, who conducted Price's debut in San Francisco, was the conductor for a new Decca recording of Mozart's "Don Giovanni", in which Price is Donna Elvira. That same year, Price's role debut as Donna Elvira took place in San Francisco.
[Below: Leontyne Price as Donna Elvira; edited image, based on a photograph, courtesy of the San Francisco Opera.]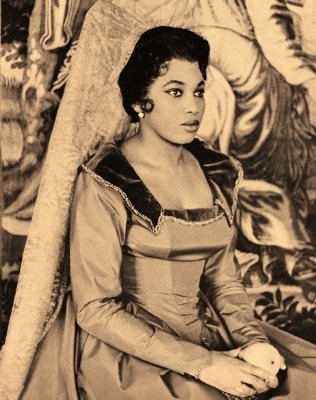 For San Francisco's 1961 season, she performed Cio Cio San in Puccini's "Madama Butterfly". In 1962, Price recorded Cio Cio San for RCA (Leinsdorf, conducting) and the title role in Puccini's "Tosca" for Decca (Herbert von Karajan, conducting).
For the 1963 San Francisco season, Price sang the role of Tosca, and also starred as Leonora in a new production of Verdi's "La Forza del Destino". In 1964, she recorded the "Forza" Leonora for RCA (Thomas Schippers, conducting), and returned in 1965 to San Francisco to repeat that role.
[Below: RCA Victor executive Richard Mohr (left), tenor Jon Vickers and soprano Leontyne Price in Rome for a opera recording; resized image, based on a historical photograph from richardmohr.com.]
But also in 1965, Price starred in a new San Francisco Opera production of Verdi's "Ballo in Maschera", which she then recorded for RCA in 1966 (Leinsdorf, conducting). She recorded Leonora in Verdi's "Ernani" in 1967 (Schippers, conducting), and performed it in San Francisco in 1968.
In 1970, Price had recorded Giorgetta in Puccini's "Il Tabarro" for RCA (Schippers, conducting) and a new production was prepared for her role debut in San Francisco in 1971. (Since it had been 11 years since she had performed in "Trovatore", she chose to do that also. In 1977 she recorded Ariadne for Decca (Solti conducting) and had her role debut in San Francisco the same season.
With full recognition that sometimes a performer will have a somewhat different sound in the opera house than what you hear on a studio recording, it is very satisfying to have studio recordings for most of the roles that Price performed at the San Francisco Opera, and especially noteworthy that each of the recordings is more or less contemporaneous with her first appearance in the role in San Francisco.
Tumultuous 1957: Adler's Year of Living Dangerously
What to think of that tumultuous season at the San Francisco Opera, with its audiences all abuzz about the October launch of Sputnik and of the heroics of the San Francisco Opera soprano roster? Callas' reputation is intact, despite her run-in with San Francisco Opera's management, but much of her current high regard in musical circles is because of her recordings that she made before 1957, after which her vocal problems were talked about with increasing frequency.
Rysanek was to have several additional phases to her San Francisco career, but they were centered around German and Czech operas, rather than the Italian repertoire, despite the three Verdi operas she sang at least once each in the 1957 season.
Gencer was to return in 1958 for various assignments and as a replacement for Regine Crespin in 1967 for the title role in Ponchielli's "La Gioconda", but I believe most Gencer fans would regard the 1957 season, when she sang both Violetta and Lucia, as the high point of her four seasons in San Francisco.
The big news in 1957 was the introduction of Leontyne Price's Aida to the audiences of San Francisco and Los Angeles. The extraordinary reaction of these audiences to Price's performances confirmed to Adler that she was indeed an exciting performer and a box office draw.
At the same time, she confirmed to those recording industry executives whose job it was to plan for the enrichment of their catalogues of complete (and by 1959 uncut) stereo opera recordings, that she had the star power and artistry to entrust many of the prima donna roles in their most important standard repertory recordings to her. It was not just a star born with Price's 1957 performances, it was a supernova.
For the previous articles on the historic 1957 San Francisco Opera season, including its Southern California tour, see:
S. F. Opera's "La Traviata" in San Diego – October 31, 1957
Young Rysanek Promotes Strauss at L. A.'s Shrine – "Ariadne auf Naxos" – November 1, 1957
Callas Fired, An Opera Changed – S. F. Opera's "Aida" at the Fox, November 7, 1957
Young Gencer's Stunning "Lucia" at L. A. Shrine – November 10, 1957