One of the late 20th century buzz-phrases still very much in 21st century currency is the "center for excellence" – applied to academic institutions, hospital services, aircraft design teams and any other human activity that can be done so exceedingly well that it is worthy of the attention of a wider community. I have not heard the term applied to opera companies or productions, but was struck at how appropriate the term might be to describe the framework for this summer's mounting of Richard Strauss' "Der Rosenkavalier" at the San Francisco Opera.
There are operas that can be done wonderfully in smaller venues, but there are a few that truly test the mettle of a great opera company. Two of the latter type of operas that jump to mind are Wagner's "Die Meistersinger" and Ponchielli's "La Gioconda", both requiring major voices and impressive stage settings, the former needing an outsized orchestra and extraordinarily large cast, the latter needing a half-dozen operatic super-stars and a world-class opera ballet troupe to meet audience expectations.
Those two operas and "Rosenkavalier" are obviously unalike in many ways, but, in addition to taxing the resources of even the largest international opera houses, they each have a specificity of time and place, that other budget-breaking bugbears of the repertory, such as Wagner's "Der Ring des Nibelungens", do not. This does not mean that you can't try to time-shift the operas that I have cited. I attended "Rosenkavalier" (2002) in Paris in one of the attempts in recent years to move the opera's story out of Maria Therese's time into the Gatsby Era, the Gilded Age, or something else deemed to be more recent and therefore more relevant to our times.
Joyce DiDonato's Count Octavian and Kristinn Sigmundsson's Baron Ochs
Strauss and his wife are known to have argued over whether the title of the opera should have been "Ochs" or "Rosenkavalier", with the composer losing that one. We tend to talk about the opera as if it were entitled "Die Marschallin", even though that larger than life character appears only in the first act and towards the end of the third. But one can think of the opera as really about a young man who, attracted to a girl at first sight, decides to disrupt her arranged marriage to an older nobleman, about whom he had learned some usefully damaging information earlier in the opera.
[Below: Baron Ochs (Kristinn Sigmundsson, left) with Octavian (Joyce DiDonato); edited image, based on a Terrence McCarthy photograph, courtesy of the San Francisco Opera.]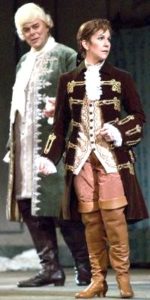 Their interactions dominating all three acts, Joyce DiDonato's Octavian and Kristinn Sigmundsson's Ochs combined superb acting with first rank vocal performances. DiDonato got the posture and movement down to be believable as an adolescent boy and as that boy playing a girl well enough to attract the eye of a lecher. This Ochs-Octavian dominance was further enhanced by the opening of cuts.
[Below: Octavian (Joyce DiDonato, center) embracing the ceremony of the Rose Cavalier, prepares to present a silver rose; edited image, based on a Terrence McCarthy photograph, courtesy of the San Francisco Opera.]
My personal preference is that anyone playing Ochs, plays him with sufficient grace and charm that he would pass naturally in the circles of our noble "betters". The Marschallin's counsel for him to withdraw so as to preserve his dignity, to my mind, presupposes that he shows some dignity to begin with. The role however, does need just the right amount of boorishness, or the comedy is compromised. For my taste, Sigmundsson portrayed Ochs exactly right. I do like to hear a basso in this role, and Sigmundsson, who sang Marke in Wagner's "Tristan und Isolde" in San Francisco in Fall, 2006, met that preference also.
[Below: Baron Ochs (Kristin Sigmundsson, center) is planning the seduction of Mariandl (Joyce di Donato, left, as Count Octavian masquerading as a chambermaid); edited image, based on a Terrence McCarthy photograph, courtesy of the San Francisco Opera.]
Soile Isokowski's Marschallin and and
Soile Isokoski, whom I had already seen as the Marschallin at the Opera National de Paris at the Bastille in 2002, came to the role as a Mozartean, rather than the Wagnerian voice we sometimes hear sing this part.
[Below: The Marschallin (Soile Isokoski) regrets the passage of time; edited image, based on a Terrence McCarthy photograph, courtesy of the San Francisco Opera.]
Lotte Lehmann, Regine Crepin and Leonie Rysanek had all sung Sieglinde in Wagner's "Die Walkuere" at the War Memorial as well as the Marschallin, and a big Wagner voice can be useful in producing sounds that soar above the expanded orchestra in the early parts of the first act. But I found Isokoski's voice "right-sized" for the beautiful last act trio with DiDonato and Persson.
[Below: the Marschallin (Soile Isokoski, left) enjoys the company in her bed of the Count Octavian (Joyce di Donato, right); edited image, based on a Terrence McCarthy photograph, courtesy of the San Francisco Opera.]
Miah Persson's Sophie, Johann Schmeckenbecker's Faninal and Robert McPherson's Italian Tenor
Miah Persson gave an effective performance as Sophie, as did Johann Schmeckenbecker, who played Sophie's father, Faninal.
[Below: the upwardly mobile Faninal (Johann Schmeckenbecker, right) is overjoyed at the match he has made for his daughter Sophie (Miah Persson, left); edited image, based on a Terrence McCarthy photograph, courtesy of the San Francisco Opera.]
Robert McPherson, a young leggiero tenor with promise in the bel canto roles, proved that he has the ability and confidence to sing the Italian Tenor's difficult aria in a large house creditably.
[Below: Robert McPherson as the Italian tenor; edited image, based on a Terrence McCarthy photograph, courtesy of the San Francisco Opera.]
David Cangelosi's Valzacchi, Cynthia Cook's Annina and other Cast Members
A final citation is the over-the-top comic duo of Valzacchi and Annina (who, like Ochs and Octavian, appear in every act), played by David Cangelosi and Catherine Cook. Most of the other roles in the opera — be they Marschallin or major domo — constrain (or should constrain) the singers to meet the rigorous expectations of the specific station that their role occupies in Maria Therese's Austrian empire. But these two scoundrels can be (and were) unleashed to improvise in whatever way moves the story line and evokes laughter from the audience.
[Below: The conspiratorial operatives Valzacchi (David Cangelosi, right) and Annina (Cynthia Cook, left) make their services available to Baron Ochs (Kristinn Sigmundsson, center); edited image, based on a Terrence McCarthy photograph, courtesy of the San Francisco Opera.]
Each of the remaining roles were well-done, Adler Fellow Heidi Melton, added to the cast as Marianne, when Elza van den Heever was suddenly promoted to sing Donna Anna in Mozart's "Don Giovanni", proved that a large voice (she is surely a Bruennhilde to be) can be useful in holding one's own with the full orchestra's volume enhanced during the buildup to Octavian's second act arrival. Another Adler Fellow, Jeremy Galyon, took on two distinctive roles, the beleaguered Notary in the first two acts, and the third act Police Commissioner (who appeared to catch the eye of the Marschallin, herself on the rebound).
Thierry Boquet's Sets
The current sets by Thierry Bosquet are based on Alfred Roller's original designs for the premiere and add immeasurably to the sense that one is attending an authentic production of the opera. Although my reviews have often described in some detail the sets and stage business of various operatic productions, for the S. F. "Rosenkavalier" I can do no better than refer the reader to the original set and stage directions in the libretto or vocal score. That will give you the essence of what happened onstage at the War Memorial.
[Below: Thierry Bosquet's sets for the Marschallin's drawing room; edited image, based on a Terrence McCarthy photograph, courtesy of the San Francisco Opera.]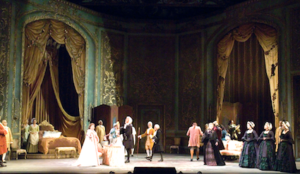 Maestro Donald Runnicles
Donald Runnicles, who has served as the San Francisco Opera's music director and who has seemed a dominant presence in so much of the Opera's repertory for the past 17 years, had never conducted Richard Strauss' "Der Rosenkavalier" in San Francisco until this June, even though he had conducted that composer's "Salome", "Arabella" and "Capriccio" there. In fact, the conducting assignment for "Rosenkavalier" in its two previous mountings (1993 and 2001) during the Runnicles era went to Sir Charles Mackerras, a personage so eminent that Patrick Summers was assigned to him as an Assistant Conductor.
"Rosenkavalier" is Runnicles' 55th different opera conducted for the San Francisco Opera. However, despite the extraordinary performance history that the company has assembled, when Runnicles lifted his baton for the premiere performance of June, 2007, it was only the company's 60th performance of the opera in San Francisco, or the 72nd for the company, counting tours in the 1940s through 1960s to Los Angeles, San Diego and Sacramento. (By the way, all these figures have been compiled by me by hand from the Archives. As far as I know, no such San Francisco Opera performance counts exist anywhere else.)
"Der Rosenkavalier" and San Francisco Opera Performance History
The company's performance history includes many of most important interpreters of Strauss' "wienerische Maskarad'". If one inspects the list of performers in the nine recordings of the opera highlighted in the 14-year old "Metropolitan Opera Guide to Recorded Opera", San Francisco has attracted four of the recorded Marschallins (Lotte Lehmann, 1940, 1941, 1945 and 1946; Elizabeth Schwarzkopf, 1955, 1957, 1960, 1962 and 1964; Regine Crespin, 1967; and Kiri Te Kanawa, 1985), three of the Octavians (Rise Stevens, 1940, 1941 and 1945; Christa Ludwig, 1971; and Frederica von Stade, 1993); five of the Baron Ochs (Kurt Boehme, 1960; Otto Edelmann, 1955, 1957 and 1964; Manfred Jungwirth, 1971; Walter Berry, 1978 and Kurt Moll, 1985), and two of the Sophies (Rita Streich, 1957; and Helen Donath (1971).
The above list even understates the lustre associated with San Francisco performances of the work, since Boehme recorded Ochs twice, and neither Sena Jurinac (1971) nor Leonie Rysanek (1978) produced studio recordings of the Marschallin (although Jurinac did record Octavian). Nor have their been studio recordings since 1993 available to highlight such impressive talents as Renee Fleming, Franz Hawlata and Susan Graham (2000) or Dame Felicity Lott and Eric Halfvarson (1993).
The great casts that Gaetano Merola assembled for the S. F. Opera in the 1940s (except during the 1942 through 1944 seasons when German romantic comedies about the Austrian upper class were out of favor in most English-speaking countries) would perform the opera one or two times in the home season and perhaps once on tour. It has been only when presented in the last 30 years that the run of performances have been more than five performances in a single season.
The San Francisco performance tradition with the Strauss comedy began three decades after the opera's premiere. We are now approaching the ten decade mark. Centenary celebrations of opera first performances are often a big deal, and it is not inconceivable that it has occurred to San Francisco Opera management that it would be appropriate for San Francisco to be one of the places for the opera's birthday to be observed.
There are some special observations that can be made of the 2007 performances. First, they represent the casting choices of former General Director Pamela Rosenberg and the current musical director (Runnicles) who will pass on the reins of the latter position to Nicola Luisotti two seasons from now. It was a truly elegant cast from whom Runnicles was able to elicit a superb performance.
Second, the San Francisco Opera Orchestra has matured into one of the world's great opera orchestras. Four decades ago it did not exist in its current form. It used to be put together, as still is the case with many opera companies in cities with symphony orchestras, by providing off-season employment for members of the San Francisco Symphony. Eventually, a true San Francisco Opera orchestra was recruited, not beholden to the Symphony's schedule. It has the capacity, the technical skills and the artistry to perform Richard Strauss' complex orchestration as the composer intended.
Third, even though "Rosenkavalier" is one of the standard repertory's only remaining operas to retain a rigid list of performance cuts (in the case of this opera settled upon by Central European opera companies decades ago), Runnicles and the San Francisco company opened many of those cuts. There are, of course, several important studio recordings of the uncut opera available, so we know what happens in the cut sections and what the missing music sounds like. What was most interesting in this San Francisco performance, is how natural all the restorations seemed.
San Francisco audiences have no trouble sitting through uncut versions of, say, Wagner's "Goetterdaemmerung". San Francisco Opera should experiment with the idea of departing from the traditions of Vienna and Munich and explore performing the opera as originally written. One wonders if Runnicles' restorations are experiments in gaging audience reaction to moving towards an uncut performance for the centennial.
I have already presented my arguments elsewhere as to why San Francisco should mount a new production for the centenary, fast approaching, of Puccini's "La Fanciulla del West". For the "Rosenkavalier" centennial I hope that San Francisco performs the opera, but retains its current production (saving any money that might have been allocated to a new "Rosenkavalier" for the "Fanciulla" production).
What I can comment upon, having seen a "Rosenkavalier" performance at S. F.'s War Memorial every season it was presented since 1960 (excepting 1962), are my impressions of the 2007 cast. Perhaps the best compliment that can be paid to them is that they met and often exceeded the very high standards of this great opera company's "Rosenkavaliers"
several, I think, require special mention. The Faninal of Johann Schmeckenbecher was fully realized.
I have noted my admiration for Cook's comic skills as Dame Marthe Schwerlein in my recent review of Houston's "Faust". Cangelosi, who will be San Francisco Opera's Mime in Wagner's "Das Rheingold" next Summer and who has specialized in the valuable character tenor roles, has proven likewise to be an accomplished comic performer.
Excellence was everywhere. Those who trekked to San Francisco to see this Viennese Masquerade got their money's worth.
For my review of San Francisco Opera's first set of performances of Richard Strauss' other comic masterpiece, see: Young Rysanek Promotes Strauss at L. A.'s Shrine – "Ariadne auf Naxos" – November 1, 1957