Historical figures with as different a perspective on French revolutionary thought as Jean-Jacques Rousseau and Marie Antoinette were in agreement that the French "reform operas" of the Chevalier Christoph Willibald Gluck set new standards in operatic performance. Gluck's masterpiece among the eight French operas in the reform category is "Iphigénie en Tauride", which premiered in Paris in 1779.
A jealous Mozart despaired of Gluck's great fortune in having multiple works regularly performed, while his own operas got little respect. Seven years later, Mozart's "Nozze di Figaro" emerged as the first of three, ultimately four, Mozart operas to achieve and maintain mega-hit status – the four most senior entries in what is now the Standard Repertory of opera – even though "Cosi" needed another century or so to build its fan base. On the other hand, many multi-season operatic subscribers have never seen a Gluck opera, nor have even heard the name of his masterpiece.
We are in a period of time where many opera companies around the world have been exploring and re-evaluating the operas composed in the pre-Mozartean Eighteenth Century. Managements appreciate the opportunities of introducing "new" or at least, unfamiliar, melodies of great beauty to be sung by operatic voices that find baroque music the right fit for their singing styles and training. As a parallel activity, production designers and "concept directors" have sought new ways to make the operas, designed for another age, theatrically interesting to contemporary audiences.
The title of this review, of course, makes reference to one of Shawn Levy's recent movies, a silly farce in which animals and historical figures, representations of which are displayed in a museum, come alive each night. I am well aware that any reference to museums juxtaposed next to the word "opera" is considered pejorative in some circles, particularly those who despair that opera companies focus on the operas of the Standard Repertory, at the expense of the novel and avant-garde.
In fact, I think great museums can be wonderful places, and many employ gifted curators who often challenge us to see great masterpieces in their museum collections in new contexts.
Why cannot we adopt the analogy of having curators for the great operatic masterpieces as well? This website has regarded such re-evaluations of operatic masterpieces as the McVicar-Kwieicien conceptualization of Mozart's "Don Giovanni", seen in San Francisco in repertory with this "Iphigénie", and the McAnuff-Hawlata reading of Berg's "Wozzeck", seen at the San Diego Opera two months ago, as profound and praiseworthy.
Should we not think of the great opera companies as centers for the care and preservation of operatic tradition, as places to test in performance the latest in musicological scholarship, as well as crucibles for innovations in theatrical techniques and applications to enhance the operatic experience?
If we consider these re-interpretations as produced by opera curators, concerned not only with tradition and history, but with contemporary thought and relevance, and a McVicar or a McAnuff as visiting experts to help us understand particular masterpieces in a new light, we can begin to think of the "opera house as museum" as a positive concept, rather than an epithet. (Obviously, this raises the bar on opera production designers, by expecting them to understand and respect the operas whose care has been assigned to them.)
Reviving "Iphigénie" is rather different than reviving baroque operas by, say, Haendel and Vivaldi. For one thing, the voices called for in "Iphigénie" are modern in the sense that the principals are a female soprano, a male tenor, and a male baritone. There are no roles that were created for male castrati, an operatic vocal category that no longer exists.
[Left: Susan Graham as Iphigénie; edited image based on a photograph by Terrence McCarthy, courtesy of San Francisco Opera.]
Although the operatic singing styles have evolved over the 22 decades since its premiere, the vocal techniques needed for "Iphigénie" are not that different from the techniques used to prepare performers of Mozart operas today. The three principals in the San Francisco performance are Susan Graham (actually, herself a mezzo-soprano who still finds the role within her range) as Iphigénie, Paul Groves (tenor) as Pylade, and Bo Skovhus (baritone) as Oreste. All three sing roles in operas by Gluck's younger contemporary, Mozart.
But the castrato techniques of singing that existed at the same time and so are important in Haendel's operas of a third of century prior, have disappeared entirely, along with all trace of castrati. We have to improvise with every one of those castrato roles. Even in the past 40 years, we have gone through an era of transposing them to bass voices and are now in an era of encouraging (and developing) counter-tenors to sing these parts. But counter-tenors are definitely NOT castrati and almost certainly do not sound like the castrati did. And, even if an anatomically correct castrato did appear, the skills to teach him to sound like the greatest castrati for whom Haendel wrote music, no longer exist.
There are some musicological differences between the great Gluck "reform" operas and the great Mozart "standard repertory" operas, but they are more alike each other than they are to the operas performed earlier in the 18th century. That said, why are the Mozart operas so much more popular than the Gluck operas, even well into this period of re-evaluation and increased performances of the latter?
I offer what may seem to be a simplistic response. Gluck saw opera's whole essence as being in the service of Greek myth, believing that this ancient Greek fundament that lay beneath opera was as immutable as the French and Austrian monarchies, who were so often the patrons of his talents.
Since he believed that opera was a method of presenting the great classic tales of Ancient Greece in a form that incorporated music and dance, that opera should be performed, as shorn of meretricious ostentation (his general critique of baroque opera) as were the ancient Greek dramas themselves. He met that goal superbly. What a treasure "Iphigénie en Tauride" is, as the ultimate synthesis of music, dance and Greek drama.
But think of what we (or, at least this website) define as the Standard Repertory of Opera. It is a group of operas dominated by four operatic composers (Mozart, Wagner, Verdi and Puccini), augmented by one or more operas each by a dozen or so other composers, that include the likes of Beethoven, Tchaikovsky, Donizetti, Rossini, Gounod, Bizet, Richard Strauss, etc.)
How, indeed, have Gluck's reforms of the musical presentation of Greek drama, impacted this group of Standard Repertory composers? If you go down the list of Standard Repertory opera names, there is not much you can point to that demonstrates any substantial attention to Gluckian styles.
The reason is that only one opera that lays some claim to being part of the standard repertory, Richard Strauss' "Elektra", even deals with classical Greek mythology and drama. And, although "Elektra's" storyline concerns events that precede those of "Iphigénie en Tauride", that post-Wagnerian, post-Freudian excursion into aberrant psychology, shows no deference to any Gluckian antecedents at all. (There is also Richard Strauss' "Ariadne auf Naxos", that if not yet quite in the Standard Repertory, belongs there, but it is a parody of the whole genre.)
There is a large chasm in the seven years between "Iphigénie" and "Nozze di Figaro". Of course, in that interim Mozart himself wrote a post-Iphigénie opera based on Greek drama ("Idomeneo"), which, in its early days, even had a castrato role.
But the three Mozart operas with Da Ponte libretti abandoned the world of Greek myth, with its quixotic gods and constant requirements for human sacrifice, for domestic dramas on a human scale. (Is "Don Giovanni" on a human scale? Well, the realm of humanity includes charming sociopaths, the rest of the characters are reasonably domestic, and even the Commendatore was human at the beginning of the opera.)
Nor did Mozart's fantasy opera, the "Magic Flute" return to the Greek realm. Perhaps the Queen of the Night in that opera would have understood what made the Greek gods tick, but we can relate to most of the rest of the characters as having decent human souls and as being more or less engaged in pursuits that have nothing to do with the irrational behavior of distant gods.
In Wagner, of course, we also have a family of gods, but at every moment they are quite articulate in a surprisingly modern sense about their thought processes, the criteria by which they make decisions, what they see as their responsibilities, opportunities, etc. Sometimes, when they are working at cross-purposes (e.g., Wotan and Fricka) a human can get hurt (e.g., Siegmund), but each side has shared with us what they regard as the basic rationale for their position.
"Iphigénie en Tauride" is the penultimate opera that claims our attention as worthy of revival to qualify as a deus ex machina vehicle. (Mozart's "Idomeneo" can be considered to be the last of that infamous breed.) In such an opera, just as someone is to be sacrificed or otherwise killed to fulfill the will of the gods, a god himself (such as Poseidon in "Idomeneo") or goddess herself (such as Diane in "Iphigénie en Tauride") arrives, classically by being lowered from above by stage machinery, to pronounce a change in human fate that produces a happy ending.
In no opera in the Standard Repertory does something like this happen. (There are events that turn dangerous situations in to happy endings, such as in Beethoven's "Fidelio", but these are caused by humans, not dei stepping out of machine.)
This essay is not the medium to discuss the remoteness of ancient Greek cosmology to modern 21st century affairs, nor the continued relevance of the Standard Repertory of opera (as essay after essay on this website attest) to our modern world. What is relevant, is how to present this opera of great beauty, that has many elements that audiences might find admirable, in ways that will interest them.
Gluck's reform operas provide for a fusion of performances by soloists, chorus, orchestra and dancers that enhance the presentation of a classical drama. The drama is fast flowing, because most of the encrustations of baroque opera (such as the "da capo" aria) that caused the action to slow to a stand-still, were excised.
Robert Carsen, one of Europe's most popular concept directors, was tapped to conceive a new production that is a co-venture between the Chicago Lyric Opera, the San Francisco Opera and the Royal Opera Covent Garden in London. His production designer is Tobias Hoheisel (known to San Francisco Opera as the costume designer in the talented production crew for Nicholas Lehnhoff's new production of Richard Strauss' "Salome" in 1982). The dancers were choreographed by Philippe Giraudeau and his assistant choreographer August Tye.
Carsen had produced only one opera in San Francisco previously, a magnificent mounting of Boito's "Mefistofele" in 1989. A triumphant star turn for Samuel Ramey, Carsen's San Francisco production was televised and is an internationally available DVD in a somewhat bowdlerized version that hides from the DVD audience the full extent of the costumes created for Carsen's naked devils in hell.
"Iphigénie" being a reform opera, Carsen decided to make some reforms of his own in the way Gluck operas are presented. He was interested in action moving even beyond the Speed of Gluck. The chorus, which usually stands still while singing, was removed from the stage entirely and placed in the orchestra pit – the women choristers to Conductor Patrick Summers' left behind the string sections and the men choristers behind the brass and next to the percussion instruments at the conductor's right.
The much-expanded dance corps (the program lists 32 dancers), already had the functions that Gluck had envisioned for them (notably, as Furies pantomiming Oreste's murder of his mother Clytemnestre.) Carsen has the dancers take over jobs which Gluck expected would be performed by the now banished choristers – e.g., apprehending the shipwrecked sidekicks Oreste and Pylade, or representing the Scythians and Greeks in sword and knife fights with each other.
Gluck envisioned sets that would evoke the classical Mediterranean lands of the Homeric myths, including a sacred temple overseen by Iphigénie. He called for such special effects as shipwrecks seen at a distance during the storm scene that begins the opera. The costumes he imagined for the opera's principals, would coincide with those we usually associate with the Trojan War period – white tunics with borders edged with Mycenean patterns, robed priestesses, barelegged, shield-carrying warriors.
When viewing Carsen's sets and costumes, we might more quickly think of the Rolling Stones' rock standard "Paint it Black" than the "Iliad". The sets consist of dark wall and floor panels, that reveal the full opera house stage. The walls might (and actually do) serve as blackboards. Costumes lose all reference to Homeric times, and are themselves also black. Indeed, some of the costumes might interest the buyers for mall specialty retail shops, such as Hot Topic, popular with the Gothic crowd.
The black sets dominate the stage as Summers begins the beautiful orchestral introduction (that evokes the mood and harmonies of the chorus' offertory hymn sung later in the opera as Oreste is prepared for the sacrificial rite.) Suddenly, the orchestra is engaged in furious storm music. Susan Graham's Iphigénie dominates the first set of scenes, displaying a powerful voice which evokes strong emotion, further enhanced by Graham's gestures, that remind one of those of a classical dancer.
As Iphigénie relates a disquieting dream about ther family's fate to the assembled dancers, they run to the walls on each side and back and collectively scrawl in chalk the names of "Agamemnon" (stage right), "Clytemnestre" (stage left) and "Iphigénie" (back wall). Other dancers run to the footlights and using wet cloths paint the name "Oreste" on the stage floor with water.
Graham is particularly affecting when she sings the aria O toi, qui prolongeas mes jours. She stands among a dozen Greek maidens that assist her, played mostly by dancers, but including Melody Moore, one of three of the current San Francisco Opera Adler Fellows to appear with great distinction in this performance. (This is as a convenient a place as any to record that Jeremy Galyon, another Adler fellow, was impressive in the role of a Scythian Minister.)
The villain of the piece is Thoas, the dangerously superstitious King of Tauris, home of the Scythians. The role (whose syncopated style of declamation reminds me of the blustery High Priest in Saint-Saens' "Samson et Dalila", composed a century later), is played by Mark S. Doss. The Scythians wear long black topcoats, with six rows of buttons and large flap collars.
[Left: Pylade (Paul Groves) consoles Oreste (Bo Skovhus); edited image based on a Terrence McCarthy photograph, courtesy of San Francisco Opera. ]
The Scythians have captured Oreste and Pylade, who are wearing black trousers and black shirts of mid-sleeve length, the shirts buttoned at the top. They are placed on the black dais at center stage and the Scythians draw a chalk square around it to demarcate it as the prison in which they are being kept.
Skovhus and Groves are playing two characters who provide one of the extremely rare examples in opera of two men who display a deep affection for each other, with neither known to have a female love interest. Gluck's opera is especially noteworthy in having three principal characters – two, a baritone and tenor, with an emotional relationship whose boundaries are inexplicit, sharing the opera with a principal soprano who clearly is devoid of romantic interest in either of them. In Homeric mythology, Oreste and Pylade occupy the relatively short list of famous all male romantic couples.
Carsen does not plumb into their relationship (although some directors jump at the chance to do so) and the affection that they display onstage is rarely more intense than what we might expect of an American collegiate coach consoling a star quarterback who has unexpectedly lost an important game.
[Below: Susan Graham as Iphigénie; edited image, based on a Terrence McCarthy photograph, courtesy of the San Francisco Opera.]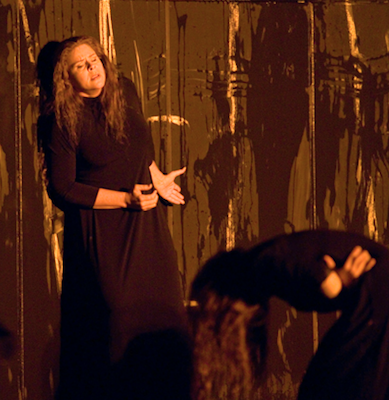 Carsen seems to want our most vivid memory of Oreste to be the bravura scenes that take place after Pylade is initially chosen to be the person who is to be sacrificed. Skovhus first sings Oreste's famous aria Le calme rentre dans mon coeur, then, falling asleep, experiences the dance of the Furies enacting his murders of his mother and her paramour, whose memories so torment him.
What Carsen presents is not a dance that Oreste simply lies there and sleeps through. Instead, 22 dancers take his sleeping body and lift him above their heads. At one point, with them spookily holding him aloft sideways, he engages in a rapid sleepwalk across the left blackboard panels, chased by other Furies as he literally walks the walls.
Afterwards, questioned by Iphigenie, Oreste reveals the deaths of Agamemnon and Clytemnestre (although he untruthfully tells her that Oreste is also dead). At this news, Graham has the dancers erase the chalk names of her parents from each wall. Then, consumed in grief, Iphigénie erases her own name at the back wall, ending the first of the two segments into which Carsen divides the opera.
[Below: Susan Graham as Iphigénie; edited image, based on a Terrence McCarthy photograph, courtesy of the San Francisco Opera.]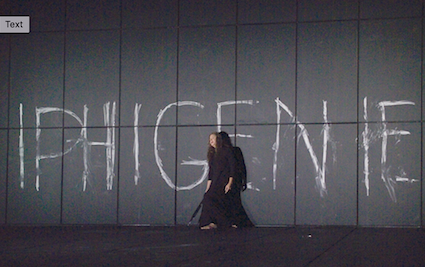 During the second half of the opera, Iphigénie decides to let one of the Greeks free, and feels mysterious sympathy for her brother. Skovhus' Oreste kneels before Groves' Pylade, to persuade him that, he, the matricidal Oreste, should be the one to die. The furies crawl on the stage floor after Skovhus like serpents.
Pylade twice sings affecting arias to his companion, Oreste, demonstrating Groves mastery of this role. Groves, like Graham, sang his role in Chicago's presentation of this production and is scheduled to sing it again at Covent Garden. (Lucas Meachum sang the role in Chicago in place of an injured Simon Keenlyside. The latter is scheduled for the London performances.)
Carsen's most arresting images in the second half again involve the siblings. Graham's Iphigenie walks through a watersplashed floor filled with swords. The sacrificial chorus reprises the mood that begins the overture, while ten black-dressed women dancers each picks up two of the swords to take part in a dance. As they lift the swords above their heads, breaking into two groups of five walking towards the side walls, we see Oreste highlighted at the back wall.
Orest picks up a sword and hands it to Iphigénie. The women form a shield to the audience. When they part, Oreste is seen prone on the center dais, his head to the audience. The priestesses ritualistically hand the sacrificial sword from one to another. By then Iphigenie and Oreste recognize each other.
[Below: Susan Grahan as Iphigenie; edited image, based on a Terrence McCarthy photograph, courtesy of the San Francisco Opera.]
Thoas returns angry that she has let one prisoner go and is anxious that she get on with Oreste's death, but Pylade returns with the shipwrecked Greeks, and the dancers, assisted by Pylade and Oreste, engage in a stylized sword and knife fight with the Scythians, in which Thoas is killed.
Since the victors in this melee are still in violation of the goddess Diane's decree that technically requires Oreste's sacrifice, it is with considerable relief that we hear from Diane that she has changed her mind, and will accede to a happy ending in which Oreste returns to Greece to assume Agamemnon's throne.
Carsen eschewed having Diane be lowered by a machine. Another Adler fellow, Heidi Melton, who, like so many of her Adler Fellow colleagues, seems to be on a fast track to international operatic stardom, actually sang the role from the War Memorial Opera House's balcony circle.
(An aside about Melton's performance. A friend, one of the regular subscribers who sits up front with me will sometimes turn in his Orchestra seat for two balcony circle tickets and take a friend. He did so with someone who had never attended an operatic performance before. By coincidence, they were sitting next to Melton, who, when the performance called for Diane to announce a change of fortunes for the Greeks, stood up next to them and sang Diane's words in her Wagner-sized voice. "This is so cool", said my colleague's friend. I never had thought of "Iphigénie en Tauride" as a candidate to introduce someone to opera, but whatever works!)
"Iphigénie en Tauride", for all its beauty and historical importance, is not a candidate to join the 21st century Standard Operatic Repertory. But it should and will remain a cherished museum piece – one that ought to be brought to life from time to time. The Carsen interpretation is a valid one, worthy of introduction to other opera houses. Those places where Carsen's take has been seen a time or two, though, might consider a later production that presents the opera in a staging more like that Gluck, himself, had specified.