This is the sixth of ten observances of historic performances of the San Francisco Opera that I attended during the company's annual tours of Southern California
San Diego's Fox Theatre has been an imposing landmark since it was launched in 1929 as a great movie palace, in ceremonies attended by visiting delegations of Hollywood stars. By the mid-1930s it was part of the entertainment behemoth created by merging the Fox Theatres with Twentieth Century Pictures.
San Diego's Fox Theatre (the largest of the old movie palaces still existing in California) was a favorite place for studio heads, notably Walt Disney, to conduct the important "sneak previews" of their new movies.
In the early 1950s, when the success of television was forcing wrenching decisions by owners of movie theatres, the San Diego Fox Theatre's superb acoustics led to the idea of staging classical concerts and symphonic performances there, ultimately leading to the idea of importing San Francisco Opera productions.
The San Francisco Opera performed at the Fox Theatre on 17 nights in eight seasons from 1954 through 1961. I was able to attend six of these Fox Theatre performances in 1955, 1956, 1957 and 1959 – in those first two years seeing Met stalwarts such as Licia Albanese, Jan Peerce, Dorothy Kirsten, Blanche Thebom, Robert Merrill and Frank Guarrera.
Also in those five performances at the Fox I also saw other important singers (some not available in the United States until after World War II), such as Elisabeth Schwarzkopf, Mario del Monaco, Leyla Gencer, Cesare Siepi, Richard Lewis and the young baritones Cornell MacNeil and Louis Quilico.
Although I was conscious as a San Diegan that it was a privilege to get the internationally renowned San Francisco Opera company traveling to my home town to perform operas for us, it is only from the perspective of five decades that I have become conscious of how those 17 performances reflected a special time in the history of operatic performance in California and in the country as a whole.
Now, as the 50th anniversary of my first "Traviata" at the Fox approaches, it seemed appropriate to use space on this website, to post thoughts on what I see as issues that transcend the simple reality of troups of performers traveling 500 miles from the home company in San Francisco (or even 150 miles from their temporary base camps in Los Angeles) to act, sing and dance in San Diego.
[Below: Leyla Gencer as Violetta; edited image, based on a photograph from Ashua Haber.]
However, as I jotted down the issues I found significant, it became a heady list: 1) the impact of World War II and the Cold War (and the postwar period of each these) on the availability of opera singers in the United States, 2) the impact of the jet airplane on opera singers' schedules, 3) the rise and fall of the recording industry's profitability, and its impact on opera repertoire, 4) the increased emphasis on the theatrical in the production of opera, and its impact on what opera companies presented, 5) the growth of regional opera companies in the United States, 6) the expansion of the operatic repertoire, particularly for operas created between 1786 and 1926, and 7) the ever-increasing popularity of the operas of Wagner, Verdi and Puccini.
Although one or two of my friends refer to me as a "connect the dots" kind of guy, I recognize that it will seem rather cosmic to most people that I might find so much to say about a list of 17 operas performed 50 or so years ago in an old movie house at 7th and A in San Diego.
These 17 were preceded by two other performances – a 1952 "La Boheme" and 1953 "Barbiere di Siviglia" – in the Russ Auditorium of San Diego High School. (That school was my alma mater, although I was in grade school when these operas appeared there.)
Therefore, I will limit this first essay to a simpler premise. These 19 performances helped establish a post-World War II interest in opera in San Diego. Aided by the long-play record (LP), Met Broadcasts, and some occasional classical fare on television, a market emerged that allowed the founding of the San Diego Opera. What happened in San Diego was duplicated in other cities across the United States.
As you peruse the list at the bottom of this webpage of the operas presented at the Fox, note how many of these are great "first" operas. The operatic old-timers will recognize that the group of performers included the likes of Kirsten, Del Monaco, Vickers, Schwarzkopf, Albanese, Siepi and others that were notable actors as well as performers. And, with virtually no exceptions, the list represents an excellent sample of the glorious international operatic voices from the 1950s and beginning of the 1960s.
This is the sixth of my "50 year anniversaries" observed in this section, so, as a first order of business, it makes sense to speak to the "La Traviata" performance. The most famous member of the cast was Met baritone Robert Merrill, who sang Germont superbly, as expected (regrettably, the only time I ever saw him in live operatic performance).
[Below: Robert Merrill as the Elder Germont; resized image from a historical photograph from robertmerrill.org]
My first Violetta was the extraordinary Turkish soprano Leyla Gencer, pupil of the great mezzo, later soprano, Giannina Arangi-Lombardi, who made some of the historic early complete recordings of major operas. Gencer was also my first Lucia and Gioconda. It is in the discussion of my first Lucia, which I will post later this year, in which I plan more extensive remarks on this remarkable artist.
The tenor, Jon Crain, was a more routine performer. Although reports suggested he did not fare particularly well in the heavier role of Cavaradossi in Puccini's "Tosca" in San Francisco's War Memorial Opera House earlier in the season, he was an inoffensive Alfredo at the Fox. He was not re-engaged after his single season with the S. F. Opera.
Ultimately, achieving much greater fame than Crain was the 24 year old singer who played the small comprimario role of Marquis d'Obigny, Harve Presnell. Although he had a modest operatic career, which included singing the baritone role in Eugene Ormandy's recording of Orff's "Carmina Burana", Presnell became a huge success in such Broadway musicals as "The Unsinkable Molly Brown" and "Annie" (he was Daddy Warbucks) and the musical film "Paint Your Wagon" in which he sang "They Call the Wind Mariah".
[Below: The Marquis d'Obigny was played by Harve Presnell; resized image of a studio promotional photograph.]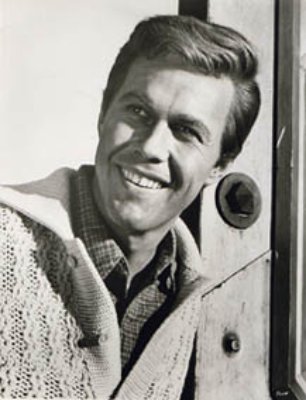 Presnell co-starred with Connie Francis in a romantic musical film for the teenage audience (although neither was a teenager in 1965). Over time, with acting assignments in the movies "Fargo" and "Saving Private Ryan" and longer term television roles on "Lois and Clark: the New Adventures of Superman" and "Dawson's Creek", he apparently achieved a financial success beyond the dreams of most Marquis d'Obignys.
As I suggested above, if a person's interest in opera has been piqued from hearing about the opera or an opera singer from a Met broadcast, or a recording, or a television appearance, this could help that person commit to attending an opera for the first time. This is an essential step in building long-term relationships between those who would produce opera and those who would come to see it performed live.
So, imagine being a culturally curious San Diegan in the Fall of 1952, learning that one did not need to go to New York or San Francisco to hear world class opera. Instead, legendary performers would come to visit you in Downtown San Diego.
What legendary performers did San Diegans who attended the two Russ Auditorium performances and all 17 performances at the Fox get to see? In 1953, Tullio Serafin conducted a "Barbiere di Siviglia" with Giulietta Simionato and Cesare Valletti as the lovers, Salvatore Baccaloni and Italo Tajo in the buffo roles, and Guarrera the only non-Italian in the cast as Figaro.
Besides Schwarzkopf's 1956 Fiordiligi, that I attended, she performed Countess Almaviva in Mozart's "Nozze di Figaro" (1958) and the Marschallin in Richard Strauss' "Der Rosenkavalier (1960). I saw Schwarzkopf as the the latter in San Francisco that season and again in 1964, but I never saw her Countess.
Nor did I ever see Leonie Rysanek's Leonora in Verdi's "La Forza del Destino" (Fox 1958), nor Gencer and Lewis in Massenet's "Manon" (also Fox 1958) nor Jon Vickers perform Cavaradossi in Puccini's "Tosca" (Fox 1960). I never saw any performances by either Rolando Panerai (Fox "Nozze" 1958) or Anna Moffo (Bellini's "La Sonnambula" Fox 1960).
Memorable performances that I saw in later seasons in San Francisco, were seen at the Fox. Kirsten was Mimi in Puccini's "La Boheme" (1952), the title role in Puccini's "Tosca" (1954 and 1960) and Fiora in Montemezzi's "L'Amore dei Tre Re" (1959). Jon Vickers was Don Jose in Bizet's "Carmen" (1958). And, near the very beginning of an illustrious super-star career, Joan Sutherland sang the title role in Lucia di Lammermoor (1961) at the Fox, even though she had missed San Francisco Opera's opening night and subsequent performances due to illness.
Four years later, after a decade of successful visits from the company from California's other Bay Area, an audience for opera had built to the point that a thriving San Diego Opera could be created.
Below are the operas and casts of all 19 performances:
10-27-52 Russ Auditorium, Puccini, La Boheme (Dorothy Kirsten, Brenda Lewis, Jan Peerce, Francesco Valentino, Italo Tajo, Salvatore Baccaloni; conductor, Gaetano Merola)
10-29-53 Russ Auditorium, Rossini, Barbiere di Siviglia (Giulietta Simionato, Cesare Valletti, Frank Guarrera, Tajo, Baccaloni; cond. Tullio Serafin)
11-2-54 Puccini, Tosca (Kirsten, Brian Sullivan, Robert Weede, Baccaloni, conductor, Ernesto Barbini)
*11-3-55 Gounod, Faust (Licia Albanese, Margaret Roggero, Peerce, Cornell MacNeil, Cesare Siepi; cond. Jean Morel)
*10-25-56 Mozart, Cosi fan Tutte (Elisabeth Schwarzkopf, Nell Rankin, Richard Lewis, Guarrera, Lorenzo Alvary; cond. Hans Schwieger)
*11-1-56 Puccini, Madama Butterfly (Kirsten, Roggero, Giuseppe Campora, Louis Quilico; cond., Kurt Herbert Adler)
*10-31-57 Verdi, La Traviata (Leyla Gencer, Jon Crain, Robert Merrill, cond. Glauco Curiel)
**11-7-57 Verdi, Aida (Herva Nelli, Blanche Thebom, Eugene Tobin, Umberto Borghi, Nicola Moscona; cond. Francesco Molinari-Pradelli)
10-27-58 Massenet, Manon (Gencer, R. Lewis, Quilico, Alvary; cond. Jean Fournet)
10-30-58 Mozart, Nozze di Figaro (Schwarzkopf, Eugenia Ratti, Rolando Panerai, Giuseppe Modesti, cond. Adler)
11-6-58 Verdi, Forza del Destino (Leonie Rysanek, Piero Miranda Ferraro, Weede, Arnold van Mill, cond. Georges Sebastian)
10-29-59 Bizet, Carmen (Gloria Lane, Mary Costa, Jon Vickers, Guarrera, Giorgio Tozzi; cond. Arturo Basile)
11-2-59 Montemezzi, L'Amore dei Tre Re (Kirsten, Giuseppe Zampieri, Guarrera, Alvary; cond. Molinari-Pradelli)
**11-5-59 Verdi, Otello (Gabriella Tucci, Mario del Monaco, Mario Zanasi; cond. Molinari-Pradelli)
11-3-60 Richard Strauss, Der Rosenkavalier (Schwarzkopf, Herta Toepper, Sylvia Stahlman, Kurt Boehme; cond. Silvio Varviso)
11-10-60 Puccini, Tosca (Kirsten, Vickers, Zanasi, Baccaloni; cond. Varviso)
11-17-60 Glazunov, Variations (San Francisco Ballet, cond. Ottavio di Rosi) on double bill with Bellini, La Sonnambula (Moffo, Stahlman, Nicola Monti, Tozzi; cond. Molinari-Pradelli)
11-2-61 Donizetti, Lucia di Lammermoor (Joan Sutherland, Renato Cioni, Vladimir Ruzdak, Keith Engen; cond. Molinari-Pradelli)
11-9-61 Beethoven, Fidelio (Gre Brouwenstijn, Marilyn Horne, Fritz Uhl, Paul Schoeffler, Otto von Rohr; cond. Leopold Ludwig)
* See completed discussions of each of these operatic performances in the "50 Year Anniversaries" category of this website.
** Future discussions planned as each 50th anniversary approaches.
For other 50 Year Anniversary observances of Fox Theatre performances, see:
Historical Performances: Peerce, Albanese, Siepi and MacNeil in "Faust", San Francisco Opera Fall Tour, San Diego, November 3, 1955
Cosi Fan Tutte – October 25, 1956